Rock Face : Tranquil at its peak
By Sanath Weerasuriya
View(s):
Horana in Kalutara district is generally not a tourist destination. Popularly known for traditional rubber plantations, Rathmalgoda in Poruwadanda off Horana- Ratnapura road is a sleepy hamlet.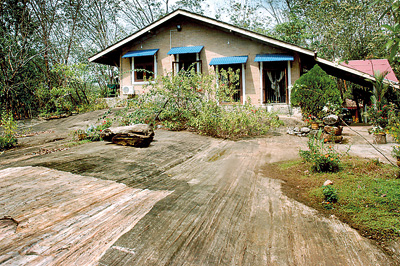 Slipped into this rural setting in Rathmalgoda, with rubber and paddy fields creating a eye catching green backdrop, Hotel Rock Face has opened a new era in the area. Just one and half hours drive away from Colombo, Hotel Rock Face located in a midst fertile rubber plantation bordering a jungle that leads to the nearby hills. This newly built holiday resort in 60 acre land consists of four cottages, one big family room and a luxury bungalow.
'We started this project in December 2011 with a view of providing comfort and adventure for travellers, who wants to be away from Colombo yet with a short drive. The luxury bungalow close to the entrance comprises three luxury rooms with all modern facilities, small kitchenette and the lobby area. The rest is scattered around the plantation. Family room is the largest and is for a five people in a group' explained Chandana Senarathne, the proprietor of the Resort.
He described this resort as an 'agri' based tourist resort as the hotel is on eight acres of cultivated working land and is secured by the shade of towering rubber trees. Agritourism, comparatively new concept to Sri Lanka, grants guests the opportunity to indulge in the many traditional facets of rubber cultivation taking place within the property.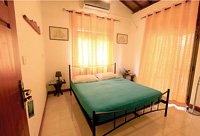 Deeper in the woods of the property are two cottages, positioned in total isolation apart from each other with no disturbance at all. One of the most outstanding highlight of the resort is the natural spring water pool located at the edge of the plantation. The pool, probably the only one of its kind is filled with spring water bleeding from beneath the surface of its rocky bed.
The pebbles, which form the bed, are believed to be beneficial to good health, improving blood circulation, stress and tension. An outdoor platform and an open entry style structure forms the dining hall which holds up to 200 pax, the idyllic setting for a function or gathering of any kind. 'We generally don't encourage weddings, but corporate outings and conferences, small private parties and gigs are welcome' Senarathne added.
Being a Chef by profession and studied at a Culinary School in Italy, Senarathne, is very keen on cuisine at Rock Face. 'I have included many Italian favourites such as pizzas, lasagna, pastas and raviolis in our menu apart from the traditional Sri Lankan cuisine' he said. As the Rock Face is primarily popular with Sri Lankan travellers, it serves more authentic dishes, Western cuisine and Italian delights. 'We have a efficient room service, which is very popular amongst families, small group of friends and honeymooners' he added.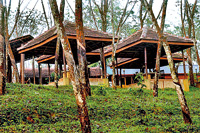 The resort include a BBQ area in the garden and a banquet hall set in the rubber plantation and the rocky surface. Popular excursions are Naachchcimale (30 minutes drive), Dombagahakanda ancient monastery (twenty minutes drive) and Paravie Thota, resh-water stream, situated a mere ten minute drive from the property. Pahiyangala cave temple too is a popular attraction and Hotel arranges these excursions with a guide on a request.
Guests have the opportunity to go boating in the 'Kalu Ganga', which is located nearby. Tea plucking and rubber tapping activities may try in the nearby plantations and offer an insightful experience for travellers. Room rate for Rock Face ranges from Rs 3500/- (RO), to Rs 9900/- (FBD). For more details call 034374 3640, 0778536391 or log onto www.hotelrockface.com