Of laughter and levity
View(s):

Two friends assuming the same false identity, two girls hopelessly infatuated by a name, and one aunt determined to stand in the way of young love – put them all together and the ensuing chaos and confusion is sure to leave you in stitches. Add in a dutiful governess and solemn pastor, hopelessly in love with each other but struggling to conceal their true feelings, will definitely add to the fun.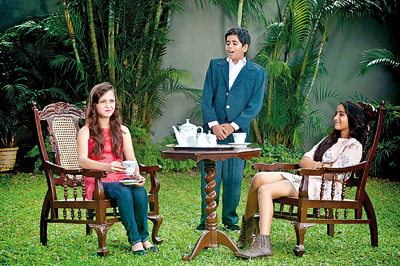 An evening of laughter and levity is precisely what can be expected as the Elizabeth Moir School presents Oscar Wilde's well-loved comedy 'The Importance of Being Earnest'. A comedy of manners, a social satire – call it what you may, there is one thing that is certain: the blunders and foolishness of the characters will keep you entertained.
Taking ownership of the Victorian script, the cast has transposed it to somewhere in the present in a place somewhat close to us. After all, while Wilde may have penned this masterpiece to ridicule and take to task the society he lived in, the criticisms he levelled are still valid today. Pretty much everything Wilde pokes fun at – the naiveté of young girls, the deliberate deception performed by gentlemen while courting, the prioritising of class and wealth over good character, the stubborn refusal of religious institutions to address real-world problems – these are all as rampant today as they were in 19th century England.
So join Jack and Algie as they clumsily woo their sweethearts, Gwendolen and Cecily. Amuse yourself at the battle of the sexes as the two girls pull out all the stops to stay in control of the situation, leaving their novice suitors fumbling over what to do next. Watch them plot to overcome the iron hand of Lady Bracknell, whose name is enough to make them all quiver. Is there any hope of marriage for these hopelessly romantic young lovers?
Find out February 22 and 23 at the Punchi Theatre. Directed by Marissa Jansz and produced by Shazana Shahjahan, this adaptation of the well known play is sure to delight theatre lovers of all ages. 'The Importance of Being Earnest' goes on board on February 22-23 at 7:30pm at the Punchi Theatre, Borella. Tickets are on sale and are available at
Elizabeth Moir Senior School, 4/20,Thalakotuwa Gardens, Colombo 5.