Great Battle against British rule
View(s):

Re-enacting the Uva-Wellassa Uprising or the Great Rebellion of 1817–1818,  'Swarnapali', a mega teledrama is now being telecast on every weekday from Monday to Friday on Derana TV.  Directed by Tikiri Ratnayake, the teledrama is based on some of the real historical incidents that took place in the mid 1980s, the teledrama is set around the 1848 rebel.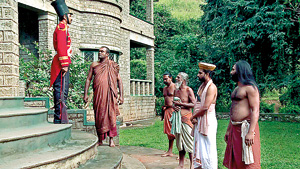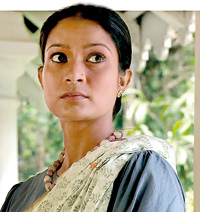 Following the Barren Land Ordinance of 1834, the British Colonial rulers take over the land of hill country farmers but the villagers in Paranagama in Matale decide to fight against this land grab. This battle is lead by Paranagama Arachchi and his daughter Swarnapali too joins it. But some of the Sinhala leaders themselves betray Paranagama Arachchi and the poor villagers to the British.
The villagers were forcibly evicted and Arachchi and his family are subjected to punishment. The engagement of Swarnapali to a relative comes to an end and her brother is imprisoned. The entire family has to flee the village for their lives. But the battle against the British rulers does not end.
Screenplay written by award winning playwright K. B. Herath, the teledrama is played by Himali Siriwardena, Roshan Pilapitiya, Janak Premalal,, Hayasinght Wijeratne, Shashiranga Wickremasekara, Chris Harris, Gamini Ambalangoda, Berty Susiripala, Rilani Ramesha and Udara Ranasinghe in the main cast.
Produced by Sama Ratnayake, camera is handled by Aruni Priyankara, edited by Manjula Malwatte, art direction is by Chrishantha Ratnasiri, make-up by J. Suranimala and assistant direction by Gamini Silva.