Fox has come to stay
View(s):

Radio has been around in Sri Lanka for a very long time and it means a lot of different things to a lot of different people. But never has there been a unique station to literally "escape" to at any time of day or night. This is the void that Fox 91.4 attempt to fill.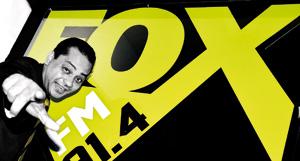 'We differentiate ourselves in every sense of the word. We do not stick to one genre of music but play list everything from the memories of the 90s to the hits of today. Even our presenters are a mixture of the veterans and the rookies, each with a distinct personality that adds to the "big picture" of the station. The shows are designed to suit a plethora of tastes and ever-evolving fan base that has grown in leaps' said Jimmy Deen, the head of FOX FM.
Fox 91.4 promises to create a difference. This is why we have also incorporated a deep sense of values and importance in being a "green station". Fox looks forward to supporting environmentally friendly causes and projects, promote good practices and supportendeavors that strive to be the change.   The Fox Troops are led by Jimmy Deen, who has more than 21 years of experience in radio, and brings the best of Fox Mornings, Monday to Friday 6;00 to 10:00, followed by the Ray Ryley with I PIX an open request show to carry you through your midday.
Tracy Chase who dose The Fix, 2 to 5pm.. The Full Throttle roars into gear with Steffen Blaze the troops deputy 5 to 8pm with his daily insight on unseen elements, to round up the "Troop" is Jay EZ on Fox After Dark .
The Mix maestro's Roger Dat & Kaden Junior on weekends gives you the Total Weekend Escape experience.