Budding looks
View(s):

Opening the show with her Moroccan tile inspired collection, 24-year-old Academy of Design student Sesha combined bursts of exotic Mediterranean colours with her use of Sri Lankan craft . 

Another AOD student Ishara's collection "Odd" saw whimsical outfits made entirely using old factory pieces and Beeralu accents on the ramp. The models in their calf length skirts and jackets, faded jeans and floral prints created a youthful and edgy vibe.
Udaya, a graduate from the University of Moratuwa featured an array of knit work in shades of green, grey and black. The 25-year-old who aims to incorporate sustainable hand knitting technology into his pieces, also took on menswear.
Closing the show was AOD's Shayani whose 1920's themed signature collection of silks and sheer embroidery were all soft elegance in nude and gold shades. The designer also favoured black – flowing and feminine creations which almost draped themselves on the models.
The second day of the Bright Sparks show of CFW saw the University of Moratuwa and Raffles graduates take the ramp. Deepthi Ganepola, 25, started off the evening with a collection of casual and playful pieces inspired by a pack of playing cards, an extension of her graduation collection.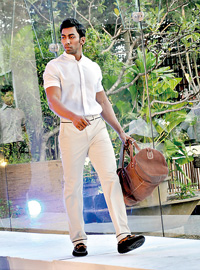 Thakshila Weliange, 25, presented a simple yet elegant take on resort wear. Her collection was inspired by the myths and beliefs of Sri Lanka and her minimalist embellishments were derived from cultural symbols and alphabets. The use of soft white materials that caught the wind gave it a relaxed, ethereal feel.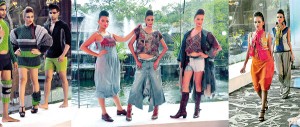 In sharp contrast, Chamindhi Abeywarna's collection was a burst of colour inspired by a girl who travels. The contrasting shades that seemed to sprout out of her pieces were teamed with clean horizontal and contrasting vertical stripes that were artfully layered. Despite the whimsical almost topsy-turvy feel of the garments, their edgy style went down well with the audience.
Shanika Samarakkody, 23, displayed contemporary smart casual men's wear. Keeping to basic silhouettes she worked with practical materials like cottons and linen in neutral colours to present a versatile and sophisticated collection.
Jayani Perera, 23, staged a dramatic and desirable collection of eveningwear titled 'Shine on!' with her colour scheme of black and gold emanating a luxurious sense of elegance with spectacular embellishments daringly placed.
Day 3 of was a showcase of versatile talent and technique. The curtain raiser was 26-year-old Moratuwa University graduate Nuzki who borrowed inspiration from the sights and colours of industrious Pettah. Single toned maxis and loose dresses were given a chic bedazzle with the use of multi coloured thread and twine draped in bizarre angles over shoulders and necks. The collection in all was bold, stylish and essentially Sri Lankan.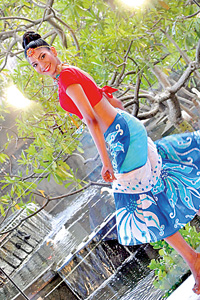 Next up was Nethmini Senanda whose collection was a flamboyant array of colour. Drawing inspiration from "kolam", her creations were a rustic cultural appreciation of local craft using batik and beadwork. While the choreography on the ramp seemed unnecessary and distracting, the bright vibrant pieces alone were eye catching. A range of batik kaftans and saree like dresses adorned the cat walk in shades of blue and orange with equally vibrant accessories to match.
Deriving inspiration from the Melbourne cityscape, Heshan De Mel featured graceful geometrics and intricate yet subtle lines in his men's wear collection. Given that colour blocking has become somewhat this 26-year- old's signature, a few pieces had pops of bright and pleasantly surprising hues. The clean execution of the cuts, unique mix of colours and materials made the collection young and vibrant as much as it was masculine and appealing.
The youngest Bright Spark to be featured was Nishadhi from LIFT who is just 18. Her design concept was hand painted patterns inspired by the structure of a honeycomb. Using only black and an almost golden shade of yellow, her designs lit up the ramp with subtle vibrancy and graceful charm. The contemporary style of her work included intricate bead work and structured eveningwear, each piece a strong and individual statement. [Click to watch video]