Pro-Lanka groups seek free rides to Geneva
View(s):

Pro-Sri Lanka groups in Europe are set to stage a demonstration outside the Palais des Naciones in Geneva when the UN Human Rights Council (UNHRC) discusses the third successive resolution to be moved by the United States next month.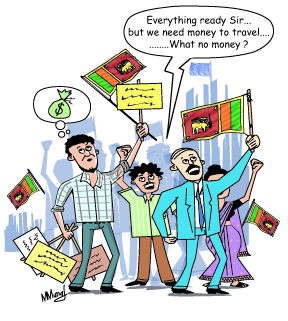 The slogans are ready and the placards are to be ordered but the sponsors have come up against a major problem. Who will pay for the travel and other expenses, particularly to the key players who want to travel from Italy?
Outsourcing the move, on the other hand, has been found to be difficult since no public relations company abroad will undertake to muster crowds and later face court action for damages if something goes wrong.
The monitor of the public purse, one who has been lavish with public funds, had sponsored such a protest last year. However, this time he flew into a rage when a caller from Italy approached him for funds, that too in foreign exchange. "Illana Illana velaavalata denna salli nehe. Magey bellai hirawenney (I have no funds to give every time such requests are made. It is my neck that will go)," the man who has enriched even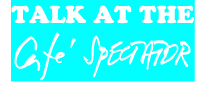 overseas Lankan cabbies ranted.
One would have thought the episode ended there. It did not. The wizard had also told the caller that once a young VVIP sought Rs. 400 million from him for some sports activity. He said there was no money to give. He had asked that the funds for the Geneva demo be obtained from the votes of the External Affairs Ministry (EAM).
The caller had been well briefed, before he made the telephone call to the wizard. He declared that voted EAM funds had all been utilised for the Commonwealth Heads of Government Meeting (CHOGM) in Colombo in November last year.
One of the main promoters of this exercise to utilise taxpayer's money for a demonstration in favour of Sri Lanka is now attached to a state media outfit. That is after he acquired experience on how pro-Government groups in Italy operated. His efforts to organise one on his own, known to be more expensive, was shot down at the highest levels.
KP and Thai wife happy in Mullaitivu
Talking of coming events in Geneva next month reminds one of the key stakeholders responsible for the course of events.
That is Kumaran Pathmanathan, alias KP, the man responsible for the procurements arm of the now militarily defeated Liberation Tigers of Tamil Eelam (LTTE). It is his singular effort in securing military hardware that pushed the different stages of the separatist war from one level of sophistication to another.
Whilst the Sri Lanka delegation will shout hoarse next month against the contents of the US-backed resolution, Pathmanathan has found reason to be happier in his new abode in the Mullaitivu District. His Thai born wife has now joined him.
It was only in December this year; the Sunday Times (Café Spectator) reported how KP played Santa Claus to children orphaned due to the bloody war, that he once helped finance.
Political suicide bomb
After two unsuccessful attempts at alleged suicide, a one-time official has come under the watchful eyes of sleuths.
It is not to prevent him from making a third attempt. It is over reports that he has sought a meeting with western diplomatic missions, of all things, to speak about the last stages of the separatist war in May 2009.
The claims were so newsworthy that a website known to be run by Minister Wimal Weerawansa has given prominence to this issue. However, the man in question is yet to meet any diplomats.
He continues to hold the remaining official positions thanks to the support of a leading politician. As a result, he even has access to personal protection at public expense.
Police in parking thuggery
The Police, they say, are the long arm of the law. This long arm seems to be becoming longer and longer, not in enforcing the law but breaking it.
That is the experience encountered by a businessman who pays the Colombo Municipal Council Rs. 16,650 per month to reserve two parking lots in Colombo Fort. He has the name board "Parking Reserved" and places plastic cones to protect it.
This week a Police double cab drove there. The driver took the cones, threw them aside and parked his vehicle. A badge placed on the double cab read "International Police Association."
Does that mean the Interpol? Even if so, this is one case where they will not issue a red notice.
Minister clashes with Hatton residents
A Cabinet minister in the central hills is at the centre of a controversy after he allegedly tried to assault a group of residents in Gaminipura in the Hatton area.
The Minister who was proceeding along a road near the village on Friday night found his vehicle obstructed by a parked lorry.
Eyewitnesses alleged that he used foul language on those nearby and a near confrontation ensued. The villagers are now demanding action against him.
Political undertones in Basil's call to Muzammil
"Mama obathumata prasansa karrannai katha kerey (I telephoned to congratulate you)," declared Economic Development Minister Basil Rajapaksa in a telephone call to Colombo Mayor A.J.M. Muzammil on Wednesday.
He had learnt that the Mayor's wife, Ferouza, was not getting nomination from the United National Party (UNP) to contest the Western Provincial Council elections. She had applied to be on the party's list of candidates for Colombo District and resigned from the All Island Executive Committee in protest.
Mr. Muzammil asked Minister Rajapaksa why he was congratulating him when he was disappointed his wife did not receive UNP nomination. "If she got it, we would have ended up having to take Ravi Karunanayake to the UPFA," he replied.
Karunanayake opposed the nomination of Ms. Muzammil at the Nomination Board. He later resigned from the Board though it had already completed its function of picking candidates.
President does two hours of yoga daily
If a pre-dawn workout in his private gym at 'Temple Trees' is for the body, President Mahinda Rajapaksa has now embarked on yoga exercises too.
They say yoga is spiritual and for the body and soul. Rajapaksa now spends around two hours on this exercise. Even ministers who turn up would have to wait.
Unlike his close aides who would sometimes talk to him during workouts, he is not disturbed during yoga.
Another who has got used to the daily routine of yoga is Defence Secretary Gotabaya Rajapaksa.
Mervyn and Kelaniya PS in battle for votes
He can tie a Grama Niladhari to a tree or shut down a local department store and ask only his well-wishers to shop as they wish and foot the bill.
Yet, the inimitable "Dr" Mervyn Silva, Minister of Public Relations, is a cut above his Cabinet colleagues. The fact that he receives preferential treatment, despite many a disciplinary inquiry against him, is no state secret. Nor is the fact that he is equivalent to an artillery gun in the UPFA's political arsenal always loaded to fire at a rival.
Just recently he was appointed the Sri Lanka Freedom Party (SLFP) organiser for the Kelaniya electorate, or so he said. He had held that position earlier but was suspended.
His political adversaries in the Kelaniya electorate were not happy. They pleaded with UPFA leaders to annul the appointment. That was of no avail.
Now this group, mostly members of the Kelaniya Pradeshiya Sabha has decided to support Prasanna Ranatunga, the former Chief Minister, at the Western Provincial Council elections due on March 29. This is all because "Dr" Silva is supporting Nimal Lanza, former Minister of the Western Province.
UPFA trouble shooter Economic Development Minister Basil Rajapaksa chaired a meeting where the polls campaign was the subject of discussion. Both sides were present.
Minister Rajapaksa said if Ranatunga won, that would mean that members of the Kelaniya Pradeshiya Sabha and their supporters were the real vote winners. Otherwise, he declared, that title would go to Silva.
So now, the UPFA Government's Public Relations Minister is in a political battle to prove that he is more popular than his other political adversaries in Kelaniya.
"Win or lose, he will be popular with those who matter," a Kelaniya Pradeshiya Sabha member whispered to a colleague. Kiyala wedak nehe (no point saying it), the other replied.
Obituaries
DE SILVA, LALITH (LAL) – Beloved son of late Mr. & Mrs. P.E.R. De Silva, loving husband of Niranjala (Nira), devoted father of Shehan, loving brother of Dr. Harshi Boralessa, late Dr. Kumar De Silva, Mrs. Anoma De Silva and Dr. Sunila Fuster, passed away in Canada. The funeral took place on January 10th in Toronto, Canada, amidst a large gathering of family and friends. STM 094004
ANGELA MAJORIE SANMUGAPALASOORIAR (ARUNA BALA) nee BELGRAVE – Beloved wife of the late Muttiah (M.S. Bala) of Ceylon Tobacco, loving mother of Ganesh (Gundo) and Hansraj (Hansi) (UK), mother-in-law of Baddrika and Susan (UK), passed away peacefully on 26.01.2014. A private funeral was held on 27.01.2014 in Bandarawela. Contact Number: 0771167391. STM 086809