Geneva process moving to new level despite high cost PR campaign
US resolution likely to be with provision for probe by Special Rapporteur, as battle for UNHRC votes continues Firm hired by Cabraal tells Congress members that Lanka wants closer ties with US than with China; is it a foreign policy shift? New JVP leader rejects moves for common opposition front, while UNP's internal conflict worsens over nominations
View(s):
Though in panic mode over the UN Human Rights Council sessions in Geneva next month, there is at least one issue less for the UPFA Government to worry about — the move to form a common opposition front to take it on.
"We are not looking for a government change. Nor are we looking for any common ground with the United National Party (UNP)," the Janatha Vimukthi Peramuna (JVP)'s new leader Anura Kumara Dissanayake told the Sunday Times. "It is the UNP that has to answer for the current situation in the country," he charged. Dissanayake said the JVP did not expect to bring change soon and added that "we need to strengthen our membership at the grassroots level to replace the present system of governance."
That, in effect, puts paid to efforts by the main opposition UNP to rope in the JVP, the leading opposition political party in the south after it, to a joint front based on an agreed programme of work to challenge the Government. During informal contacts, those speaking for the UNP have sought a common effort to change the Presidential system of governance, restore independence of the judiciary and combat corruption that has reached humongous levels. This will mean the JVP will also not support the main opposition's rather half-hearted efforts to move a vote of no confidence on the Government.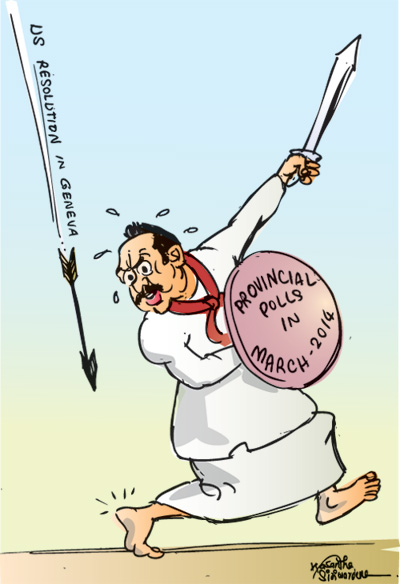 The 46-year-old Dissanayake was unanimously elected leader at the party's annual convention last week. There is a message for other political parties over how he was picked. It became public only last Sunday. The Central Committee of the Party confirmed three months ago that he would be the leader and it remained a closely guarded secret. That even stumped a one-time JVP stalwart and now the National Freedom Front (NFF) leader, Minister Wimal Weerawansa. A website known to be run by him declared that there was a tussle between Anura Kumara Dissanayake and trade union leader, Lal Kantha for the leadership prompting a string of media reports. The one-time revolutionary was wrong after all. He can no longer boast of having insiders who keep him briefed.
Dissanayake replaced Somawansa Amerasinghe, who was once most wanted in Sri Lanka and domiciled in Britain since 1989 after the JVP's abortive second uprising of that period. A senior JVPer, who praised the latter's role, told a Sinhala weekly that Amerasinghe, who ran the party from there, had sent enough faxes to fill a small room. Dissanayake is known for his courageous exposures in Parliament of corrupt activity and wrong doing. He has been compared in the mould of the old Sama Samajist parliamentarians of the calibre of Dr. N.M. Perera, Dr. Colvin R. de Silva and Bernard Soysa and was welcomed in the House this week with plaudits from both Government and Opposition benches.
Dissanayake said the JVP stood steadfast for the abolition of the executive presidency and the restoration of a parliamentary style of government. He is of the view that constitutional provision should be made to limit the term of Parliament to five years instead of the existing six years and for the conduct of elections within three months thereafter. The JVP also wants to restrict the cabinet to 25 members and repeal the Prevention of Terrorism Act. Needless to say, almost every single such issue is what the UNP also wants to pursue.
On the enormous levels of corruption in the State sector, Dissanayake noted that from the highest levels of the Government to a Grama Sevaka it has now become a culture. "Earlier, to win a project 90 per cent of qualifications and 10 per cent of political influence were required. Now, it is the other way around," he said. Assets of those who have become rich through corrupt and illegal means should be investigated. "If they are proven, they should be returned to the people," he added.
The UNP seems ready to go it alone. "We are building our grassroots level organisations. We will intensify our campaign, among other matters, to abolish the presidential system and also expose corruption. We will go ahead on our own," the UNP's national leader Ranil Wickremesinghe told the Sunday Times. He said ahead of a private visit to India that the communications machinery of the party was being strengthened towards this purpose.
The remarks came as the party was embroiled in a controversy once again, this time over the selection of candidates for the Southern and Western Provincial Council elections. It has seen the resignation of parliamentarian Ravi Karunanayake from the Nominations Board just when it had completed its functions. Colombo Mayor A.J.M. Muzammil's wife, Ferouza, a candidate aspirant for the Western Provincial Council, also resigned from the over-thousand strong Executive Committee. During a telephone call, Mayor Muzammil castigated the UNP Leadership Council (LC) Chairman Karu Jayasuriya for "letting him down." Jayasuriya had replied that he supported Ferouza's case. "What is the use of supporting if you cannot deliver," exclaimed Muzammil who thereafter banged the telephone receiver. Muzzamil also sacked from the CMC an official who has been appointed to co-ordinate official matters with UNP leader Wickremesinghe. A report on these developments appears elsewhere in this newspaper.
The opposition parties have shied away from informal approaches by the UPFA to forge a bipartisan response at the UNHRC sessions in Geneva as we said last week. Hence, the Government has intensified efforts on its own. Ministers are continuing to lobby member countries of the UNHRC. The latest to be assigned are Ministers W.D.J. Seneviratne to Morocco and Dinesh Gunawardena to Algeria, both members of the UNHRC.
President Rajapaksa will also speak to some UNHRC member-state leaders when he travels to London next month. He will take part in the Commonwealth Day events on March 10 as Chair-in-Office of the 53 member-nations group of ex British colonies. Based on the 2014 theme; "Commonwealth Team," it is to include the biggest multi-faith celebration in Britain. According to the Commonwealth Secretariat, it will take the form of an hour long service at Westminster Abbey, featuring a mixture of testimonies, readings, hymns and musical performances. It will be attended by Queen Elizabeth II, Head of the Commonwealth, and senior politicians, High Commissioners, Commonwealth dignitaries and up to 200 other VIPs. It is also to be attended by more than 1,000 schoolchildren, with 2,000 people present in total. The Commonwealth Secretary-General will host a reception attended by The Queen and representatives of the 53 members of the Commonwealth at the Commonwealth Secretariat in Marlborough House, London. Ahead of the visit to Britain, President Rajapaksa will also undertake an official visit to Myanmar.
In New Delhi a week ago, External Affairs Minister G.L. Peiris spoke with diplomats of UNHRC member countries which do not have resident missions in Sri Lanka. Details of his talks with Indian External Affairs Minister Salman Khurshid have emerged now. Peiris took considerable time to pitch Sri Lanka's case by emphasising on the implementation of most proposals of the Lessons Learnt and Reconciliation Commission (LLRC). He said Sri Lanka required more time to implement the remaining ones. A source familiar with the talks said Khurshid listened to Peiris intently but made no remarks. When the Sri Lankan External Affairs Minister had finished, Khurshid had politely declared that the Government of India had still not decided on its position vis-à-vis the UNHRC sessions next month. He added that such a decision was to be taken only days ahead of the event. Khurshid's response that no decision has been made by itself is a snub to Peiris. The message is that the Government of India will not back Sri Lanka despite his latest appeal. That was why Khurshid remained non-committal and diplomatically dismissed Peiris' pleas by remaining silent.
Like Peiris, Presidential Secretary Lalith Weeratunga who was in Washington DC to lobby Sri Lanka's case returned to Colombo early this week. As revealed in the Sunday Times (Political Commentary) of January 26 it was the US public relations and lobbying firm Thompson Advisory Group (TAG) that was responsible for the first part of his engagements. For that Weeratunga was joined by Central Bank Governor Nivard Cabraal, who has hired TAG. Those engagements included meetings with Senate Foreign Relations Committee Chairman Bob Menendez and House of Representatives Foreign Affairs Committee Chairman Ed Royce. Weeratunga also held meetings with select members of Congress. These were arranged by a one-time minister of a friendly South Asian country. He had also flown to the US capital. For this, Weeratunga was joined by Sajin de Vass Gunawardena, Monitoring MP for the Ministry of External Affairs. Letters written to Congress members by TAG give an insight on the UPFA Government's strategy for Geneva and lay bare the continuing ineffectiveness of the Sri Lanka Embassy in Washington DC. Here is the full text of one such letter:
"THOMPSON ADVISORY GROUP
January 21, 2014
"Congresswoman Gwen Moore
2245 Rayburn House Office Building
Wshington, DC 20515
"Dear Congresswoman Moore:
"Next Tuesday, January 28, we invite you to meet two distinguished Sri Lankan guests here on Capitol Hill regarding the international significance and importance to America of events in Sri Lanka. Visiting will be:

"Mr. Ajith Nivard Cabraal is Governor of Central Bank of Sri Lanka, their equivalent of our Federal Reserve System.
"Mr. Lalith Weeratunga is Permanent Secretary to the President of Sri Lanka, Mahinda Rajapaksa, their equivalent of Chief of Staff to the President.
"They are here to meet with Members of the Congress and others in Washington, to improve the understanding and relations between our countries.
"As illustrated on the attached map from Hofstra University, the island nation of Sri Lanka is astride the main maritime trade routes of the Indian Ocean, with fast growing economic and strategic significance as that area of the world experiences rapid growth. China is making major inroads already in Sir (sic) Lanka, but our distinguished visitors wish to make sure that relations with the United States are improved even more strongly.
"Next Monday we will deliver to your office a DVD of the 28-minute mini-documentary, "Sri Lanka Reconciling & Rebuilding" by former CNN Anchor Gene Randall, which is to air immediately following "This Week" on Sunday morning in Washington, DC. It provides an overview of the situation in Sri Lanka, which Mr. Cabraal and Mr. Weeratunga will expand upon during their Capitol Hill visits.
"First-hand, they will have information on the remarkable economic progress in Sir (sic) Lanka since the 2009 end of the long-term civil war; the successful regional elections that now provide representation in the government for the formerly-insurgent Tamil population; and the progress on reconciliation and human rights issues.
"Rep. Robert Aderholt, who chairs the Sri Lanka Caucus, is hosting Mr. Cabraal and Mr. Weeratunga for lunch in the Members' Dining Room from noon to 130 pm on Tuesday January 28. You are invited to come visit them at this lunch. If possible, an RSVP to Diane Prunetti, at (202) 682-0013 would be appreciated. If you are unable to attend but would like to see if some other opportunity could be created, please contact Diane Prunetti about that.
"Also accompanying me along with our distinguished visitors will be one of your former House colleagues, former Rep. Ernest Istook of Oklahoma, who sends along a personal note that's included.
"We hope to see you next week. Thank you for your time and interest.
Sincerely
Sgd: Robert J. Thompson
Chairman, Thompson Advisory Group"
Attached to the letter is a world map marked with "Maritime Shipping Routes and Strategic Locations" including Sri Lanka. It is from the Hofstra University, a private institution in Long Island, New York. A firm hired at a monthly cost of US$ 66,000 (more than Rs. 8.5 million) every month by Central Bank Governor Cabraal, is ignorant of some basic facts. TAG has referred to Weeratunga as "Permanent Secretary." Weeratunga is Presidential Secretary. Moreover, in the precedence table the Secretary to the President is above the Governor of the Central Bank. However, TAG has changed not only Sri Lanka's name to "Sir Lanka" in some instances, but also the country's official precedence table to place Governor Cabraal on top. At whose instance did it do so? Why were they not checked before the firm, doing the work of the Sri Lanka Embassy for a monthly fee, was allowed to circulate it? If it was not possible for Cabraal himself to check on them from Colombo, it seems the Embassy in Washington DC was unable to even do that little bit. Or was it kept in the dark because of its non-performance?
Adding to the heavy costs to the Government, again from taxpayers' money, was another factor. A crew with a former CNN cameraman was flown to Sri Lanka and granted virtual VIP status to carry out a shooting assignment. Air Force helicopters were placed at their disposal to obtain footage. The 28-minute "mini-documentary" was aired by some Washington-based television outlets for the payment of a large sum of money. The video posted on You Tube can be accessed from http://www.youtube.com/watch?v=heFhTh1PxQE. According to a source associated with the exercise, the cost for this paid propaganda campaign would run into millions of dollars. During prime hours, TV outlets charge premium amounts.
This cost is in addition to the fee for the camera crew and related expenses, all of which will be paid to TAG. It is logical to conclude that all those efforts by the US lobbying and public relations firm were to pitch the Government's case and thus accomplish the objectives of Weeratunga's mission — seek a five year respite from July 2012 from any action against Sri Lanka. That was the month and year when the Government began implementing recommendations of the LLRC. It is also equally logical, if not more, to discern that TAG would have carried out the brief given to it by the Government of Sri Lanka. That this firm has told US law and policy makers that "China is making major inroads already in Sri Lanka" and asserted that "our distinguished visitors wish to make sure that relations with the United States are improved even more strongly" raises an all important question.
Is there a foreign policy shift where the Government of Sri Lanka now wants its relations with the United States "stronger" than with China? Did such a brief to TAG go from the Presidential Secretariat, External Affairs Ministry or the Central Bank? The Government has a duty to explain not only because public funds are being spent extravagantly on these efforts but also for the reason that these are issues related to Sri Lanka's foreign policy. That apart, as repeatedly pointed out in these columns, all this money could have been saved if the Sri Lanka Embassy in Washington DC functioned effectively. What TAG is now doing is what the Embassy should do. Worse enough, the Embassy also has its own firm, Majority Group. That this is the sorry story with most Sri Lanka overseas missions, packed with cronies and political appointees, is simply lamentable, to say the least.
If indeed the Government wants to build stronger relations with the US than with China, why did the Cabinet of ministers reject last week a proposal by Education Minister Bandula Gunawardena to sign a Memorandum of Understanding with the US Pacific Command for the reconstruction of three school buildings in the North? This was revealed exclusively in the Sunday Times (Political Commentary) last week. The proposal could very well have been re-routed through either the Ministry of External Affairs or the Ministry of Defence and Urban Development since the offer is free of cost. In marked contrast, unsolicited proposals worth millions and millions of dollars from Chinese companies are being approved every month. In almost every instance, such project proposals placed before ministers for approval do not explain how these enormous amounts of money to be borrowed would be repaid. Nor do they give a breakdown of how the moneys obtained are to be utilised. Ministers dare not speak up. Re-payments with interest total vast amounts of money and would have to be made for generations to come unless the country is 'mortgaged' to China some other way.
In a 42-page note handed over to those he met, Weeratunga, who also heads a Presidential Task Force, gave more details of how the LLRC proposals were being implemented. With regard to the alleged war crimes, the report notes: "Allegations of summary executions of captured persons are being investigated by the Army Court of Inquiry, through a comprehensive procedure involving interviewing all relevant Field Commanders and potential witnesses. Potential witnesses, once identified, will be formally called as witnesses to the Inquiry.
"First Part of the Court of Inquiry, i.e. allegation with regard to civilian casualties, concluded in February 2013. Inquiry concluded that instances of shelling referred to in the LLRC Report were not caused by the Sri Lanka Army and civilian casualties might have occurred due to unlawful acts by the LTTE. These acts include targeting civilians fleeing to the safety of Army held areas and likely routes of escape, dropping of artillery rounds fired by ill-trained LTTE gunners on to civilian concentrations etc.
"Any person affected by shells and had applied to the REPIA for compensation has been granted redress. Whoever injured or disabled due to war is entitled to apply for compensation on submission of a medical report issued by a Government Doctor." The 42 page report has also now been posted on the website llrcaction.gov
Contrary to claims in the United States capital that the UPFA Government's thrust is to restore strong relations, this week too witnessed a different mood locally.
here was strong criticism of the US. President Mahinda Rajapaksa directed veiled criticism when he addressed the nation at Tuesday's 66th anniversary Independence Day ceremonies in Kegalle. He declared, "Every powerful country should realise the difficulty in defeating terrorism." Here are relevant excerpts: "Three decades of suffering ended on May 19, 2009. Since then there has been no bomb explosion or shooting by terrorists. And no white flags of mourning in our villages. It is necessary for the people in the North to be aware that certain foreign forces are attempting to use them as human shields. The invaders always came to our country shedding oceans of crocodile tears. They interfered in these countries putting forward claims to protect human rights, establish democracy and the rule of law. "Every powerful country should realise the difficulty in defeating terrorism.
What we faced was a more serious and brutal challenge than they ever faced. The difference between them and us was that we instructed the security forces to give the highest priority to protect the lives of civilians. Those powerful countries took 50 to 100 years for reconciliation after civil wars. We have to ask the world whether there is any country that has progressed so much on the path of reconciliation in just four years.
"We see the use of information provided by those who are committed to separatism and those who were defeated by the people to level charges of war crimes and other alleged offences against Sri Lanka as a grave offence. I see the attempts to level charges of war crimes against us in Geneva today as the triumph of those who are not in favour of peace. This seeks to drive fear into people and nations committed to peace and working to safeguard a country's independence and freedom. These are not founded on peace, fair play or justice………. We Sri Lankans who were born in this country have to recall the bitter memories of the past when baseless allegations are levelled against us….."
Nevertheless President Rajapaksa was conscious of a core issue in the previous two US resolutions over reconciliation. His aides tracked down Tamil National Alliance (TNA) leader Rajavarothayam Sampanthan to a house in Chennai on Wednesday. Later they connected Rajapaksa on the telephone. The President wished him happy birthday, inquired about his health and asked him to meet him when he returns to Colombo. The TNA leader is on a private visit for medical reasons. Rajapaksa is to talk to him once more about the prospects of TNA's participation in talks towards reconciliation.
Just days after his return to Colombo from the Washington visit, Weeratunga figured in ITN's talk show Doramadalawa (Gateway). Defence Secretary Gotabaya Rajapaksa was among those who took part. Here are translated highlights of what he said:
"What I felt during my visit to Washington and Geneva was that they tend to pressurise us more, because we achieved peace without any assistance or permission from them. But there is a controversy within the international community in the process over resolutions against Sri Lanka. The opinion of most of the members in the US Senate and the Congress was that America is not in a position to question Sri Lanka about the human rights violation since they themselves could not properly establish those rights after 100 years of war.
"The Purpose of my visit was to brief the international community about the progress made by the Government following the recommendations of LLRC within 18 months starting from July, 2012. We met 130 delegates in Geneva and allowed them to come up with questions. My speech was only for 20 minutes whereas the Permanent Representative (Ravinatha Ariyasinha) and I answered their questions for two and half hours.
"Some of the Latin American and Asian counties as well as most of the African countries seemed to have appreciated what we said. They spoke on our behalf at the meeting. At that moment I felt that Sri Lanka should project itself as a model in front of the world. There was no country which ended a 30-year-long conflict with minimum damage to the civilians; there is no country where an Army accepted 300,000 displaced persons and then became their facilitator. They should not expect us to complete the reconciliation process within four and half years. There are states that failed to do so even after 100 years. Therefore I explained to them that they should look into this matter in a fair perspective.
"The US still does not give us a clear picture of the proposed resolution it has against us. When I spoke to the Assistant Secretary of State Biswal, she was not ready to look at the justification of what we say. They asked us to follow the way the US acted after World War II by being magnanimous and forgive the opponents. I reminded her that we too forgave nearly 11,830 terrorists without even any trial.
"The next issue they have is accountability. I explained clearly that accountability over this civil war is a matter of 30 years but not just the one or two weeks of the last stages. No one can remember the brutality brought about by the IPKF (Indian Peace Keeping Force) to this country for about two years. Everything including IPKF should be taken into the accountability. (Note: Troops of the IPKF were inducted to North and East Sri Lanka following the Indo-Sri Lanka Accord of 1987 to ensure a ceasefire between Sri Lankan troops and separatist guerrillas. They later ended up fighting the LTTE until late President Ranasinghe Premadasa ordered their withdrawal). I clarified the sensitivities of the reconciliation process. Because it takes time, two to three generations, as revealed in researches. So pressurising Sri Lanka over reconciliation can only divide the two ethnic groups even more.
"There might be resolutions against Sri Lanka before the Human Rights Council at the March sessions. It cannot clamp down an embargo on us. However, other measures such as sending Special Rapporteurs might take place."
The latter remark suggests that Weeratunga, like other UPFA leaders, is conscious of the passage of the new US-sponsored resolution next month.
The contours of the latest resolution are just taking shape, according to diplomatic sources. One source said it would avoid any pointed reference to an "international investigation" into alleged war crimes but yet make provision for it in the form of an "omnibus" clause. Such a clause is to follow a preamble that would take note of the Government's lack of progress in addressing accountability, reconciliation, justice, implementation of recommendations of the LLRC, the 'worsening' human rights situation, 'attacks' on religious minorities, weakening of the rule of law, increase in levels of corruption and impunity.
These elements were also contained in the introductory remarks the US Assistant Secretary of State for South and Central Asia, Nisha Desai Biswal made to selected representatives of the media during a briefing at the American Center at the end of her visit to Colombo. According to another source, the mechanism for the proposed investigation is yet to be determined. It is likely that it could take the form of a designated Rapporteur who will undertake the probe on issues that would be listed in the preamble. "This way, the US hopes to have more countries co-sponsor the resolution and vote for it," said the source. Such a move, the source added, would also have India on board since the provisions, at least seemingly, do not appear intrusive and remains focused specifically on issues linked to Sri Lanka.
There is little doubt that the third US resolution, which is now likely to be adopted by the UNHRC, will see the beginning of a new process. The Government will take strong objections to any visit to Sri Lanka by those conducting a probe, a move that will take the issue to another level. Even in the absence of an opposition common front, those issues are a formidable challenge to the UPFA Government in the months and years to come. One is wrong to assume they will simply go away due to hurried initiatives and the rapid deployment of lobbying and PR firms. The question that begs answer is what the Minister of External Affairs G.L. Peiris, his Ministry and Sri Lanka's diplomatic missions have been doing all these years.