Our daily deadly diet
Merchants make millions, show scant re gard for consumers' health
View(s):
Officials say 400,000 tons of contaminated dhal found in a warehouse raid this week were to be sold to the public after coating with food colouring and oil to give false colour and gloss.
Gunnies full of imported dhal, some of it black and discoloured, some covered with fungi and some contaminated with pigeon droppings were confiscated from a Wellampitiya warehouse on Tuesday.
In separate raids the Consumer Affairs Authority (CAA) also found thousands of kilos of weevil-infested rice and tons of rotten potatoes.
The dhal confiscation alone has saved the public from an estimated 6 million serves of contaminated food.
Pradeep Kalutaraarachchi, the Officer in Charge of CAA's Raids Unit, said the Government Analyst was investigating whether the oil used for artificially "freshening up" the dhal was a byproduct or industrial oil, which in itself could cause illness.
The warehouse owner, H. Saravana, who operates a mill in Wellampitiya, was on Thursday fined Rs. 7,500 for storing and adulterating dhal unfit for human consumption. He would have sold the dhal for Rs. 40 million. However orders were issued to destroy the entire stock.
"The current fine for an individual importer or owner is a maximum of Rs. 10,000. The Ministry is hoping to bring amendments to the Consumer Affairs Act," said Nipun Wickremanayake, spokesman to the Ministry of Co-operatives and Internal Trade.Mr.Wickremanayake said that on Thursday the CAA found 85,000kg of expired and weevil-infested nadu rice at the Veyangoda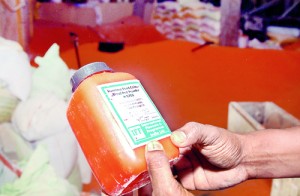 Economic Centre.
"The rice was to be released to the market. The CAA is investigating claims that mild insecticides are used to remove weevils in the rice," he said. It is suspected that as a regular practice insecticide is being sprayed directly on the husked rice.
On Thursday, Wattala Public Health Inspectors inspecting a warehouse in Kerawalapitiya discovered a container holding 14 tons of rotten potatoes.
The potatoes, imported from India, were being stored in freezers and were worth Rs. 5 million.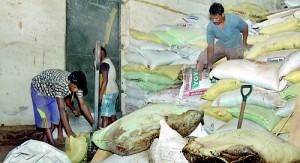 The Sunday Times reported last week that 57 tons of contaminated sprats were recovered from warehouses in Dankotuwa and Wattala, destined for release onto the market after being cleaned of slime and other evidence of spoilage and mixed with fresh sprats for cover.
"Inspections and investigations have begun outside the cities as there is a possibility of these items reaching rural population whose staple meal includes dhal and sprats," said Mr. Wickremanayake.
These common man's favourites, when expired and adulterated, can cause stomach cramps, vomiting, diarrhoea and other marks of food poisoning, said Deputy Director (Public Health) of the Health Ministry, Dr. Sarath Amunugama.
-N.F.
Raid in Sathosa supermarket: More rotten food
Up to 180 kg of spoiled sprats and 48 kg of rotten potatoes, not suitable for human consumption, was seized by a team of Public Health Inspectors (PHIs) from the Yatinuwara area, following a raid on the Peradeniya Sathosa Supermarket.
Action is to be filed in courts on Thursday against the Sales Manager and the Distribution Manager of the supermarket.
The raid was conducted by the PHIs Mahinda Tennakoon, Vimal Padmakumara, J.B. Wijekoon, Indu Lakshman and M. Wijerathne.