Impotent fire service can't enforce safety rules
By Nadia Fazlulhaq
Burning issues as congestion causes high risk for Colombo
View(s):
Neither the poorly-equipped fire service nor any other authority has the power to enforce fire safety regulations in the crowded capital where increasing congestion and the number of old buildings create a major fire hazard.
Despite a number of fires reported in Colombo, especially in old public buildings, the city's fire brigade has no legal power to warn or take action against institutions not adopting fire safety measures, said Colombo Fire Service Department Chief Fire Officer P.N.R.
Fernando.
He said the Colombo Fire Brigade, which has been in operation since 1890s, does not come under empowering legislation such as a Fire Services Act, Fire and Rescue Services Act or Fire Brigade Services Act such as exist in other countries such as Britain.
The fire brigade has no legal power to make it compulsory for government and private institutions to conduct fire drills, maintain fire extinguishers and hose reels and follow safety procedures.
"Unfortunately, we can only inspect and advise. It is a person's choice whether to take necessary precautions. Usually the private sector ensures adequate maintenance but the public sector often neglects its safety measures. In some instances, equipment is installed but there is no service agreement," he said.
The fire chief said Colombo Fire Brigade officers had requested the Colombo District Secretariat (Kachcheri) to put in fire safety measures several months before the major conflagration in 2012 destroyed the planning, accounts and administration division holding hundreds of thousands of vital tax-related documents, land deeds and birth and death certificates.
"We also advised the National Museum to take safety measures against fires just after the staircase collapse incident in March last year. But it was only last week that it requested our support to instal fire safety equipment," Mr. Fernando said. The President's office had also instructed the Museum to attend to fire safety needs.
At present, fire brigades around the country come under the local authorities and are funded through local authority allocations.
The Colombo Fire Brigade, the largest fire department in the country, has about 15 fire engines, 12 water bowsers and two rescue vehicles and about 200 fire officers to service a teeming city of 700,000 inhabitants and an additional 1 million workers who commute in each day.
There are just 18 water hydrants in the city.
Mr. Fernando said plans are ahead to purchase another two water bowsers and one fire engine.
"There is a need to have Grade One fully equipped fire stations given the rapid development that is taking place in the city. There are high-rise buildings in the city as well as restaurants, hotels and residences with wooden architecture.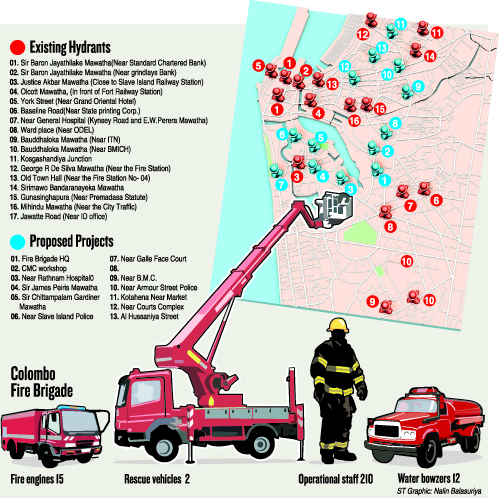 "The Fire Brigade needs to be better equipped when it comes to rescue operations," the fire chief said. Its longest snorkel – an articulated boom providing high-level access and elevated water pump positions – is 57m. "We have proposed the purchase of a 90m snorkel," Mr Fernando said. An extra 50 fire fighters are being trained.
At present there are 18 pillar water hydrants in Fort, Slave Island, Pettah, Baseline Road, near National Hospital, Ward Place, Jawatte Road, Bauddhaloka Mawatha, Kotahena, Grandpass, near Premadasa stadium and Mihindu Mawatha.
There are plans to put up pillar hydrants in another 13 locations within the city. Some will be close to the Galle Face Court, near Tower Hall, close to Supreme Court Complex, near the Colombo Municipal Council workshop on Darley Road, near the Armour Street police station and close to Building Material Corporation at Grandpass.
"Previously there were ground hydrants, but there are constructions over them. It is why pillar hydrants are introduced. Previously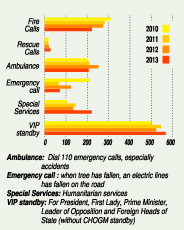 the pipe diameter was about 2.5 inches (6cm) but now the pipe diameter is six inches (15cm). That means more water can be pumped from the main water line," Mr Fernando said.
The brigade has only one water bowser that can pump water from lakes and other water sources.
"Recently we purchased a bowser that can pump about 4,500 litres of water within minutes. We used this to douse the fire that erupted in the cargo warehouse in the Colombo Port using water from the Beira Lake," Mr Fernando said. Chemicals stored in the warehouse caused the massive inferno last May.
The Colombo Fire Brigade attended 222 fire calls last year. The fire brigade is not only involved in dousing fires. In 2013 it also responded to 27 rescue calls in cases such as people trapped in lifts or unable to get down from a tree or a tall building etc.
The brigade also has an ambulance service which is used particularly in accidents. Last year, it had 206 ambulance calls after responding to 110 hotline emergency summons.
The fire brigade also responds to calls regarding fallen trees, electric fences and other emergency situations and acted on 72 such occasions in 2013.
Statistics show a large part of the brigade's duties involve being on VIP stand-by service. That accounted for 567 actions last year without including services provided during Commonwealth Heads of Government Meeting. The Fire Brigade provides VIP stand-by services to the President, First Lady, Prime Minister, Leader of the Opposition, heads of state and foreign ministers of other countries.
Safety drills conducted
The Colombo Fire Brigade last week ran programmes to strengthen communications with the public over fire safety.
"Though most of us know the police hotline is 119, only a few are aware that the fire emergency hotline 110," Colombo Fire Service Department Chief Fire Officer P.N.R. Fernando said.
Fire prevention programmes and drills were held in Pettah, Fort and Colpetty to educate the general public, including business and office communities.
According to the fire chief, the main causes of fires in the capital are electricity short circuits and gas leaks.
He advised the public to regularly check and avoid using damaged electrical equipment, avoid plugging high voltage equipment to a plug base or using electrical items during thunder and lightning.
Mr. Fernando said people should be cautious when lighting candles and mosquito coils on surfaces that could easily catch fire.