The Unfriendly Neighbour
View(s):

Skippy and Tiffy stopped playing with their plastic ball and stared at their neighbour's wall.  A beautiful Persian cat, as white as milk, stood there staring back at them. "Oh look! We have a new neighbour," said Tiffy and walked up to the wall. "Hello, we are your  neighbours!" he said  purring loud. The white cat looked at them and turned his head high. "Hello!" said Skippy a little louder. But the white cat didn't react. "Maybe he's deaf!" Tiffy whispered in Skippy's ear. "Percy!" A woman shouted from next door. The cat looked that way at once and jumped off the wall. "Well what do you know…he's not deaf!" said Tiffy. "Plain rude, I would say!" replied Skippy. "Come on let's get back to our game!"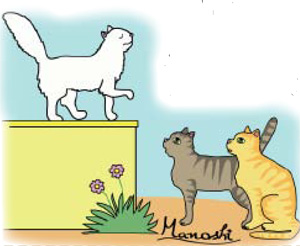 The next morning when the two cats went out they saw their unfriendly  neighbour on the wall again. He looked at them from the corner of his
eyes and started grooming his fine fluffy fur. "There's the deaf cat!" Tiffy whispered but the white cat heard what he said. He stood up on the wall and stared at Tiffy fiercely. "Who are you
calling deaf?" he spoke for the first time in a harsh, annoyed tone. Tiffy got frightened and hid behind Skippy. "Since you didn't speak to us when we spoke to you, we thought you must be not hearing too well…" Skippy said trying not to sound rude.  But the white cat was annoyed, nevertheless. "And what makes you think that I should talk to you?" the white cat asked very proudly. "Because you are a cat, just like us!" Tiffy answered still hiding behind Skippy. "Fools!" the white cat hissed, "How can you be anything like me? You two jokers look like you have no fur on your bodies!" "Hey, no need to be so rude!" said Skippy,
"We do have fur. It's just not as long as yours!" "Well, do you know why? It's because you two are ordinary stray cats and not a Persian like me!" said the white cat and jumped off to the other side of the wall and vanished. "That's not true!" said Tiffy in tears. "We do have fur and we are not strays. We have an owner!" Skippy tried to calm Tiffy. "He's just rude. Let's not get affected by his insults. 
As long as we are happy with the way we are, what others say should not  matter to us!" But Tiffy was very hurt. He stared at his coat and sighed. "I wish I too had long white fur like him. Then he would have treated us as friends!" "What's the point of  being beautiful from the outside, if you're not so from the inside?" Skippy questioned and said "I'd rather be friends with someone who'd like me for who I am and not make rude hurtful remarks. I would never want a friend like that!"
The white cat was seen on the wall almost every morning. He loved the attention he got at the beginning but little by  little Skippy and Tiffy started to ignore him and soon they stopped  looking at him altogether.
One morning the white cat felt like getting some attention, just so he could be rude to the other two cats. So he decided to do something to impress them. He saw a tall  coconut tree near the wall. It was so tall that it looked like it touched the sky. "I know, I'll climb this tree right to the top. That should impress those two fools!" So he jumped to the trunk and up he climbed little by little.
"Look! Look!" shouted Tiffy. "The white cat is climbing that tall tree!" The white cat looked down from the  corner of his eye. He was half way up the tree and looking down was scary.  He felt dizzy and started to shiver. The sky suddenly turned gray and it started to drizzle.
Skippy and Tiffy ran under the porch and kept on  staring. The white cat was getting wet and he didn't like that. The tree was  getting slippery and there was nothing he could do. He has never climbed a tree before and he had no idea how to get down. "Meaow! Meaow!" he started wailing. "Hang on there!" shouted Skippy, "We'll think of a way to get you down!" But the white cat had no patience. He started to wriggle trying to avoid  getting wet and started slipping down little by
little. "I can't look!" shouted Tiffy and closed his eyes. "Use your nails!" shouted Skippy. "Whatever you do, don't let go of the tree trunk!" Thanks to Skippy's advice the white cat came sliding down the trunk. When he reached down he came running under the porch where Skippy and Tiffy were.
The white cat looked  different. His fluffy tail was as thin as a stick. "What happened to his fluffy fur?" Tiffy shouted, "It's all wet and stuck together. Now he looks no different than us!" "Are you alright?" Skippy asked the white cat. Luckily he was not hurt but he looked ashamed and embarrassed. He looked at his body which was dirty and wet. His fur was not fluffy anymore. "Thank you," he muttered very softly, "and I am so sorry…" "Let's forget the past!" replied Skippy, "You can stay at our place till the rain stops. Once you get home, your owner will clean you and you will look good again!" The white cat looked at the other two cats with gratitude. He knew that he had found himself two good friends.