Satellite has some space to orbit again
View(s):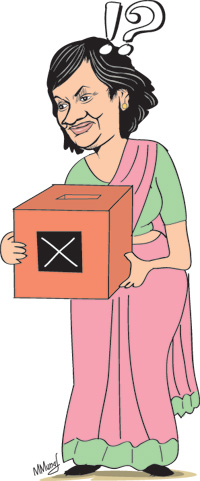 My Dear Satellite,
I thought I must write to you when I heard people speculating about how you would be the common opposition candidate-obviously against Mahinda maama — at the next big election. I don't think you would mind, would you, especially since very few people must be writing to you these days!
I know you have already said that you have no such intentions because you have retired from politics. That is a very sensible statement and many people would like you to stay that way, even though some may say that you 'retired hurt', rather than just retiring.
But then, you have also said that 'nothing is permanent' perhaps suggesting in your own cryptic way that your decision might change and that you may, after all, contest against Mahinda maama at the next big election. That is why I thought I must write to you.
Satellite, you were also complaining about people not being able to freely express their views these days. I take it that this is a hint that the situation was better when you were the boss and that matters are much worse now because Mahinda maama is in charge.
I know, Satellite, this must be hard for you but the time has come to realise that the control of the Blue party has now passed on to the 'R's from the 'B's. And, judging by how it has been done, it looks as if it will be quite difficult for you to get it back in a hurry — if you are able to get it back at all, that is.You shouldn't be complaining, though. After all, the 'B's controlled the Blue party for a good 54 years before the baton passed on to the 'R's — and that too was done only because you believed that Mahinda maama wouldn't win the election he was contesting.
Those were the days, weren't they? The country's major airport and conference hall were named after the 'B's, there was a school named after your mother and the day your father was assassinated was declared a public holiday. Why, they even named a 'weva' after you somewhere in Embilipitiya!
Of course, the 'R's have done better (or worse, depending on how you look at it). There is already an airport and a conference hall named after the 'R's but they also have a port and a cricket stadium and a few schools — and I am sure there will be many more to come!
We remember, Satellite, that towards the end of your mother's reign in the late '70, the Green party published a booklet which had a 'family tree' which indicated all the positions in the government held by members of your extended family — and it was a bestseller those days.
No one has of course dared to publish something similar now but if they do, it wouldn't probably be a booklet but a more voluminous publication because they would have to describe an entire family jungle instead of a family tree!
Even so, Satellite, I am not sure what your chances would be, if you were to run against Mahinda maama. That is because people are likely to vote for Mahinda maama as he was responsible for ending the war but most people can't remember what on earth you were responsible for!
Then, Satellite, it is also amusing to see pictures of you having a good time with people like the Green Man and some of his party members because we hardly see pictures of you talking to those from the Blue party — they seem to run a mile when they see you at all these social events!
Besides, how would you be able to work with the Greens as their candidate when you did everything possible — including taking over some of their ministries — to sabotage their government when they were briefly in power during the latter stages of your rule?
I, however, understand why some want you to be the candidate against Mahinda maama. That is not because they have great faith in your ability to win such a contest but because they think that without you, they don't have anyone else who could at least give Mahinda maama a decent run for his money!
Why, there is Karu and the Green Man from the Green camp and the General from the other camp. The Green Man and the General have already had their chances and Karu might be too decent a gentleman to adopt the tactics that would be needed to secure a victory.
It is a sad reflection of our political landscape that people think you could solve all our problems — when you couldn't do so for eleven long years. But then, you might still be a better bet than Geetha, Malini or even Paba, because that is who we might be left with!
Yours truly,
Punchi Putha
PS: We know that many people blame you for many things that happened when you were the boss but to give credit where it is due, you didn't introduce your children to politics like everyone is doing these days. At least for that, we are sure to be grateful to you in the years to come.