Waste of paradise by SriLankan Chairman
View(s):

Diverting an aircraft on a scheduled flight from one country to yet another is an exclusive privilege enjoyed by Heads of State or Government. However, in Sri Lanka it is a different story. Even the Chairman of SriLankan Airlines, can do it by merely making a telephone call. Chairman Nishantha Wickremesinghe, his wife and a guest were on a non-official visit to Singapore this week. This is exactly what he did.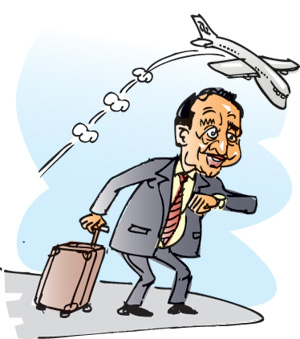 He ordered that the scheduled SriLankan Airlines Colombo bound direct flight from Kuala Lumpur be diverted to Singapore. It was just to pick him up. Passengers who found the aircraft landing less than an hour after take-off were baffled. No one told them that they were making a diversion to pick up the Chairman and party. It is later that they found out they were in Singapore.
The irony of this situation is that Chairman Wickremesinghe did not want to wait for two hours and take the scheduled Sri Lankan Airlines flight leaving Singapore anyway for Colombo. He was in a mighty hurry to get to Colombo. Little wonder that the national carrier, which prides itself over its logo – a taste of paradise – is also dubbed as the airline which 'borrows from Peter to pay Paul.' Last week, the exclusive front page lead story in the Sunday Times revealed how SriLankan Airlines is to raise an international bond issue for US $ 175 million dollars. This is to pay off an earlier loan obtained from the Dubai based Mashreq Bank and use the remaining funds to pay an advance payment for a fleet of new aircraft from the Airbus Industries in France.
An irate local businessman asked a crew member why Chairman Wickremesinghe could not wait and board the scheduled flight out of Singapore. Replied the crew member; "For them, our aircraft are like three-wheeler taxis. They can stop them anywhere and whenever and wherever they need it." The businessman remarked that no other self-respecting carrier would divert scheduled flights to pick up their Chairmen.
It is public funds that are used to meet fuel and additional costs due to diversion of aircraft. Little wonder ministers in the Cabinet fear SriLankan Airlines are in for an economic crash landing. But, who cares as long as they can enjoy their own taste of paradise in the much touted miracle of Asia?
---
They linger with Ginger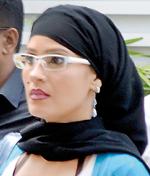 UPFA politicians conducted interviews to select candidates for the Western and Southern Provincial Council elections.  It was at the Sri Lanka Freedom Party Headquarters in Darley Road last week. There were some actresses and singers among the applicants. 
Judith White, better known as 'Ginger,' was asked by the panel whether she had any experience in politics. She had said UPFA MP Duminda Silva supports her and she was involved in his campaigns.
UPFA MP A.H.M Azwer asked her ethnicity. She replied she is Burgher and married to a Muslim. Azwer asked her to name some of the Muslim leaders in Colombo. " Oba thuma innawa. Ela pawozi innawa. Samawenna Fowzie amathi thuma innawa. Mohamed Maharoof innawa" (You are there, then 'Ela Fowzi'-a colloquial phrase among urban youth -sorry, minister Fowzie is there and Mohamed Maharoof is there).
Azwar had reminded her that Maharoof is no more. However, SLFP Administrative Secretary S. H. Ariyasena had noticed that the interview panel was taking more time to interview actresses and female singers seeking nominations. "Niliyangen prashna karanna sahena wela yanawa wage" (It seems it is taking a lot of time to interview actresses).
The response came from Minister Anura Priyadarshana Yapa. He said, "apita hithata duka Aswer manthrithuma wedipura prashna ahana eka" (Our worry is that MP Azwer is asking more questions)
---
Karu gives birthday calls like MR
Though it is almost six years since he quit the United People's Freedom Alliance (UPFA) Government to re-join the United National Party (UNP), Karu Jayasuriya still prefers to take a leaf from his former leader, President Mahinda Rajapaksa when it comes to public relations. Now head of the UNP Leadership Council, Jayasuriya has compiled his own list of birthdays of the party's local authority members and senior cadres. When it comes to a birthday, he would phone them in the morning and extend good wishes, a la Mahinda Rajapaksa.
At least to one other top UNPer, the news came as a surprise. A local authority member in his district protested. He said "Sir, Jayasuriya mahattaya magey birthday ekata suba pathuwa. Sir mokuth kere nehe ney" (Sir, Mr Jayasuriya wished me for my birthday. You did not do anything, Sir.")
---
Minister's muscle makes diplomatic flex
Postings to diplomatic positions overseas, be it to a top slot or at secretary level, like kissing, goes by favour. After our disclosure last week about the many friends, relatives and acquaintances of politicians who have won positions in Sri Lanka missions, comes another story.
This time, a Minister who is friendly with his own young staffers, obliged a gazetted officer in his security team. The result – a relative of the bodyguard boss has been posted to a date-growing country to do diplomacy for Sri Lanka. Under a previous administration, the same Minister wept after the then Police Chief transferred his favourite bodyguard to a field job on the instructions of the then President who had heard he was crossing-over to the Opposition.
---
President begins campaign against UNHRC
President Mahinda Rajapaksa this week drew an analogy about western nations moving against Sri Lanka at the UN Human Rights Council in Geneva.
"The wolves were crying that the goats were getting wet in the rain," he said at the prize-giving of the Ramanathan Hindu College in Bambalapitiya.
"Eluva themenakota wurkkaya andanawalu," he said in Sinhala and switched to Tamil to say "Aadu nanaikirathu enru. Onaai Alukirathu."
He said he would urge parents, teachers and students to keep in mind "this is our motherland and we should not create bloodshed again." As one of the teacher's noted, President Rajapaksa's campaign against the UNHRC sessions in March has already started.
---
'Do as I tell you' Minister tells DIG
"Mage palaathata avaama mang kiyana dey karanna oney. Magey minissunta hiri hera karanna epa," or when you come to my area, you must do as I tell you. Do not harass my people.That was the warning issued to a Deputy Inspector General of Police (DIG) who assumed duties recently in a city not far off from Colombo.
The 'order' was given on the telephone by a Cabinet minister even before the senior police officer had served a week in his office.
---
'Ali wali' over two-legged  elephant in Israel
Sri Lanka's Ambassador to Abu Dhabi, one time Police Chief Mahinda Balasuriya had a question for President Mahinda Rajapaksa when he was in the emirates.
He wanted to know whether the President had donated an elephant when he visited Israel early this month. Reports of such a donation, it transpired, had appeared in the Israeli media after an over enthusiastic senior Sri Lanka Embassy official – political appointee – had leaked a story. The Times of Israel reported the story saying that President Shimon Peres' staff was thrilled at the outsized show of appreciation by the Sri Lankans and even checked with the Jerusalem Biblical Zoo if it would accept the gift.
But there was not even talk about a possible donation within the Sri Lankan camp when this happened. The Sri Lankan embassy had merely sought to hit the headlines during Mr Rajapaksa's visit, which it did partly as the newspaper gave the headline 'The elephant in the room'.
"Nehe, nehe. Ehema deyak uney nehe," (No, no. No such thing took place) said President Rajapaksa. Then he hurriedly added "Mang aliyek ekka giya thamai. Ekawa eheta baradeela awanam, mata Ranil gen loku prashnayak wenava,"(I went with an elephant indeed. But had I had handed that elephant to them, I would have to face problems from Ranil).
---
Wigneswaran shows reverence for national anthem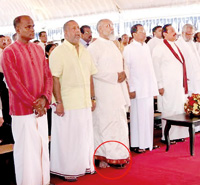 For Buddhists, Hindus and Muslims removing their footwear when walking into their place of worship is a must. That is one way in which they respect the sanctity of the places where they worship. For the Hindus, it is a tradition to remove their footwear when they come into the presence of their deities even in their homes. That again is an act to show how close the gods are to their hearts and how much they respect them.
The Northern Province's Chief Minister C.V. Wigneswaran extended the expression of those sentiments to the country's national anthem as well when it was played at a ceremony where President Mahinda Rajapaksa was the chief guest. He removed his slippers, placed his feet on the carpet and stood solemnly whilst the anthem went on in Sinhala.  The occasion was the opening of a cancer hospital in the northern capital.