Spin doctor in a whirlpool
View(s):

My Dear Mangala,
I thought I must write to you because you seem to be in the news once again even if it is for all the wrong reasons — having your house burgled and then finding yourself becoming the accused instead of the victim, if some of the media reports are anything to go by!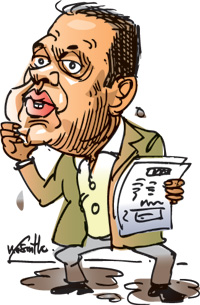 Now, I wouldn't want to comment on that particular incident because, as the Police spokesman says on so many occasions, 'the matter is under investigation'. However, I find it interesting that you, of all people, should now be accusing sections of the media of launching a witch hunt against you.
It is amusing to note that you are in this predicament while the Blues, of which you were previously a part of, are still in power. Why, it was only a few years ago that Satellite was in charge of the Blues and you were calling all the shots. Some would even say that you are getting a taste of your own medicine!
That was because when you were in charge of the media, there was not a day when we didn't see you or hear your wise words on television and radio. And if memory serves me right, there were many witch hunts in the media those days, too, and you didn't seem to be so concerned about it at that time.
That was the time when you accused the media of being a 'mafia' and made that famous comment that journalists can be bought over for a bottle of arrack, remember? Ah, those were the days, weren't they, Mangala, when your wish was the media's command!
Correct me if I am wrong, Mangala, but I recall that the Green Man was one of the main victims of the witch hunts in the media at that time. You seem to take great pride and joy in painting a picture of him as being weak and incompetent — and a Tiger agent who would betray the country and grant a separate state.
Your tactics helped Satellite to win her election running against the Green Man and a few years later you even led Mahinda maama's campaign against the Green Man. They both won and that is partly because of what you did. Are you proud of what you did, Mangala?
Obviously, you were quite good at what you did, so those labels of not being a patriot have stuck to the Green Man — and that is why he is finding it difficult to win elections even today. Isn't it funny that as a result, you are at the receiving end now because you have to seek refuge in his party?
Of course, there are those who believe that you are with the Greens only until Satellite returns to take over the Blues once again — and that is why a section of the Greens will never welcome you as one of their own. Besides, they must be remembering what you did to them when you were with the Blues a few years ago!
Now, don't get me wrong, Mangala, I am not for a moment suggesting that you are a turncoat or an opportunist. Despite all that you have done in the past, I do admire you for being one of the very few people in the country who has the guts to take a stance against what you think is wrong.
I admire you also for not thinking that if you can't beat them, you should join them — like Dayasiri did a few months ago. You still seem to have some fight left in you and that is what the opposition seems to lack these days — although they seem quite capable of fighting amongst themselves!
I don't think even you are certain of what your future might be or where you would be in five years but I can give you one piece of advice — I don't think you should attempt to get Satellite back in the saddle: We had eleven years of that and the general feeling was that it was more than enough!
If you are really confident that the masses are with you, Mangala, you can try a different tactic — like contesting the Southern provincial council elections. I am sure there will be many who will vote for you instead voting for Geetha, Anarkali or even Nadeesha!
Anyway, Mangala, we wish you luck — and that is not because you have been very principled in what you did but because we would like to see a strong opposition just as much as we like to see a strong government. And I am sure you will need all the luck you can get in the days to come!
Yours truly,
Punchi Putha
PS: Mangala, if you ever get tired of fighting the good fight, there is always another option. All you have to do is send word to Mahinda maama that you are ready to repent and return and I'm sure he will accept you. Then, you would have to take whatever troublesome portfolio that is offered to you and shut up. If you are interested, just ask SB and he will fill you in on the details!