Letters
View(s):

A ghostly wake-up call to check trains' safety devices

The incident involving a runway train has badly exposed the inefficiency and the sheer lack of safety-consciousness on the part of the Railways Department.

Attempts made by the Transport Minister and MPs to treat this incident lightly by espousing "ghost action" underscore their lackadaisical attitude towards the safety and the well-being of the people.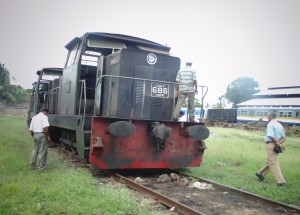 Trains have in-built safety devices. If these safety devices were functioning, how did this locomotive run (away) for 45 minutes covering a distance of 15 km until it was brought to a halt by a brave employee? One hopes that the investigating team will not try to whitewash the inefficiency of the Railways Department.
Among the in-built safety devices are the Deadman's Pedal and the Deadman's Buzzer. They ensure that the locomotive engineer is fully alert all the time and not dozing. The Pedal is expected to be pressed by the engineer every 30 or 45 seconds and if this does not happen, the Buzzer gets activated to wake up the dozing engineer. If the Pedal is not pressed thereafter, the brakes get activated to bring the train to a halt. This is an effective safety system.
Insiders say this important safety device is not functioning in most of the old locomotives which are still being used to operate long distance express trains including the inter-city express trains. Can the General Manager of Railways refute this allegation and assure us of our safety?
Over to you, the Transport Minister and the GMR! It is your responsibility to ensure the safety of the millions of people who travel by train. Let this so-called "ghost" incident be a timely warning — a "ghostly" wake-up call — to check the efficient functioning of all in-built safety devices in all the locomotives, and ensure the safety of the millions of commuters.
V. Silva
Colombo
Avamangalla for locals at Amangalla?
Three weeks or so ago we visited Galle, where we encountered the resurrection of a practice we thought was thankfully dead and buried.
We entered Galle Fort late that morning with the intention of a leisurely wander around the Fort for a while before proceeding to Unawatuna for lunch.
My father and mother-in-law are elderly and we were looking for a suitable place for them to sit and enjoy a cup of tea while we explored the Fort. We thought we came upon the ideal place, a hotel of striking appearance – an old building refurbished very well – situated very close to the entrance to the Fort. Curiously, there was no prominent signboard – but we later established that this is the Amangalla Hotel.
We parked our vehicles nearby and were assisting my in-laws up the steps at the entrance when the uniformed doorman came running down, met us near the bottom of the steps and said "Sir, the hotel is full". The hotel, however, did not appear full — there were a smattering of European guests inside and a couple of Middle Eastern looking guests on the verandah, but there were several empty tables and chairs on the verandah and in the lounge inside. On hearing the doorman however, our first instinct was to turn back. We walked to our vehicles and then surmised that the hotel staff may have formed the impression that the entire party (there were 13 of us) was descending on the hotel for lunch. So we went back and explained to the doorman and a few sundry waiters milling around that we were not interested in lunch or refreshments for all 13 of us; we only wanted the opportunity for the two elderly people in our party to sit and enjoy a quiet cup of tea, and that it is extremely ungracious of them to refuse this amenity for an 87 and 82-year-old couple. They relented, and we left my in-laws seated in the verandah of the hotel.
Having explored the nearby Dutch church we returned to the hotel within half an hour. We went up to collect my in-laws and found them unhappy with the level of service they had received. My father-in-law requested the guest book, which the staff refused to provide. A few words were exchanged but not heated at this stage, and my sister-in-law asked to speak to the manager.
An English or Australian lady turned up. My sister-in-law made a polite complaint to the lady, whereupon to her considerable surprise the manager tossed her head, did not deign to speak, and stalked off. The hotel staff then appeared to take the cue from their boss, and became rude to us. While this was being played out, some of us noticed that a vehicle had pulled up and disgorged a bunch of European tourists. They came up and inquired if there were any rooms available and the reply they received was not "Sir, the hotel is full" but the room rates! They however decided that the rooms were too expensive and left.
By this time the penny had well and truly dropped for all of us. It had become evident that locals were not welcome here. We expressed our opinion in no uncertain terms and left.
We have gone through this cycle once: some 'white only' vestiges remained after independence, but gradually they fell — golf clubs, rugby clubs, swimming clubs, once 'white' bastions became "localised"; in cricket, we no longer consider it our station to be inferior to some other nations. Today, Colombo's five star hotels value local custom and locals are treated no differently from tourists. With the post-war tourist boom however, there is a danger of this type of establishment, making locals second class citizens in their own home, creeping up on us again. We must not allow these practices to get a foothold again in this country.
I. Wijegunaratne
Colombo
Why are they insensitive to pensioners' plight?
The poor pensioners had hoped against hope that some relief would be given to them through the 2014 Budget. Alas! What was given was a pittance — an allowance of Rs. 500 which is not sufficient even to buy three or four coconuts and a few kilos of rice, leave alone other needs.
What a disappointment! This reminds me of what Minister Bandula Gunawardane once said: Rs. 2.500 is enough for a family of four to survive a whole month. I wonder what he will say with this additional bonus of Rs. 500.
The pensioners who retired before 2006 certainly are an unfortunate lot. They have to survive on a meagre pension, which does not last even two weeks. Most of them are old, sick and feeble and they are constantly in need of medical attention, and depend heavily on their pensions for their basic needs.
The prices of prescribed drugs are high and some even forego their meals to buy them, just to survive. It is a pity that the authorities do not give a damn about their sad plight. I just cannot imagine why they are so insensitive to the sufferings of the poor old pensioners. The majority of the pensioners are on the brink of death, most would not survive another year. This is the reward they get for selfless service, sacrificing half their lives in the service of the country.
In this context I may be excused if I mention that my sister who held a high post in the public service used to curse the authorities at every Budget over the years, for not rectifying the anomalies, and for the paltry sum she was getting as her pension. She died last month, a thoroughly disillusioned woman. Had she survived for another two weeks, she would have been more disappointed. In a way it is good that she did not live to see another deception. This year is supposed to see several elections and I hope the pensioners have learnt their lessons by now.
U.N.Nanayakkara
Gampaha