Guitar Fest 2014
View(s):

Around 40 guitarists will take the stage at Colombo Guitar Fest 2014 organised by the Guitar Association of Sri Lanka which will be held for the fourth consecutive time at the Navarangahala, Royal College, Colombo on January 25 from 6 p.m. Leading guitarists in Sri Lanka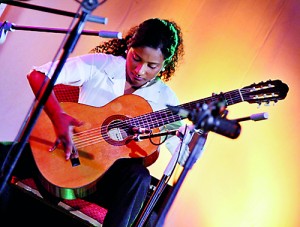 will participate in "Guitar Fest 2014" and a special feature will be Nguyen Van Phuc, a world famous music instructor and guitarist from Vietnam.
This will be followed by two more concerts, one in Kandy at the E. O. E. Pereira Theatre, University of Peradeniya on January 26 and at 'Sudasuna' Chilaw on the 27th .
Mohamed Iqbal, Secretary of the Guitar Association of Sri Lanka – invites all young people who love guitar music to come and experience different guitar styles. All leading guitarists are taking part voluntarily, he said.
Amaranth Ranathunga, a senior guitarist stated that Colombo Guitar Fest 2014 is the only event of its kind in South Asia. The guitarists will perform classical, flamenco, Hawaiian, jazz, rock and heavy metal music with their guitars.