Appreciations
View(s):

Ali Moheed

A friend, brother-in-law and multifaceted guy

This is not an appreciation I ever thought I would have to write at this time. Ali Moheed was my childhood friend, brother-in-law, spiritual seeker, adventurer, amateur photographer, appreciator of fine art, maps, conversation and good friend.

I have known Ali all my life. He was the eldest son of my father's childhood friend M. Moheed. We went on many family holidays together, visited their family often in the Longden Place house and eventually when he married my sister, we lived in the same house together for a number of years. There were gaps in our childhood when we were not in touch, friendly feuds, and the seven year gap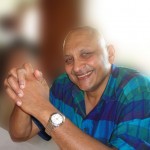 between us made it impossible for a fifteen-year-old to have a twenty-one-year- old friend, but when he married my sister in 1983 he became part and parcel of my life for good times and tough times, always there during the rough times and in later life, confidant and adviser on life in general with our conversation veering most times towards the after-life and what we may find and why we are on this earth.
My memories of Ali are many and cherished. My earliest memory of Ali is on a trip to Jaffna with our families; while we played outside in the hot sun rolling around in the dusty red earth, Ali read a book. We then came back in and my sister and I, little children of 7 and 8, jumped on his ample bottom and did balancing acts, all the while he read seemingly oblivious of this assault on his body. His earliest memory of me is a little different. He remembers us in Trincomalee, I must have been a child of three and my mother was trying to wheedle me to take a mouth on behalf of Red Riding Hood and me replying that I actually didn't care about Red Riding Hood and was done with eating! He always teased me about that episode.
Our holidays together were many and to various parts of the island. In Peradeniya, a few years later, while his brother Faheem, and eldest younger sister Hiyam, my sister Sehaam and I played war on the banks of the Mahaveli, he stood aside, not wanting to make a fool of himself like us but keeping a watchful eye in case we got into trouble. He chaperoned Hiyam, Sehaam and me by train and bus to Hambantota, thinking girls were weird as we were fussing to sit next to a woman who had live chickens in a basket on her lap, thinking the chickens would peck us! In the end we stood all the way and he carried the heaviest bags quite gallantly.
We were amused when his maids called him Ali baba because he was on the heavy side and it gave a whole new meaning to the phrase. Faheem and Ali loved country and western music and as we got older they would frequently entertain us with Faheem on the guitar singing country and western songs together in their drawing room in Longden Place. He was always surrounded by friends revelling in escapades at the Royal-Thomian matches; we would watch his regattas when he captained S. Thomas' and rowed at the national level and cheer him and Faheem on.
All the while our holidays together continued. Trips to Adam's Peak as older teenagers, and holidays in his aunt Sithy and uncle Isphan Omar's estate bungalows: he would give us rides in turn on the motorbike which was quite adventurous for us. After marriage to my sister, we would make sweet omelettes together and adorn our ice cream sundaes with everything sweet we found in the fridge. We became friends more than circumstantial relatives, choosing to hang out because we liked each other's company rather than because we had to.
When he was courting my sister, he would arrive in his beat up Land-Rover jeep and off they would trundle, making a huge racket in the neighbourhood much to my mother's chagrin, to the Rowing Club (his second home) or on some other adventure with his friends. We had an easy relationship together, first bonding on unhealthy food, tales of trips and general camaraderie and then because we had common interests that ranged from reading diverse books, good food, and places of historical interest.
Ali and Sehaam emigrated to New Zealand in 1987 and while they loved their new home with a passion Ali's heart was always in Sri Lanka. When his daughter Aneeka was born, Ali was the doting father right through his life. He was utterly and totally besotted and proud of her and their bond was special. He adored my sister and they had a marriage not often found in these times. It was of friendship, love and understanding and the complete freedom to be oneself.
I saw Ali grow as a person in leaps and bounds. His nascent interest in art and literature was boundless, his appreciation of good food and new experiences in all spheres made sure that he would always have something interesting to say whenever we met. He was a multifaceted man, as keen on learning ballroom dancing as he was on talking about Sufism; as enthusiastic on travelling with his friends to far flung places in the country, as he was in listening to world music. Reading Vedic philosophy and wholehearted about his new passion for walking, together with his boss and friend John van Hest in New Zealand, where they would traverse miles far out of the city trying to walk on every tarred road that existed in the North Island. He was on top of the world when his friends from Sri Lanka travelled to New Zealand for the Rugby World Cup, staying with him during that time.
He had a talent for being surrounded by good friends wherever he was. His friends were his family. In Sri Lanka he had his close knit childhood friends that I would know by name first and then get to know many of them well – Stefan who lived in Australia, Eric, Weli, Raminal, Sepala, Mahes, and Ashok with whom he would travel frequently. In New Zealand his friends would prove to move mountains to ensure his funeral in his beloved land Sri Lanka – Sriyan, Mahendra, Shirani, Yo, Lal, Anna, and Susan. Shiraz newly returned from New Zealand was my rock in this endeavour in Sri Lanka.
Towards the end of his life, he would travel to Sri Lanka frequently calling me from Gal Oya or Wilpattu, Bible Rock or some far flung place on the East Coast – Thiriyaya, to let me know he was in town. His last trip was in July of 2013 to Uthuwamkanda. He came briefly in August 2013 to launch a coffee table book 'Places Once Denied' that he had collaborated on with his childhood friend Stefan D' Silva. He looked healthy and happy and his sister Hiyam visiting from the States with her family threw a Break-Fast party during Ramazan. All of us seated together at the Cinnamon Lakeside, surrounded by family, friends, with love and laughter and feasting in the air, I would never ever know that would be the last time I would ever see my Mamalifamachaan – a name coined as soon as he got married running together bits and pieces of all his names: Mohamed Ali Fayiz.
He died on December 7, 2013 at the age 56 on a business trip to China. He was laid to rest in his beloved Sri Lanka with his family and friends present.
He lived a good life. He was happy, he was loved, he was spiritual – what more can a man ask of his life?
Drink from this heart now,
for all this loving it contains.
When you look for it again,
it will be dancing in the wind.
- Shaikh Abu Saeed Abil Kheir, "Nobody, Son of Nobody"
Ali may you be dancing in the wind and may you be with the Divine!
Ameena Hussein
Dhammadinna Lakshmie De Lanerolle
Cherished memories of a loving mother
It is just one year since the passing away of our beloved mother. Her end came suddenly after a brief illness. We still can't believe that a year has passed since she left us, but the days have not gone by without us thinking of her and reminiscing about the good times we shared.
As we gather our thoughts and memories to write this appreciation, we realise more than ever what a remarkable person she was. We lost our father when mother was young and the two of us were small and unable even to comprehend the tragedy. After our father's death she left no stone unturned to give us the best in everything to make us feel happy and content. She provided us with a stable home and a rock solid foundation for a future, which we took for granted when we were small.
Even after a hard day's work at office she would accompany us to our evening classes whether it was music, elocution or any other subject.  We still remember how she nursed us when we were sick, how she took leave from work and took us to Colombo for our exams.   Never did she complain but fulfilled all these tasks with such enthusiasm and warmth that we never realised she did these tasks under trying circumstances.
She took utmost care to instil in us Buddhist values from a small age. Attending Sunday Dhamma school was mandatory for the two of us, as was observing Sil on main Poya days.  Participation in the evening poojas at the Kalutara Bodhiya was part of our childhood experience. We are ever so grateful to her for this spiritual upbringing.
Later, she devoted her life to care for the needy and orphaned children at the Kalutara Visakha Home for Children.  She took a keen interest in the philosophy and practice of the Dhamma and spent most of her time in the activities of the Kalutara Buddhist Society.  She never gave any indication that there was any boredom or loneliness in life although we were both out of the country. Her last year in Canberra with us and aunty Thalatha will remain vivid in our fond memories.
There will be an all night pirith ceremony and a Sangikka Dana on the 19th to offer merit and mark the first death anniversary of our loving mother.  Ven. Maduluwawe Sobitha Thera will deliver a special Dhamma oration in her memory on January 26 at the Kalutara Bodhiya.
We love and miss you very much and our sincere wish is that you would be born again as our mother during our journey through Sansara, until you are liberated and attain the Supreme Bliss of Nirvana.
Your ever-loving daughters,
Devika and Arunika
Prof. Jayampati (Panditha) Wanasinghe
My Thaththa, a life of virtue
"As virtuous men pass mildly away,
And whisper to their souls to go,
Whilst some of their sad friends do say
The breath goes now, and some say, No"

John Donne
My mother and I were by his side as my father passed away on January 18, last year. As I watched his breath slowly leave his body, it brought to mind the above stanza in the poem "A Valediction: Forbidding Mourning" by John Donne. My father's peaceful death brought to a close the life of a brilliant, virtuous and exceptional individual.
My father, Professor Jayampati (Panditha) Wanasinghe, was a renowned educationist, courteous administrator and exceptional researcher. His students, his colleagues and his friends spoke of his attentiveness, his knowledge, his insightful advice and his serious nature.
I, his daughter, never witnessed this side of him. I was never privy to his lectures or his research. I saw a side that others – with the exception of his wife, his son, his daughter-in-law and son-in-law, his grandchildren and his brothers and sisters – never saw. I had my thaththa and he meant the world to me. Even my earliest memories of him are astonishingly fresh as I think back on what a wonderful, complex, humorous, and virtuous person my thaththa was.
At the outset, let me say that during their 49-year marriage, my amma and thaththa always worked as a team, with great love and equal admiration for each other. They were each other's support and they showed us that a marriage entailed love and respect. They showered my aiya and me with love and praise but were never blind to our faults. I grew up in a family that was united and loving and the passing away of my father created a great void.
He was fully involved with all aspects of the family. I saw his participation in our family as significant as my amma's. Our father-daughter relationship was extremely special. We would spend hours listening to music and discussing the vocal abilities of the artistes. He was the one I went to for advice on educational matters and on health concerns. Thaththa was the person who taught me about the basics of plumbing, wiring, and cooking.
My father's presence and his strength and courage helped me through difficult times. When I was seven and severely ill, for example, I remember my thaththa carrying me five floors to see a doctor in New Delhi. I also recall how he supported my mother as she struggled to continue working despite worrying about the two children.
I recall his lighter side, the times when laughter would fill the house as the four of us discussed something funny. He had his own unique wit and his quips and sayings have become part of my vocabulary.
My thaththa's influence dominated my childhood. While he was strict but fair, we, his children, always knew he had our best interests at heart. When deciding what topics to choose for my A/Levels, my thaththa did not pressurise me (or my older brother for that matter) to follow in his or my amma's footsteps or become a doctor/engineer etc. He gave us room to grow into who we were. Even as adults and married, my aiya and I always saw our thaththa and amma at the core of our extended family.
Thaththa was a good Buddhist. He never lied, robbed, cheated or drank excessively. His belief was that you could live a life of virtue and that that was better than any superficial memorising of stanzas. His greatest advice involved how to live properly, with honour and dignity. We learnt from him how to treat others as equals, irrespective of class, caste, ethnicity, or religion.
A testament to an individual should not be about how much money he made or how powerful he was. My father achieved both as he retired a renowned professor of education from the University of Colombo. While these great achievements might seem the most important aspect of an individual to some, to me, the fact that my father was a virtuous man; the fact that he was the truest of parents who saw his family as the centre of his life; and the fact that he lived an exemplary life and died peacefully highlights what a wonderful individual he was. He was my 'thaththa' and I love him with all of my heart.
Maneesha Wanasinghe Pasqual