Ananda is ready to cut trees once again
By Tony Saldin
View(s):
Mitupitiyaarachchige Ananda from Etampolawatte, Hendala, Wattala, now pushing 47, is no ordinary tree- cutter. He hails from a family of professional woodcutters descending down generations. Ananda learnt the intricacies of cutting trees from his father and uncles at age 15. He now lives alone, practising his profession at his original pace with only one foot!
His wife left him in 1996 after he had a serious accident. That occurred when he was chopping off the branches of a jak tree at a height of around 40-feet down Balagala Road in Hendala. Suddenly a huge branch mysteriously hit him flush on his face, throwing him off the tree. He came crashing down and hit the earth.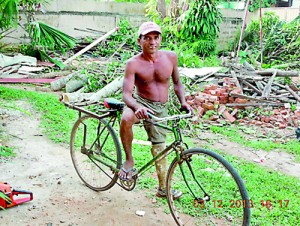 The villagers rushed him to the Ragama General Hospital, and thereafter he was transferred to the Peralanda Government Hospital. Surgeons made a clinical decision to amputate Ananda's left leg below his knee to stall the spread of gangrene which had by then set in.
Ananda was fitted with a Jaipur foot on two occasions, but felt very uncomfortable with his legs swelling up. Subsequently, his friend's father, who also had an artificial leg passed away, and his friend gave Ananda the artificial leg, which fitted him perfectly.
On an average, Ananda cuts around 15 to 20 trees a month, clearing the way mostly for building constructions. He also cuts valuable trees such as jak and teak, which are sawn into timber. Notwithstanding his disability, Ananda is still an expert at climbing trees and riding a push bicycle. He still uses an axe to cut trees, but for cutting and sizing trunks into more manageable sizes, he uses a motorized chain saw, far quicker, and keeping in pace with technological advancement.
To contact Ananda please call his friend Ajith, who is his team mate on his mobile 0728-038-015.