A timely Sinhala bi-monthly launched
View(s):

A recent book launch I attended was different in many ways to the usual launches we are accustomed to. It was held in a school auditorium. Except for a few invitees the audience was mainly students – A' Level ones. For the teachers, especially the ones promoting literary activity it was a new experience. They were very much involved in the arrangements. The publication itself had relevance for the school children.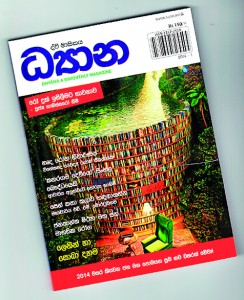 It was the launch of a bi-monthly magazine in Sinhala reminiscent of the popular Readers Digest. Titled 'Dyana', it's an initiative by Sarasavi Publishers. Functioning as the compiler is Professor Sunanda Mahendra, one-time head of Mass Communications at Kelaniya University.
The launch was at Anula Vidyalayaya, the leading school in the publishing firm's hometown, Nugegoda.It was a first for both parties. Sarasavi Publishers head H.D. Premasiri told me that being a magazine with articles of interest to students a school was the ideal venue to launch it. He had picked on a university don, Dr. Praneeth Abhayasundera – well known for his literary skills, to deliver the keynote address.
Dr. Praneeth's was a very interesting talk. Using what I may call a "light style', he targeted the school children. It wasn't a serious 'dehshanaya' we usually hear from most academics. He touched on some basics that the present generation tends to ignore. He talked about the need to be conscious of values and norms that seem to be fast vanishing in today's society.
What do we expect from a magazine or a periodical? For Dr. Praneeth it offers knowledge on a wide variety of themes – socio-cultural life, global environment, strange stories and so on. It provides an opening to study serious topics. He remembered some of the Sinhala publications of his student days. Among them were 'Sanskruti', 'Mawata', 'Veemansa', 'Navayugaya' and 'Rasavahini'.
Sunanda Mahendra knows it's a tough task. "It's not going to be full of mundane stuff. We will do a careful selection of the topics. We will invite academics and others well versed in the particular subject to write. We will hunt for interesting material from numerous sources," he said. He drew my attention to the vision: 'To impart the Great Knowledge of the past to the Present Generation'. Note the key words – 'knowledge of the past and 'present generation'.
Glancing through the inaugural issue, the subject matter covers a wide range. It starts with a subject which is due to generate much discussion. 'Kataragama Deviyo is a Sinhala Buddhist' is the title of the article by Dr Alutwewa Sorata Thera. Heart specialist Dr Ruwan Ekanayake discusses heart ailments. There are a couple articles on Buddhist themes. Ven. Tanissara discusses meditation and illnesses. Karunaratne Amarasinghe writes about the Buddha and communication. A note on Lenin's interest in nature, a short story by the pioneering satirist late T.G.W. de Silva (2013 marks his hundredth birth anniversary), a Japanese folk tale, a page of pictures of yesteryear, early days of Sinhala cinema and a host of snippets are included in the 150-page first issue.
'Dyana' does not carry any advertisements and to keep the price to a minimum thereby giving the student population an opportunity to purchase it using their pocket money, black and white pictures are used. The cover is in colour and the inside front cover is a tribute to Pandit Amaradeva (with a colour photograph) whose birthday – December 5 fell on the day 'Dyana' was launched. It's a good start. Best wishes to Sunanda Mahendra and Sarasavi for its success.