The streets are alive – and furious – with the cacophony of vendors
By Nadia Fazlulhaq and Damith Wickremasekare
Police want equipment to monitor noise level
View(s):
Santa Claus comes to town with his merry song twice a day along the streets of Colombo and suburbs via the loudspeaker of a three-wheeler or van full of buns and pastries. In some places it's Beethoven's Fur Elise that echoes loudly throughout the neighbourhood.
But these melodies, meant to bring joy, are causing irritation to residents as the paan vendors continue to drive around between 5 a.m.-8 a.m. and 3 p.m.-6 p.m. playing loud tunes to advertise their arrival.
Despite community protests this annoyance is increasing, and authorities have not yet come up with a method to monitor the noise. An essential service has turned bothersome with some vendors ignoring the rule of maintaining a maximum noise level of 93-106 decibels (db).
"The Environment Police Division is the main enforcement body but it does not have noise level detecting equipment or police officers trained to use the equipment. There are fewer than 10 sets of equipment with the Central Environment Authority (CEA) and the Motor Traffic Department, and that is used mainly to check air horns in buses," said Environment Police Division the Director Superintendent of Police Quintus Raymond.
He said police lacked equipment to monitor noise levels from vendors selling bakery products or ice cream with tunes broadcast from their vehicles.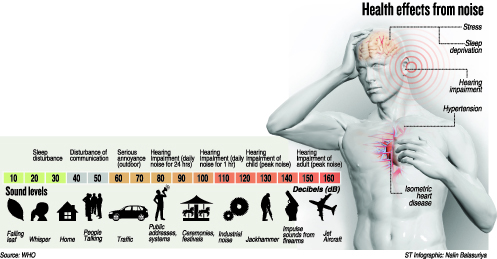 Mr. Raymond said police were seeking the CEA's assistance in training police teams and were in search of equipment.
"Either the institutions should donate to the police one or two sets of noise level-detecting equipment or the police need to purchase some equipment," he said.
The Director asked residents to inform their local police stations or the Environment Police if noise levels were causing severe disturbance. If there was a high level of complaints from an area a noise level test would be done and the offending vendor would receive a warning and, if the annoyance persisted, police would take legal action.
CEA Chairman Wimal Rubasinghe said the agency received regular complaints about vendors' noise but could not take action as that was a police matter.
"We receive complaints from the public but cannot keep out these self-employed people or impose strict regulations. There is definitely a need to control the noise. Previously vendors only rang a bell and that did not cause disturbance," Mr Rubasinghe said.
He said under the Public Nuisance Ordinance police could file legal action against users of loud noise generating equipment. Mr. Rubasinghe said that the CEA is in the process of strengthening noise awareness programmes.
Moratuwa resident A. Kannangara said a scooter with bread arrived at about 5.45am in her area every day.
"If the noise levels did not cause irritation we would not mind about these vendors who work hard for a living. They have been operating for many years using a simple bell but recently the sound levels have increased," said Ms. Kannangara.
Seventy-year-old Nelum Udawatte from Athurugiriya said that older people, especially those on medications, those meditating, the sick and infants were the people most affected by the loud music.
K. Dissanayake, 45, from Narahenpita said in some places there was competition between bread vendors, causing immense noise being emitted from their sirens.
One vendor, Susil, who sells buns, pastries and bread from a three-wheeler in Nugegoda, said police officers advised vendors to reduce the volume of their sales tunes but did not specify he extent of noise reduction.
"Police officers warn us to reduce the volume but we are not monitored or told to bring down the noise level to a certain point. If there is a standard noise level for us and it is measured by police or environment authorities there will be no issue," he said adding that as there was a demand for bakery products early in the morning more complaints came during that time.
Dr. Chandra Jayasuriya, consultant Ear, Nose and Throat (ENT) surgeon attached to the Colombo National Hospital said that though the noise did not cause hearing impairment it could trigger stress, irritation and lack of sleep.
Choon paan rules the streets
By Dinoo Kellegham
Early each day – at 5.45 a.m., by which time there's no point trying to return to sleep since the streets are astir by 6.30 a m – the amplified strains of Fur Elise blast through the quiet street here at Jayanthipura, in the green belt around Colombo.
It's the paan kaaraya in his tuk-tuk. The sound shuts off abruptly as he stops to serve a customer, then restarts, then stops again in mid-phrase, then restarts.
I remember long ago seeing a film about Marco Polo where, as punishment, someone was placed inside a huge bell that was beaten repeatedly with a huge hammer, and the man screamed in agony, blood pouring as his eardrums ruptured and he finally went mad with the din.
Yes, it's like that. Poor me. Poor Beethoven.
It's all right if you're among the neighbours running out to buy jam rolls or buns filled with spicy fish or vegetables or roast paan. It's all right if you're working for the missee and have got up at dawn to grind the day's cooking spices and get breakfast going. It's all right if you hate classical music. It's all right if you're deaf. It's all right if you're dead. But if you can't tick any of those boxes …
It's OK, I told myself the first day, I can catch up on slumber with an afternoon siesta, a thing Sri Lankans used to hold dear. Not any more. At 2.30pm precisely Fur Elise comes on again like a factory siren – the bread man is back for the afternoon tea bun orders.
Eyes screwed shut, pillow clamped over my head, I wait for him to go but for about 20 minutes afterwards my recalcitrant ears stretch towards the rise and fade of the cacophony as the tuk-tuk goes up and down nearby streets. "Macbeth doth murder sleep", the Bard said. Well, somebody here does it better.
The only redeeming factor is the name given to the bread from these vans – I love it: Choon Paan . Once heard, it rolls so easily off the tongue. I love it that "choon" is a deliberate mispronunciation, a playful, self-teasing thing.
At the risk of ending on a sombre note (ha!) I must add that yesterday I stayed the night with my cousin at the other end of Colombo, and at 6.30am (oh, lucky, lucky her) I could hear the unmistakable strain of "Comin' Through the Rye" through a loudspeaker, believe it or not. Choon Paan strikes again.