Senseless turtle slaughter for meat threatens its very existence
By Leon Berenger and Damith Wickramasekera
Police raid one-man slaughter house where meat sold to select clients at Rs. 1,500 a kilo
View(s):
Butchered turtles served at Rs. 1,500 a dish 
The costliest meat dish, even more expensive than chicken, beef, pork or wild boar, turns out to be turtle flesh.
The hottest meat dish doing the rounds these days at certain bars, restaurants and other eating houses in the tourist coastal town of Negombo is none other than turtle flesh netted in from the ocean, it was revealed this week.
The price of a portion of this flesh is around Rs. 1,500, and is served to select clients at selected outlets, simply because it is illegal and could put the owners of these places in a spot, if detected. But then, detections were zero until a raid by police on Monday this week.
The bloody slaughter of the turtles takes place inside a tiny wooden shed, cleverly hidden by wild bush and trees on the bank of a canal that runs through the backyard of Pitipana in Negombo.
The slaughtering had been going on for the past eight months by a single butcher, who apparently had the support of local officials and perhaps, even area politicians, police believe.
The man's clients are a select group, including restaurant operators, bar owners and affluent people who could afford the extra cash for the turtle meat that was sold for something like Rs. 1,500 a kilogram.
It all came to light when a special police team from Walana swooped on the illicit slaughter den and arrested the suspect red-handed with a bloodied knife and a carved up turtle.
Four live turtles resting on their backs and ready for slaughter, were also found and rescued by the police party led by Inspector Duminda Balasooriya, OIC of the Walana Police Vice Squad.
The suspect was a squatter on a small plot of land belonging to the Western Province Fisheries Ministry. Surrounding this land are also scores of fish hatcheries operated by individuals with the assistance of State authorities.
According to residents in the area, the suspect has refused to budge from the area, and the relevant authorities have made little or no effort to remove him.
"This man has friends and many are nightly visitors. He is even known to be connected to key players in the area's fish industry, who are the main suppliers the turtles," one resident said.
Investigations have revealed that most of the turtles that end up at the slaughterhouse are those caught in huge fishing nets. They are later transported after dusk in wooden canoes along the canal that runs from the main fish base and alongside the suspect's house.
Many turtles that come ashore after dusk to lay their eggs, are also taken to the slaughterhouse by beach boys and fishermen living in the area.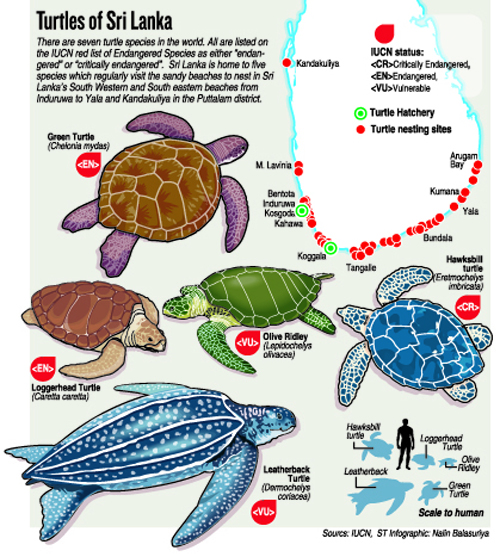 It is believed that between four to five turtles were slaughtered every day, with the suspect raking in around Rs. 50,000, which is split among other stakeholders in his clandestine operations, according to IP Balasuriya.
The suspect, while in custody, had also spoken of killing about 100 turtles of different sizes in the past three weeks, and that, he had been in the business for the past eight months.
Turtle meat in various preparations is served in certain food and liquor outlets in the area, where an average dish is sold for something like Rs. 1,500, and that too, only to known clients, IP Balasuriya said.
He said they were also checking out information that the slaughter of turtles was also taking place at other locations in Negombo as well as in offshore fishing boats.
"Several unscrupulous fish mudalalis are also known to be involved in this illicit trade, while there are others who trap the turtles for domestic consumption," he said. The suspect in the Pitipana raid was later produced before a Magistrate in Negombo and released on a surety bail of Rs 100,000, and ordered to appear in court on January 27.
There are five species of sea turtles and they are all endangered, explains Jagath Gunawardene of the Centre for Environmental Studies.
"Although there has been only a few detections in the slaughter of turtles in the country, the killings nonetheless are believed to continue in coastal areas such as Negombo, Kalpitiya, Ambalangoda, Balapitiya, Puttalam, Yala and Devinuwara, just to name a few places," he said.
He said the turtles turn up at these beaches on a year-round basis, but there is an increase in numbers between December and January, which is their peak egg-laying season.
Other marine biologists say that, during this time of the year, thousands of turtles are known to land in the Indian coast of Orissa, and as a result, many of them drift towards Sri Lanka's waters with many ending up entangled in huge nets laid out for fishing.
They also called for more stringent punishment to those involved in the turtle meat trade, as the present laws were too lenient.
Wanton destruction to turn turtle
Wildlife authorities say they want to bring in new regulations and guidelines for those operating or intend operating turtle hatcheries in the country, following the recent case at Kosgoda involving an albino turtle, a senior official said yesterday.
Director Wildlife, H.D. Ratnayake told the Sunday Times that new regulations and guidelines would be drawn up in consultation with other stakeholders in the field, such as the hatchery operators, the local police, local government officials, the Coast Conservation Department and others.
"In future, hatchery operators or those intend opening turtle hatcheries will have to adhere to these guidelines, or else they will be asked to put up shutters. There will be strict and close monitoring of these hatcheries to ensure there is no abuse," Mr. Ratnayake added.
He said that, in addition to hatchery operators, other individuals will also be encouraged to move in and participate, because it is all about conserving and protecting this particular species.
At present, there are five different turtle hatcheries located on the southern coastal belt, operated by locals, while some of them also receive assistance from friendly wildlife activists from overseas.
The hatcheries are also star attractions to foreign visitors as well as local enthusiasts and have been in existence for the past three decades or even more.