Projects initiated to uplift public sector standards: Navin
View(s):

State Management Reforms Minister Navin Dissanayake declared that the ministry had initiated the launch of projects to uplift the public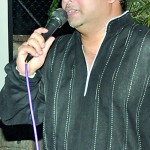 sector's standards.
Mr Dissanayaka addressing the media at the Sri Lanka Institute of Development and Administration (SLIDA), said that the Ministry hoped to successfully complete the tasks within the given timeframe. He was referring to pubic sector reforms launched in at least two districts, which they hope to introduce in all districts.
Mr Dissanayaka said that following in the footsteps of his late father, the UNP leader Gamani Dissanayake, he opted to support the government which eradicated terrorism, to establish democracy in the country.
He added that, his efforts could come to fruition under the leadership of President Mahinda Rajapaksa.
Ministry Secretary, W.M. Bandusena said that pilot projects had already begun in the Kurunegala and Nuwara Eliya Districts to reform the public sector, which will broaden to cover all the districts soon.