No gain without pain – gold 'mules' bleed for big fees
By Deepa Adhikari
View(s):
Gold smuggling to India has become so lucrative that one operative said his fee had quadrupled for manoeuvring past airport Customs checks with his illegal load concealed inside his body.
Last week a 21-year-old Kalmunai woman laden with more than 1kg of gold jewellery worn under her clothes was arrested. She had been bedecked with Rs. 5.3 million worth of gold, including six chains.
Staff at Bandaranaike International Airport had been following her to see if she would declare the gold, and she was arrested when it became clear that she intended to slip through.
She confessed to Customs officials that she had travelled on previous occasions to Chennai carrying similar amounts of gold but had gone undetected. She had been accompanied by a male.
The smuggling of gold to India, where prices of the precious metal are higher than in Sri Lanka, has turned out to be a lucrative business for the couriers.
"I am paid Rs. 20,000 a trip in addition to the air ticket and the visa provided by the agent, and depending on the quantity of gold we carry the payment may be increased," one regular courier told The Sunday Times.
"I started this risky business due to poverty. At the beginning they paid me only Rs. 5,000 per trip. Now I am experienced and am a regular traveller," he said.
He said he made about two trips a week but to avoid detection did not carry gold regularly.
"Since we carry the gold inside us we wait until the last moment to insert the gold pieces. Usually we do this close to the airport. After the process is done we do not drink or eat until we land," the man said.
People who have been arrested say that it is painful to carry the gold in this way and to retrieve the pieces.
Smugglers use a variety of methods.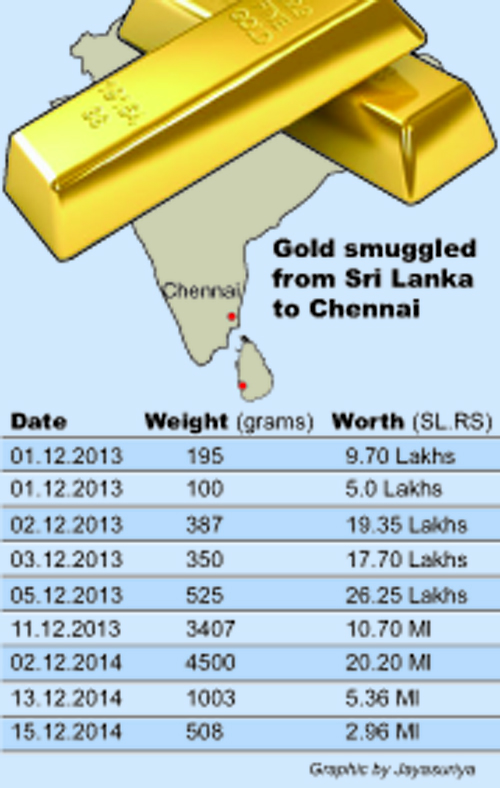 Early this month a businessman from Bambalapitiya was detected trying to smuggle gold in a small lathe machine. He had concealed 4kg of gold in carbon sheets inserted into the machine.
Earlier, an Indian was found to be wearing a belt with a gold buckle valued at Rs. 1.7 million. The 58-year-old businessman had plated the buckle in silver but after detection confessed that he had purchased the gold from Dubai and was taking it to India.
In September last year, two men and a woman planning to board a flight to Mumbai were detected with 2kg of gold biscuits and unfinished gold jewellery. The two men had 20 biscuits each hidden inside them while the woman had six unfinished bangles and a chain.
The gold was valued at more than Rs. 12 million and turned out to be the biggest such detection in 2013.
Customs had been on their trail for about six months before the arrests.
A few days later seven people – six Indian nationals and a Sri Lankan – were arrested, having each swallowed about 25 pieces of gold.
Customs Director (Legal) Leslie Gamini said people trying to smuggle gold like this go through pain when trying to excrete the gold; some experience internal bleeding.
He wanted special toilet facilities set up at the airport to retrieve gold from couriers who carry their booty in this way.
Mr. Gamini said gold smuggling caused economic loss to the country and was a way of sending illegally earned money out of
Sri Lanka.