The deadly three
View(s):

Referring to the three serious conditions of placenta accreta, placenta increta and the "most dangerous" placenta percreta, Consultant Obstetrician and Gynaecologist Dr. U.D.P. Ratnasiri who was part of the team which managed Surangi successfully says that they usually occur when the uterus (womb) has undergone previous cuts in C-sections which leave scarring.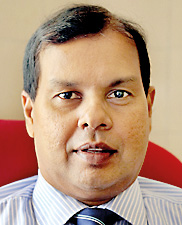 When there is scarring the placenta tries to get the blood supply from other areas and the chances of getting these placental conditions rise with the number of C-sections, as more and more fibres get cut, according to him. Dr. Ratnasiri advises strongly against performing a C-section unless it is absolutely essential.
When, however, these placental conditions are diagnosed in a pregnancy through scanning, it is of utmost importance to have a planned delivery of the baby under a multidisciplinary team, urges Dr. Ratnasiri requesting doctors in the peripheries to refer such patients to tertiary-care hospitals which have the facilities to handle them.
The multidisciplinary team in addition to Obstetricians and Gynaecologists and Anaesthetists, should include Radiologists and even Genitourinary Surgeons, as sometimes the placenta may also penetrate other structures such as the bladder, MediScene learns.Giving an insight into the procedure, Dr. Ratnasiri says that whereas usually during a C-section delivery, the cut on the mother's tummy is an umbilical-midline incision or along the bikini-line, in these cases the cut has to be on the upper-part of the uterus, away from the placenta. During surgery, minimizing blood loss is very important and after surgery the patient has to be monitored closely, while the family has to be advised about the seriousness of the procedure and the longer recovery time needed.
Depending on the problem, the Obstetricians and Gynaecologists should make a "call" whether to keep the placenta (to get absorbed later) and close up the tummy or remove the uterus along with the placenta, if there is a risk of haemorrhaging (bleeding).Early diagnosis of this condition through scanning and management in a hospital with facilities are important, he reiterates, adding that such specialized centres should be available in every region.