Sri Lankan flag in Graceland
By Sanath Weerasuriya
Elvis celebrated his 79th birthday
View(s):
If you happened to visit Graceland Mansion in Memphis, Tennessee, USA you will be thrilled to see our national flag flying alongside dozens of other national flags representing those countries, where Elvis Presley Official Fan Club exists. Graceland is the most-visited private residence in the world, where you will find at least a thousand fans and tourists visiting it on any given day.
The main celebration of Elvis's birthday, which falls on 8 January, was held in Graceland Mansion in Memphis. The special guest at this year's Elvis Presley Birthday Celebrations was Wayne Mann, Elvis' cousin and the witness to the start of Elvis Presley phenomenon that took the world by storm some 60 years ago, not only by changing the music scene forever, but also bringing about a new social order. Wayne will share stories of their life-long friendship with Elvis and what it was like when Elvis catapulted to worldwide fame and became a household name.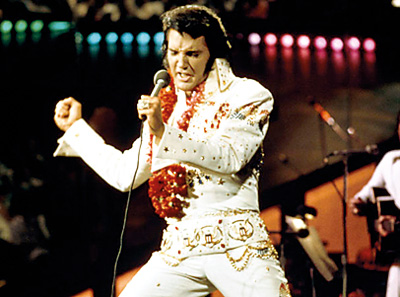 Apart from other exciting events such as singing, dancing, competitions, and also Elvis Presley Enterprises' announcements of upcoming projects, licenses, etc., the spotlight will be the Elvis Presley Charitable Foundation which supports various charitable organizations; especially focusing on education and children's programs such as Endowed Scholarship Fund at College of Communication and Fine Arts at the University of Memphis.
Apart from his unparalleled singing talents (not forgetting his acting skills in thirty three movies he did), Elvis is well remembered for his outgoing generosity. A major portion of his vast wealth is being channeled towards various charitable projects. Elvis legacy is a continuing process that gets bigger and bigger each day. Apart from being declared as 'Artist of the Century' at the turn of the last century, now, even after thirty six years of his death, Elvis is considered as the most dominant and enduring force in the entertainment field. It's not a joke when they say, 'Elvis, the King Forever'.
The local Elvis Presley Fan Club, which has been in operation in Sri Lanka for nearly fifty years, too celebrated Elvis' Birthday with a special one hour radio programme on SLBC. For more details about Elvis or wanting to join his fan club, do get in touch with it's resident,
Jayaratne Perera on 2795997 or 0770885195