Raising 'Yumi' at Taj
View(s):

'Yumi', the newest chic Resto-bar with a Japanese accent opened its doors at Taj Samudra recently, 'Yumi' features the Turkish celebrity mixologist Atilla Iskifoglu as the Falir master.  Atilla, a talented bar flair performer has received many laurels at the international stage from countries such as the U.K., Australia, the U.S., France and Canada. Flair is a technical term for the throwing, catching and balancing moves preformed by professional bartenders.
Four-time winner of the European Flair Championship title, Atilla has participated in more than 35 such competitions and has performed more than 600 shows. Atilla has appeared on BBC and ITV and performed for celebrities including Madonna and John Travolta. Atilla has spent time training all around the world, from Miami, London and his latest project in India. Atilla also appeared on Britain's Got Talent in 2009 and made it through 3 rounds.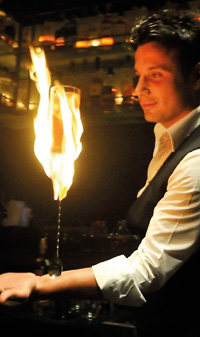 Atilla has been an active member in the Flair Bartending community for almost a decade and is still proving every day that he has what it takes to be one of the very best in the world. Atilla has the rare ability to take his incredible skills and use them to make his guests happy at the bar. Atilla's favourite and signature cocktails will be served exclusively at Yumi. His unique infusions of premium beverages, using authentic Sri Lankan condiments will keep guests coming back for more
Yami al;so features DJ Angelika from India, playing the music for Atilla to perform on any weekend or weekday night. DJ Anzhela Abdulagatova or DJ Angelika as she is called has been spinning professionally for over 12 years.  She hails from Ukraine and is an international personality.
Her joyful nature is infectious; her style is glamorous and groovy with an all- world flavour. Angelika has set the stage for female DJ's by her flawless mixing skills and passion for making fireworks with music. She has held residencies at upscale hotel lounges such as Shangrila Hotel, Fairmont Pacific Rim, Reflections Lounge at Hotel Georgia and yearly at ME "Melia" Hotel in Cancun, Mexico. She has built her extensive house and lounge music collection around these elite venues and has catered to celebrities and socialites in Vancouver and Mexico.  Angelika has also shared the stage with some of the worlds best DJ's, Head Kandi, Starkillers, Marques Wyatt & Julius Papp, Eric Decks Dekoze and D Formation.
The resto-bar is a comfortable dining space which gradually morphs into a high energy zone as the night progresses. Prepare to be entertained by the beverage expert and consultant with his flair moves and unique concoctions, while being exposed to the effervescent spins from the DJ.
For more details, call 0112446622