'Adara Wasthuwa' discusses intricacies of human relationships
View(s):

Rajitha Dissanayake's newest play, 'Adara Wasthuwa' (Love Object), which premiered successfully in August 2013 and ran several shows subsequently, returns to the Lionel Wendt stage on January 25 (Saturday) at 7.00 pm.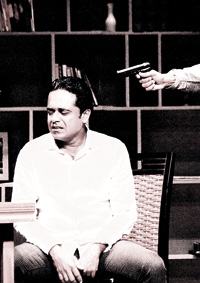 'Adara Wasthuwa' is a well-crafted drama open to multiple interpretations that has sparked much audience feedback and drawn positive reviews since its premier. The 90-minute play explores the intricacies of human relationships in a society where political and economic gains override ethical concerns. In some ways, it carries forward themes found in Rajitha's earlier plays like 'Mata Weditiyan Nedda', and 'Sihina Horu Aran'.
The central character is Naveen— a university lecturer who doubles as a senior consultant to a government ministry. Naveen is drawn into a plot to overthrow the ruling party by his friend Suresh, a cut-throat media mogul. Meanwhile Madhavi, a former student of Naveen who writes for a leading news magazine, comes to interview him. The subsequent revelation of who she really is sets in motion a chain of events with potentially grim consequences.
Rajitha has already made his name as one of the most insightful playwrights to emerge in the last two decades. His plays have drawn crowds, sparked debate, won awards and toured internationally. Written and directed by Rajitha Dissanayake, the cast of Adara Wasthuwa comprises Shyam Fernando, Nadeeshani Peliarachchi, Gihan de Chickera, and Nalin Lusena. Tickets for the show are now available at the Wendt.