Pittance for families of 'war hero' policemen
View(s):

Pittance for families of  'war hero' policemen
The next of kin of policemen from among the thousands who were killed or went missing in the two and half decades of fighting with Tiger guerrillas are in for some relief. Now, the Cabinet has decided to pay an annual allowance to them.

Interesting enough, next of kin of police constables — the largest number in the department to lay down their lives or go missing — will receive an annual allowance of Rs. 975. That works out to exactly Rs. 81.25 a month, hardly enough to buy a day's packet of rice and curry without meat or fish. If one speaks in terms of coconuts, it would buy one and a half for a month.

The decision follows a recommendation made by the Law and Order Minister who is President Mahinda Rajapaksa. His proposals were examined by the Ministry of Finance and Planning (held by President Rajapaksa) and the Ministry of Public Administration and Home Affairs (held by John Seneviratne).
Here is how payments to the next of kin of other police officers will be made annually:

Sergeant/Sergeant Major/Sub Inspector – Rs. 1,170.
Inspector – Rs. 1,500
Chief Inspector – Rs. 1,665
Assistant Superintendent of Police- Rs. 2,335
Superintendent of Police – Rs. 3,000
Senior Superintendent of Police – Rs. 3,335
Deputy Inspector General /Senior Deputy Inspector General – Rs. 4,670

Parents of police personnel who died or went missing will also be entitled to an annual allowance of Rs. 1,148 or a sum stated above, whichever is more. For each unmarried son below 18, Rs. 400 will be paid while each married daughter below will receive Rs. 400.

If the mother of those dead or missing is not among the living, the allowance to a son below 18 will be raised to Rs. 665 and unmarried brothers/sisters below 18 and are dependents will receive Rs. 375.
---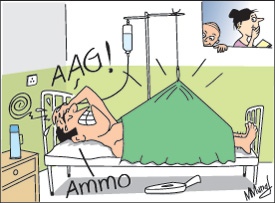 Wild wife deals with  politico's burning desire
Sullying their name or losing their fame may perhaps be of little concern for some politicians, particularly those who are corrupt with a craving for nothing but money.This is why some of them go to any length to defend their cronies, be they drug addicts, criminals or those who have simply taken the law into their own hands.
Yet, politicians apart, no one in the kingdom of male kind would want to lose their manhood. Not for all the filthy lucre.That is what happened to a politico from a local authority in the Deep South last week. His wife poured burning oil on him.He was admitted to hospital where he lay on a bed with a small cloth tent over the affected area. The wife was remanded and later released on bail. She has since left the home of the politico with the children.
She had told the Police that she became 'wild' after learning that the politico had an extra marital affair. She thought the answer was hot oil that has caused burn injuries. The burning question now in the village, the politico's neighbours say, is whether his second love would accept him with 'underperforming assets.'
---
Rajapaksa recalls school-day pranks
One of President Mahinda Rajapaksa's alma mater, Thurstan College, chose to have something rather unusual to mark its anniversary recently.
Past pupils turned up wearing uniforms that looked like what they wore to school in the years past. President Rajapaksa, however, was present in his own immaculate white national attire. Yet, for effect he also displayed a handkerchief hanging outside his pocket — much the same way students would do.
Later, addressing the event, he recollected some of the events during his days in school. Once he had eaten at the Thurstan Café (across the road from the school) with friends but walked out without paying. The Café was also popular with students of the neighbouring Royal College.
A group of students from Royal once pooled their meagre financial resources to hire a band during their big match with S' Thomas College. The deal included a free lunch to the band. So they took them to Thurstan Café. Like rich gourmets ordering the best from a la carte menu in a fine dining restaurant, the men seized the opportunity to order the most expensive dishes then available – cooked ox liver, fried chicken, beef steak and a Gold Leaf cigarette to boot. As a former student put it, "our heartbeats went like the clicks in a taxi meter. We were not sure whether we had enough money to pay the bill. However, we managed to do it."
Rajapaksa said he had 'pinched' bicycles belonging to teachers for joy rides during school hours, went for loafs with classmates and even went for a bath in a tank. Yet, the most important thing, he said, "I never got caught." Laughter and hand clapping followed those remarks.
---
Tilvyn tells of breakdown
Falling boulders caused a traffic jam along the 18 hair-pin-bend road from Kandy to Mahiyangana. It was at the third bend. Sabaragamuwa Chief Minister Mahipala Herath who was heading to Mahiyangana was stuck in his car. He thought he would wait till the road was cleared. Just then, he found that Janatha Vimukthi Peramuna (JVP) General Secretary Tilvyn Silva walking past. He was also heading in the same direction.
Instead of sitting in his vehicle, Silva had telephoned party cadres in Mahiyangana and got them to send another vehicle to the opposite end. "I hope you won't blame the Government for this," quipped Mr. Herath. However, this was exactly what Mr. Silva did, addressing a meeting of party cadres in Mahiyangana. He said corruption was so rampant that road development work was not being undertaken properly. Hence, breakdowns had been too common
---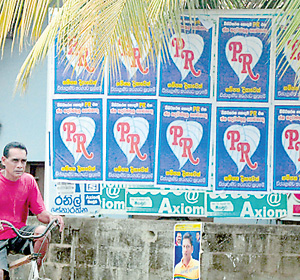 Who is this PR?
It was no doubt a teaser for the upcoming Western Provincial Council elections. The poster was plastered on walls, billboards, pillars and even buses in the Gampaha District.  It said, "Visi vasaraka PR eka jana hadavathula goda negu PR Gampaha Disaven Vijayagraheeva Tharangeta Soodanam. (One who has won the hearts through PR for 20 years, PR is ready to victoriously compete in the Gampaha area)"
The talk among the residents in the district is who this PR is. Is it Pushpa Rajapaksa (PR), wife of Economic Development Minister, who, some say, wants to contest the Western Provincial Council polls? But then she has not been around for 20 years in Gampaha politics. Then, is it one praising the role of President Rajapaksa (PR) for the service he had done in Gampaha in the past 20 years?
One Sri Lanka Freedom Party (SLFP) source let the cat out of the bag. He said it was a poster from the present Chief Minister Prasanna Ranatunga (PR) who wants to contest again. So he has launched his public relations (PR) campaign.
---
Hooks and crooks: GL robs Rajitha's catch
If Colombo and New Delhi were locked in intense diplomacy over the fate of fishermen of Sri Lanka and India in each other's jails, there was also another war of different sorts. Before leaving for New Delhi for talks, Fisheries Minister Rajitha Senaratne told the media that there would be a swap of fishermen.
But even before Dr. Senaratne set foot on Indian soil, the External Affairs Ministry has put out a statement. It said, "The release of fishermen on a reciprocal basis by the government of Sri Lanka and India, which began after the telephone conversation last week between External Affairs Ministers Prof. G.L. Peiris of Sri Lanka and Salman Khurshid of India, is proceeding as a continuing initiative….."
As one witty Fisheries Department official said, "Someone has run away with our Ministers clothes before he could even return to Colombo." That was his way of saying the kudos for his minister has been hijacked by his Cabinet colleague
---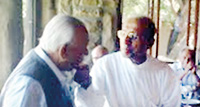 GTF seeks Australia's vote
Weeks ahead of the UN Human Rights Council sessions, the London – based Global Tamil Forum (GTF) has begun its campaign to lobby foreign governments to support the third US-backed resolution against Sri Lanka.
GTF President, Father S.J. Emmanuel, who celebrated his 80th birthday in London has flown to Sydney. There, he is to meet Christian leaders to ask them to urge the Canberra Government to support the resolution.
The GTF has been working closely with the Tamil National Alliance (TNA). This was after delegations of the two organisations met in South Africa..