Jayaratne defying President: Who's backing him?
By Our Political Editor
MR snubs Premier at Nuwara Eliya meeting, while JHU makes several demands Govt. faces punitive action at UNHRC sessions in Geneva; seeks all-party support but Opposition on tightrope
View(s):
For President Mahinda Rajapaksa a daily pre-dawn work out at the gymnasium in 'Temple Trees' is routine. Occasionally, personal staff meet him for briefings whilst he is on the treadmill.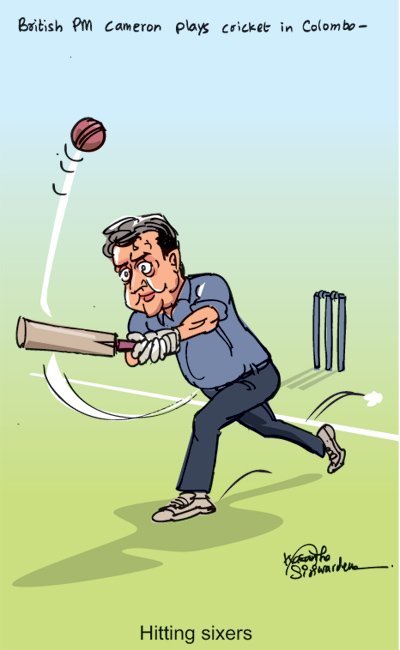 However, last Wednesday morning he was at the Nuwara Eliya President's House, the former colonial style Queen's Cottage of the British era. So he chose to go for a jog past the town to the grounds near Lake Gregory. Joining him was C.B. Ratnayake, Minister of Private Transport Services. It is there that he bumped into Suppiah Sathasivam, one time MP. A former member of the Ceylon Workers Congress (CWC), when the late Savumyamoorthy Thondaman was the leader, he broke away in 2000 to form the Ceylon Workers Alliance. In the parliamentary elections in 1994, he secured more preferential votes than the current CWC leader, Arumugam Thondaman. A conversation ensued and Rajapaksa reminisced about the past years in Parliament. He ended up inviting the Tamil politician for the ceremonies later that morning to mark Thai Pongal, the Hindu harvest festival.
Returning to the President's House, Rajapaksa sat through the bana by members of the Buddhist clergy on account of Duruthu full moon Poya. Such an event on every Poya Day is a regular feature usually at 'Temple Trees'. When it ended, he treated himself to kiribath (milk rice) together with the visitors present. Near the table where food was served, Rajapaksa pointed Sathasivam to Thondaman and said, "Here's your friend." The CWC leader was not so pleased. "No Sir, No Sir, he is not. He ran away leaving us but fell in the process." Shot back Sathasivam, "Don't think we fell. We did not. In politics various things happen." Rajapaksa, whose biggest asset as a politician is public relations realised an unpleasant atmosphere was developing. He remarked, "He (Sathasivam) has been in politics from the days of the late Thondaman" and thereafter walked to his room. He later returned wearing a sweater. The temperatures had dipped to 14 degrees Celsius that day, a little chillier than the biting cold he encountered recently in Palestine and Israel.
This time, Rajapaksa sat at one end of a sofa in a nearby drawing room. The other end was vacant though several guests were seated in chairs around the area. Just then, Prime Minister D.M. Jayaratne walked in. He had arrived there only moments earlier with his son, Anuradha. They were thus not present for the bana chanting. Jayaratne walked straight through and occupied the vacant end of the sofa. Most of those who were watching it could not believe their eyes. President Rajapaksa stood up, invited Sarath Ekanayake, Chief Minister of the Central Province, who was seated elsewhere, to come over and occupy his seat. Then he called a staffer to bring a chair and sat on it a little distance away. It was clearly an open snub to his Prime Minister. A shocked, pale looking Jayaratne sat motionless thereafter. His son, Anuradha who was seated elsewhere was left to himself and did not make conversation with others.
Rajapaksa was to later walk out to the lawn where visitors were seated under canopies. Both paal pongal (boiling of milk) and sakkarai pongal (boiling of rice with sugar cane jaggery) were to take place there. It began to rain. He rushed inside his official bungalow. Hurriedly, the staff moved all items on the open lawn to a covered area in the building where the Hindu rites were completed. Later, with the help of an umbrella Rajapaksa walked towards the canopy where Minister Thondaman had transported in a truck two cows bedecked with garlands. Amidst the burning of incense, Rajapaksa fed the cows with the sweetened rice. Cattle play an important role in farmsteads and this gesture is a form of thanksgiving to them.
There was some disappointment among other partners of the UPFA that the Thai Pongal ceremonies at the President's House in Nuwara Eliya were confined only to the Ceylon Workers Congress (CWC) and their arch-rival Sathasivam who was there on invitation, that too by chance. Parliamentarian V. Radhakrishnan of the Up Country People's Front and MPs Palani Digambaram and P. Rajadurai were notable absentees.
In the chilly climes of Nuwara Eliya, why did President Rajapaksa cold shoulder Prime Minister Jayaratne? The answer seems to lie in an event last Monday. Against the backdrop of the newer revelations in the Sunday Times (Political Commentary) last week, a four-member delegation of the Jathika Hela Urumaya (JHU) met President Rajapaksa at 'Temple Trees' for talks which both sides agreed should not be revealed to the media. The revelations included the fact that Sri Lanka's largest drug bust of heroin had a street value of Rs 2.4 billion. Weighing 241 kilogrammes (without the polythene packing), concealed in synthetic grease, it was found in a container. The detection came amidst fears that drug addiction is on the rise. Justice Ministers Rauff Hakeem and Rehabilitation and Prisons Reforms Minister Chandrasiri Gajadeera have forwarded to the Cabinet a joint proposal to set up Rehabilitation Centres for Drug Dependent Persons. A decision on the matter is pending.
The controversial heroin container was to be cleared from the Colombo Port with a letter issued on "behalf of the Prime Minister" by his Coordinating Secretary Keerthi Sri Weerasinghe seeking a waiver of demurrage. Jamal Qasim, a Pakistani national involved in the import of the container, it has transpired, was a drug trafficker who has served previous jail sentences, the last for four years. It was also revealed that Premier Jayaratne was not under investigation and that his son Anuradha had owned up responsibility for ordering the issue of the letter on his father's behalf. Now, a second team of officials from the Customs Narcotics Division will leave next week to question the second Pakistani national, Sardar Ahmed Khan, who is involved in the heroin smuggling attempt. Pakistan's Anti-Narcotics Force has arrested him for another drug related offence.
The JHU delegation was led by its leader, the Ven. Omalpe Sobitha Thera, and comprised Minister Champika Ranawaka, Western Provincial Minister Udaya Gammanpila and the party's official spokesperson, Nishantha Warnasinghe. President Rajapaksa had directed that Prime Minister Jayaratne be present on the occasion. He turned up.
The JHU delegation was strongly critical of the Prime Minister's conduct and warned that the UPFA Government could not move on under such situations. The JHU leaders raised issue over Premier Jayaratne's remarks at a public meeting in Gampola where he had made an allegedly derogatory reference to Ven. Sobitha Thera. Addressing a public meeting in Gampola on January 1, the premier had referred to "Cheevaradhariya" (persons in robes – as opposed to real monks). The JHU has charged that the reference was to the Ven. Thera.
More than 75 Buddhist monks members representing the Sihala Ravaya laid a five-hour siege outside the Prime Minister's Office demanding an apology from Premier Jayaratne. His officials delivered two letters, one after another, which said "…..If the most venerable monks feel that if some disrespect has been caused, the Prime Minister wishes to express his deep regrets."
The Sunday Times has learnt that after hearing vehement JHU protests, particularly from Ven. Omalpe Sobitha Thera, President Rajapaksa had admonished Prime Minister Jayaratne and urged him to tender an immediate apology. This was in his presence. However, Premier Jayaratne was stubborn and refused to do so. He had remained silent thereafter. That rejection of a request by President Rajapaksa, though known only to a limited circle, has raised serious concerns at the highest levels. The question being asked is whether the Premier is acting on his own or at the behest of a few others within the ruling party. One high ranking UPFA source said President Rajapaksa may not rush into any action against the Prime Minister immediately. This is particularly because of Southern and Western Provincial Council elections, for which nominations have been called from January 30 to February 6. "Yet, the President is fully conscious that one of his directives has not been heeded by the Prime Minister," the source added.
It has now become clear that Jayaratne has taken an aggressive stance throughout and it manifested only after a request by Rajapaksa to apologise. Even in his letters to the Sihala Ravaya, he has only expressed his "deep regrets" and only "if some disrespect has been caused…..". Udaya Gammanpila told the Sunday Times "both sides agreed we should not make public the subjects of our discussion. We are not going to speak on that."
However, the Sunday Times has learnt further that the JHU also discussed a number of other subjects with President Rajapaksa. The JHU delegation claimed that reports of recent attacks on churches were inaccurate. They said some of them have been on private premises where prayer meetings or other religious activity have been going on. According to the JHU, this was against the Buddha Sasana Ministry ruling that all places where there is religious activity should be registered. The delegation said that they condemned instances where attacks had in fact taken place on places of worship. Another issue raised was Christians from Pakistan, whom they say, were fleeing their country. Whilst only some 150 have been formally allowed after they sought refugee status, there were more than 1,500, most over staying their visas. They claimed it was the same with Indian nationals. Though some 8,900 have been issued visas to be in Sri Lanka, there were more than 20,000 of them, the delegation alleged. Rajapaksa has assured that the Government would act on the representations made by the JHU.
En-route to Colombo from Nuwara Eliya, Rajapaksa declared open a new building of the Maniyamgama Raja Maha Vihare, near Kegalle, in the Deraniyagala electorate. Addressing a public meeting after the event, he said it was the Government's duty to ensure a disciplined society. "We are doing our utmost. Whoever does any wrong, however high they are, we will take action against them," he warned. However, he noted that whenever the Government did this, the Opposition has always criticised it. Was this a veiled hint at Premier Jayaratne who is widely regarded as a member of the SLFP "old guard?"
During the meeting with Rajapaksa, the JHU also re-iterated to him its 'fullest support' to educate the public on the 'real reasons' for the third United States backed resolution before the UN Human Rights Council in March this year in Geneva. Another ruling coalition partner which urged the US to look for 'an alternative friendly mechanism' instead of a hostile resolution is the Sri Lanka Muslim Congress. Its leader Hakeem made the appeal during 90 minutes of talks with US Ambassador-at-Large for War Crimes, Stephen J. Rapp and US Ambassador Michele Sison last week. Associated with these talks was Kamalini de Silva, Secretary to the Ministry of Justice.
According to Justice Ministry sources, Rapp raised issue over the killing of 17 aid workers attached to the French charity Contre le Faim in Mutur in August 2006 and the alleged murder of five Tamil students in Trincomalee in January 2006. He also sought to know the reasons for the delays in presenting legislation for witness protection and asked whether there was provision for witnesses not in Sri Lanka to testify through an electronic mechanism. Hakeem, the sources said, replied that a draft law was on the drawing boards but a provision to testify through other means (than being present) could lead to influence being brought on the witnesses. Hakeem claimed that one cannot go 'indiscriminately' into civilian casualties since it has taken a long time to capture the areas not under Government control. That is why the Criminal Investigations Department has been told to investigate the matter further. The Government has also taken up the position that the matter was the subject of Army Courts of Inquiry but did not provide details.
Hakeem said that a group of police officers had been indicted over the murder of the students in Trincomalee. He said that laws were also on the drawing boards to prevent hate speech and to make forced disappearances a criminal offence. In the case of the latter, he contended, that laws could not be introduced retrospectively, the same sources said. Earlier, Rapp also had a 90 minute meeting with Attorney General Palitha Fernando.
Eileen Chamberlain Donahue, the US Permanent Representative to the UN in Geneva, will not be on hand for the Human Rights Council sessions in March. Since the completion of her term, President Barack Obama has named Pamela K. Hamamoto as the successor. She is now awaiting Congressional clearance. Acting as UN Permanent Representative in Geneva will be Charge d' Affaires, Peter F. Mulrean.
What appears to have hit the UPFA Government most during Rapp's visit to Colombo is the tweet posted on the US Embassy's official site. It read: "St Anthany's Ground – site of Jan 2009 killings of hundreds of families by army shelling." The post was accompanied by a photograph of both Rapp and Ambassador Sison standing on the same grounds. A UPFA source said External Affairs Minister G.L. Peiris telephoned Ambassador Sison to urge that the tweet be pulled out. She steadfastly refused and there was an exchange of words, the source added speaking on grounds of anonymity. No details of the exchange were immediately available but Karunatilleke Amunugama, who was External Affairs Ministry Secretary, last week said the Government had sought US clarification on the matter but did not divulge details.
On Wednesday Amunugama retired from office on reaching the age of 60. He was succeeded by Kshenuka Seneviratne, Additional Secretary, who was strongly backed by the Monitoring MP for EAM, Sajin de Vass Gunawardena, for the job. She was earlier earmarked to be posted as Sri Lanka's Ambassador to the United States, a position she was in favour of. Amunugama's request for an extension of his term past 60 years was turned down by UPFA leaders after complaints at the highest levels of many lapses on his part. His handling of the Rapp visit had also earned the ire of powerful sections of the UPFA leadership. Yet, prospects of a diplomatic posting for Amunugama are not being ruled out. In the alternative he is likely to be offered the post of Secretary to the Ministry of Investment promotion. The position was earlier offered to the outgoing Commander of the Air Force, Air Marshal Harsha Abeywickrema. He, however, has chosen not to accept the offer. One proposal now being considered is to appoint him High Commissioner in New Delhi thus enabling the incumbent there, Prasad Kariyawasam to be posted as Ambassador to the United States.
The present Ambassador to US, Jaliya Wickremesuriya has been named as the High Commissioner in Canada. He has been cleared by the Parliamentary Committee on High Posts. However, his Agrément has not yet been cleared by the Canadian Government. This has fuelled speculation in the corridors of the EAM that Wickremesuriya may continue to remain in Washignton DC. Before a state appoints a new chief of diplomatic mission to represent it in another state, it must be first ascertained whether the proposed appointee is acceptable to the receiving state. The acquiescence of the receiving state is signified by its granting its agrément to the appointment. It is unusual for an agrément to be refused, but it occasionally happens.
Unlike on previous occasions, the UPFA leaders are embarking on a multi-pronged approach over issues before the Human Rights Council sessions. As reported in these columns previously, Presidential Secretary Lalith Weeratunga will leave for Geneva later this month to brief heads of diplomatic missions accredited to the UN. Similarly EAM Peiris will travel to India to speak to heads of missions of UN member countries that do not have resident diplomatic missions in Colombo.
Equally significant are some measures on the domestic front. UPFA leaders are sending out feelers to main opposition political parties to ascertain the prospects of a joint stance on the basis that any punitive action by the UNHRC is against the country. However, opposition United National Party (UNP) MP and one-time Deputy Foreign Minister Lakshman Kirella told a news conference this week that the US-backed resolution was against the Government and not the country. But, John Ameratunga, known for his close ties to the Government, wants party permission to travel to Geneva to defend the country (not the Government) against US actions. This, no doubt, places the main UNP in a tricky situation. At least officially, it has not explained its position and will find it difficult to continue to remain silent. There is little choice. Refusing to support Government initiatives will see the seething criticism against the party. Extending support would hurt its vote base. That such a situation comes amidst reports of a Presidential election later this year or early next year makes matters worse.
Another move contemplated by the Government is to put on hold issues that would increase further costs to the public and speed up development projects, some of them no doubt grandiose. One that has been put on hold is to increase assessment rates for properties in different local authority areas. The Government wanted to place a Capital Value on the properties instead of the current valuation system, a move that would have increased assessment rates manifold. Such rates are provided by local authorities for the services rendered by them but in most areas they are woefully inadequate. For example, most residents in the City of Colombo and suburbs find there are no drains to release waste water. On top of that, the newly established Environment Police charge them even if water used to wash a car enters the road. Now, at least until the elections are over, changes to the Rating and Valuation Ordinance will not be made. Ministers and parliamentarians of the UPFA are to be told to explain to people how "foreign forces" were trying to "pin the blame" on President Rajapaksa for winning the separatist war. That is expected to earn considerable sympathy votes not only during the upcoming PC polls but also at a presidential election.
A grandiose project for which the Cabinet has now given approval is a US dollar 1,337 million or over Rs. 172.4 billion project to reclaim more than 575 acres (233 hectares) of sea near Galle Face Green. The move follows an unsolicited project proposal from China Communications Co. Ltd. President Rajapaksa who is also Minister of Highways, Ports and Shipping told his ministers that the project "leads to create a new city to raise the image of the Port of Colombo as a leading hub city with regional and international connections." He has said the proposed "Port City will consist of luxury hotels and apartment complexes, shopping malls, space for modern offices for corporate sector, leisure and recreational activities such as yacht marinas, formula tracks etc."
This project is costlier than the monies spent on the Mattala Rajapaksa International Airport (US $210 million), phase one of the Hambantora Port (US &361 million) or the Colomb-Katunayake expressway (US $ 350 Million). It will be carried out under the supervision of the Sri Lanka Ports Authority and the Board of Investment. According to President Rajapaksa, the project seeks to reclaim the sea bed and development of a land area in extent of "not less than 233 hectares, of which 170 hectares (420.01 acres) is identified as saleable land and balance 63 hectares (155.7 acres) is for the water front, roads and parks for public use."
A significant feature of the project is the granting of a portion of the land area on a 99-year lease to the Chinese firm which made the unsolicited proposal. The base price of the land is being estimated at US$ 24 million or more than three billion rupees. The Sri Lanka Ports Authority (SLPA) is to be allocated 125 hectares including 62 hectares which is saleable. Strategic Development Project status will be given to this new venture. The SLPA is to be exempted from licence fee, royalty fees and buyers of their land will be exempt from the Property Transfer Tax (or Land Tax) and Stamp Duty. The Government will transfer the reclaimed land to the SLPA as a "free gift." The SLPA has ahead of approval by the Cabinet signed a memorandum of understanding with the Chinese firm. This was after a Standing Cabinet Appointed Review Committee (SCARC) gave it instructions. A Technical Evaluation Committee (TEC) is now evaluating the project.
The Government has also given approval to three different Chinese companies – China National Aero-Technology International Engineering Corporation (CATIC – ENG), Xi'an Dagang Road Machinery Co. Ltd. (DAGANG) and Hunan Construction Engineering Group Corporation (HUNAN) – to undertake its Priority Roads Phase 1 Lot 2. Work will be carried out with funding to the tune of US$ 200 million or more than Rs. 2.5 billion from the China Development Bank Company Ltd (CDB0). The Chinese company has also granted a further US$ 300 million or more than Rs. 38 billion for phase 3 of the Priority Roads Project.
The roads that come under US$ 200 million Chinese CDB assistance (Phase 1 Lot 2) are Narandeniya-Hakmana road (11.95 kilometres), Ayagama-Egaloya road (23 kilometres), Mawanella- Hemmathagama-Gampola road (26 kilometres) and Hatton-Maskeliya-Delhousie road (31.80 kilometres). The China National Technical Import and Export Corporation has been awarded the contract for the extension of the southern expressway from Pinnaduwa (Galle) to Godagama. The Government has also decided to convert the present Foreign Bureau of Employment in Dambulla into a fully equipped Migrant Resource Centre at a cost of more than Rs. 391 million. The idea is to make available assistance to those in the area to obtain overseas job opportunities.
The coming fortnight will see most political parties busy choosing candidates for the Southern and Western Provincial Council polls. Whilst most of the opposition parties would have to do some tight ropewalking on issues before Geneva, it is more difficult for the UPFA. There is a strong message in the US refusal to publicly take down the tweet accusing the Army of shelling civilians.
With the Government's foreign policy mechanism in tatters, it would be a tough task ahead.