Beauty and the politics of beasts
View(s):

My Dear Hirunika,
I thought I must write to you when I heard that you had accepted an appointment as an electoral organiser for Colombo Central for the Blue party from Mahinda maama. Used as we are to political high jumps and about turns, it takes a lot to surprise us, but with this latest news, you did!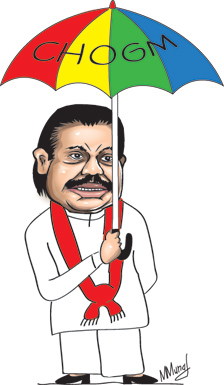 I say so, Hirunika, because only a few weeks ago we heard you loud and clear, raving and ranting about how bad our criminal justice system is, because suspected murderers are allowed to not only get away scot-free but also allowed to fly to Singapore for the best medical treatment.
There you were, appearing regularly at the steps of Hulftsdorp, questioning whether someone was so unwell that he couldn't answer the charges against him in court and querying why the wheels of justice were turning so slowly against this person who seemed to be getting preferential treatment.While you were doing that, Hirunika, the media reported every word of what you said and people cheered you on because they felt that you were not just a pretty face — but that you were truly interested in fighting for justice and bringing to book those who were responsible for your father's death.
What you said and did at that time reminded us of Satellite, who in one memorable moment at her slain husband's funeral, raised her arms in a final salute and pledged to continue her husband's struggle and avenge his killers. So, when we heard that you had accepted a post as organiser for the Colombo Central electorate, you must excuse us for being a little surprised. Now, don't get me wrong — being a highly principled person, I am sure you can explain everything and tell us why you did that.
We heard you telling us that you and Mahinda maama had a long chat and discussed many matters and how Mahinda maama has always been a father figure to you. So, Hirunika, I am sure you were able to iron out all your problems — and that is what we would like to know about.I am sure Mahinda maama assured you that justice will be done to your father and those responsible for his demise will be dealt with — speedily and efficiently — just like how justice was done for former Army commanders and Chief Justices.
I am so sure about that because if he didn't say so, you wouldn't be joining the Blue party as an organiser, would you? After all, you are not another Dayasiri or Grero who wants a short cut to get in to the ruling party! And you wouldn't want your father's death to be in vain, would you?
Now, Hirunika, I thought it is interesting that you were appointed as organiser of the Colombo Central electorate when the Blue party already has two of them — and one of them is good old Fowzie. People are already wondering whether this is Mahinda mama's way of telling Fowzie that he should retire.
Or it may be that you are destined for greatness, Hirunika because Colombo Central is the electorate that was nursed by a former President from the Green party. But, before you aspire for such heights I am told that you will be contesting the provincial council elections soon as a first step.
Isn't it ironic that you seem to be taking the same path that young Duminda did? I am sure it will be a short step from there to Parliament just like it was for Duminda and I can't wait to see the day when both of you are members of the same parliamentary group — that would be fun wouldn't it?I know some people are upset that you joined the Blues before your father's death could be properly investigated and the culprits dealt with but don't be too worried about that because stranger things have happened.
Remember how young Nalanda was killed in a street fight with the Greens, a fight that was similar to what led to your father's death? The accused in that case, Susantha the small nilame has now not only been acquitted, he is also a minister — and that is after the Blue party welcomed him with open arms!
Then, there was Satellite who formed a 'probationary' government with the party which is supposed to have ordered the assassination of her husband. So, Hirunika, why should people blame you when there are no permanent friends or enemies in politics — only permanent interests?
Hirunika, we wish you well. I am sure we will hear more about you in the months and years to come. And, if you are sure your father — or 'Lucky aiya' as everyone who knew him called him — wouldn't mind what you did last week, then why should anyone else be bothered about it?
Yours truly,
Punchi Putha
PS: When you are in politics, you will be asked a lot of tough questions, Hirunika. We know that you may be able to answer most of them because you are a lawyer, but if you ever get stumped for an answer, you can use the famous words of you know who: 'mata mathaka nehe…'