Marathon in Tennis – Capacity Factor
View(s):

Apart from possessing amazing skills and a great game, culture to prepare, perform and accommodate physical and mental stress is the 'capacity' all world beaters exhibit in Tennis. Name and fame alone does not win matches but enduring the long road with skills and sustaining them for decades consistently does. It takes a unique breed of individuals to endure this road where every day of their prime, calls for relentless discipline, work focus and sacrifice. Tennis has to be a 'passion' to sustain such a life.

'Brisbane' opened the 2014 season in Australia. Lleyton Hewitt ranked 60 beat Roger Federer ranked 6 for the title in the finals. Many including me did not expect either of them to reach the finals. Ranking of 60 is an unusual number to be in the finals. Both these players chose a road which immersed them into a 'culture of performance' for over two decades, to date they are registering 16th year in professional competition.

Federer has played over 1200 matches with 926 wins, 216 losses and won 77 titles. Hewitt has played over 750 matches with 529 wins 236 losses and 29 titles. Strangely enough both of them have a few things in common. Both were born in 1981, turned pro in 1998, were ranked world's number one and played Football before Tennis.

Hewitt's confession

Indulging in a passion has a price to pay. It is Lleyton Hewitt's confession as to what he has paid to be still in Tennis, prompted me to write this. He confessed after his historic Brisbane victory that he has been 'living with pain' to sustain his Tennis. That makes him the second player to say it in less than a year. [Last year Marion Bartoli confessed physical discomfort and quit the game] Federer has hinted that his back has taken a lot of strain and does not permit him to perform to his full potential always. Federer could be considered the man who was least disturbed by the physical strain simply because of his fluent style of stroke-making which is very classical and long tested against ill effects.

Playing style

Federer is an all court player. He has the most accommodating comfort-zone in stroke-making which makes him a favourite among spectators. Federer's movements are well within the limits of the bio-mechanical comfort zone of the human body. Tennis reaction at ATP level needs very high speed and unbelievable repetition. These reactions enable three controlled co-ordinations needed for efficient stroke making; they are – eye/feet for position and balance; eye/arm for timing and power creation; and eye/racket for contact and power transfer. A good match will demand these cycles being repeated in excess of 2500 times within three hours at very high intensity. Federer performs closer to perfection in these departments. This is what we see as his appealing graceful movements. His all court game does not strain any specific part of the body but has deadly venom of destruction.

That is not the case with Hewitt. As a 'counter-puncher' his match winning formula is 'hard-labour' and a one sided baseline game. One does not become world's number one or win Grand slams by luck. Hewitt was very good at his game and dominated the field to be ranked number one in the world. From the very early stages his ankles were strapped and supported and that is where he felt the pain. His game formula keeps him long hours on court for practice and match play. Statistics show that he has played fewer matches than Federer but I think he would have clocked more 'court-hours' than Federer in preparation and match play. These are two examples from many in men's Tennis, showing how 'Marathon in Tennis' works.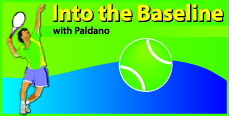 Among women Martina Navratilova had a game similar to Federer which permitted her to play competition Tennis approaching 50 and retired without major injuries. Serena Williams turned a pro in 1995 and has played close to 750 matches. Maria Sharapova turned pro in 2001 and has played over 600 matches. They too pay a price in physical stress and pain to remain at the top.
Limitations
Even coaches face limitation when it comes to teaching. I remember an incident where a junior coach in a European academy did too many hours. A French-Open semi finalist who was in charge of the program confronted him. The junior coach said he has no problem working for 8 hours a day and 7 days of the week. Player in charge of the program told him that he would have won the French-Open thrice if he had the capacity and reduced his hours to half. Tennis is energy sapping as a player or as a coach.
ATP and WTA tour
In the ATP tour, the Qatar-open went to Nadal and Chennai-Open went to Wawrinka. These two events were played at the same time as Brisbane. In the WTA tour, Brisbane was the big event and the title went to Serena Williams. Maria Sharapova returning from an injury break was seeded three and reached the semi finals. Auckland made Ana Ivanovic happy when she beat Venus Williams in the finals for the title. This is the first title for Ivanovic in a long time. Li Na played in ShenZhen, China and won the title beating Shuai Pheng also from China.
Australian-Open the first Grand Slam qualifying rounds will be worked out during the Sydney tournament week. Many good players opt to rest before the two week long Australian-open and skip Sydney. The temperatures in Melbourne can soar up to 45 degrees Celsius. The new Rod Laver Stadium court can be covered to overcome the heat. The Australian Tennis season peaks with the Australian-Open in Melbourne.
[Correction - In the Davis cup tie starting on January 31, 2014 in Colombo, Sri Lanka will play Philippines and not Pakistan]
George Paldano, former international player; Accredited Coach of Germany, ITF and USPTR; National, Davis Cup and Federation Cup Coach–gptennis.ceylon@gmail.com-