'No Pearl of Greater Price': Launch of C.W.W Kannangara biography
View(s):

Dr. Ananda W.P Guruge celebrated his 85th birthday with the launch of his new book, 'No Pearl of Greater Price'; the biography of C.W.W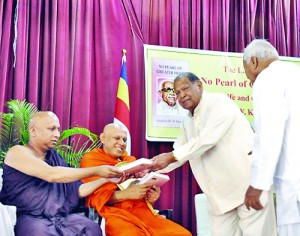 Kannangara on Saturday, December 28 at the All Ceylon Buddhist Congress Auditorium. The book is a publication of Godage International Publishers and the first copy of the book was presented by Mr. Godage to Dr. Guruge.
The ceremony began with blessings of monks present. Distinguished guests gathered were welcomed by the Governor of Sabaragamuwa and former Minister of Education and Cultural affairs, W.J.M. Lokubandara. Minister Dinesh Gunawardena addressed the gathering as the guest speaker.
Ven. Akuratiye Nanda Thera, Ven. Maanagala Upatissa Thera, Ven. Dedunupitiye Upananda Thera and Ms. Elizabeth Steur also addressed the gathering. Dr. Guruge thanked everyone who supported his journey to make this a reality. Chairman of All Ceylon Buddhist Congress, Jagath Sumathipala, Mrs. Guruge were also present at the occasion. The translation of 'No Pearl Greater price' named 'Anagima Muthu Ataya' will be launched shortly.