Highend Retirement Village opens
By Rajitha Weerakoon
View(s):
Heritage Grove, Negombo, the first Highend Retirement Village in Sri Lanka was launched last month in five-star style, in line with the comfortable life style assured for its occupants.
With the end of the war, the potential for luxury retirement- planning became evident in Sri Lanka. Many Lankan professionals were returning to retire in the home country. Then there are the Lankan expatriates who desire to provide a life of comfort for their parents on their retirement. This could also interest retired foreigners who have a home in the country of residence but may opt for a safe and comfortable second home in Sri Lanka especially to spend their winter months.
The concept of highend retirement villages has caught on fast globally with a larger percentage of the population over 60. Following a US $ 30 million investment in Heritage Grove, Sri Lanka's blue chip conglomerate Aitken Spence has entered this yet untapped market of Sri Lanka, filling a timely void.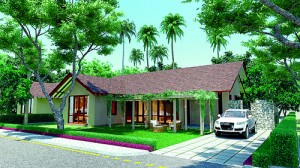 But the industry is not without its share of challenges. Having similar cultures as ours, competition from countries such as India, Thailand, Malaysia and the Philippines could be envisaged.However, as a specialist in the leisure industry and hospitality trade, Rohan Fernando, Head of Plantation and Business Development of Aitken Spence expresses great confidence that this pioneering venture of Aitken Spence can carve a niche in Sri Lanka as a retirement hub. The 30-acre coconut plantation has been turned into a country-club styled project with 140 well appointed two bedroomed villas, set in idyllic surroundings. The village is just minutes away from the Negombo beach.
The project also stands to gain by the recent opening of the new expressway to Katunayake. A shuttle transport service to Colombo and Negombo is also envisaged.
Heritage Grove has a host of facilities from club houses to high quality restaurants with dining options, a spa, a gym, tennis courts, swimming pools, leisure parks, ponds, waterways, even a golf course with golf cart transport within the complex.Medical facilities include services of a doctor and nurse on call 24 hours of the day with an ambulance service. In short, all facilities found in any retirement village including a security service are made available but at lower rates than those charged elsewhere.Payment for the 99-year lease which has to be made in foreign currency ranges from US $ 195,000-225,000 for the two types of villas – Teak and Mahogany.
The project however is a 50-50 partnership between Aitken Spence and two reputed Lankan businessmen based in the US. Tissa Atapattu, a successful entrepreneur in the export business having visited several of the retirement villages in the USA had seen the potential particularly for Sri Lankan professionals who plan to return to Sri Lanka. He therefore, has been emphatic on the need to break new ground and introduce Lankans to the novelty of community-living in retirement.
Sathyamoorthy Chandramohan, the other partner is a former Chairman/MD of American Reprographics – the only company listed in the New York stock exchange headed by a Sri Lankan and has served on several Boards after his retirement.
Enhancing the aesthetics and stature of this upmarket luxury project is Murad Ismail's architecture. Ismail, known for the Dutch Hospital and the Race Course renovation has created for Heritage Grove wide open spaces and individual gardens, a sleek and minimalistic design while being mindful of the needs and concerns of an older generation.