Fifteen bodies found at gravesite in Mannar
View(s):

Fifteen remains of bodies have been found during the excavation of the mass grave, at the Thirukethiswaran-Mantai junction in
Mannar District, which began a week ago.
The excavation of the grave has continued in the presence of senior Government officials, and security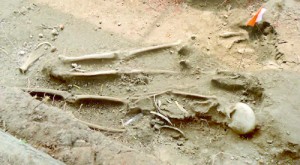 in the area has been enhanced so that the evidence related to the mass grave is not tampered with.
Most of the skeletons unearthed are in fragments and are being preserved for carbon dating examination, officials said.
Assistance has been sought from experts to preserve the bone fragments found in the area and investigations have begun to ascertain who would have been behind the burial of bodies at this site
On December 11, workers attached to the Water Supply and Drainage Board (NWSDB) stumbled on 11 skeletal remains in a shallow grave when they were digging the side of the road to lay a pipeline.
Pix by Lambert Rozairo