Drunken brawls on the high this season, more hospital admissions
By Damith Wickremasekara
View(s):
K. Ravindran, a 28-year- old labourer from Wattala was mowing a lawn on New Year's day when he was attacked by a neigbour who was intoxicated.
He was rushed to the Colombo National Hospital where he is receiving treatment for cut injuries after he was slashed with a knife.
"I was working the whole day at different home gardens and was looking forward to celebrating with family and relatives, but instead I ended up in hospital," Ravindran speaking with difficulty told the Sunday Times from his bed in hospital.
"The man who attacked me knew me and had no animosity against me. I think he was drunk and was not in a proper frame of mind when he attacked. He had attacked two others as well in the neighbourhood," he said.
This was just one of the reported incidents of violence sparked off by intoxication during the festive season.
According to Colombo National Hospital sources the run-up to New Year's day saw a marked increase in the number of injured people admitted to hospital when compared to the corresponding period last year.
From December 30 to January 1, 984 people who had sustained injuries were brought to hospital compared with last year's 869.
A majority of the cases were those who had sustained injuries due to violent incidents, mainly clashes involving people under the influence of liquor. More than 150 people who fell into this category were hospitalised compared with 109 last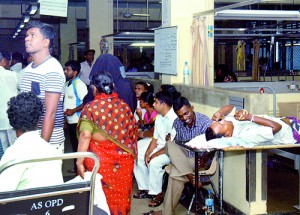 year.
The number of people injured in home accidents also showed an increase with 131 being hospitalised as opposed to 83 last year.
Ninety seven people fell and injured themselves at work during this period compared with 66 last year.
Pointing out a positive factor, Colombo National Hospital Director Dr. Anil Jasinghe said the number of people hospitalised with injuries sustained in road accidents had decreased to 187 whereas last year it stood at 230.
However he said the problem of firecracker related incidents still continues. "Though parents have been warned about giving children to light fire crackers, some of them still continue to do so, resulting in injuries."
"We had 13 cases of injuries caused by lighting crackers and fireworks compared with eight last year. They were all children with eight of them being below eight years," he said adding that the majority had sustained injuries because they held them close to their bodies.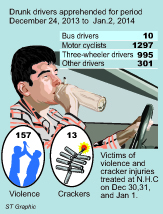 The injuries were mainly on the faces and hands, Dr. Jasinghe said.
Meanwhile, Police launched a crackdown on drunk drivers during Christmas and New Year season with 2,563 violators being arrested throughout the island.
January 1 marked the highest number of detections on a single day, with 171 people being arrested, a senior police officer said.
He said motorcycle riders topped the drunk-driving category with 1,297 detections, followed by 995 three-wheeler drivers.