Mobsters take street art to new heights
By Vinusha Paulraj
The P413 artists are aiming for a Guinness World Record with their papier mache sculpture
View(s):
P413 and his mob as his team prefers to be called have been at it again. "We had to go from house to house and ask people for all their newspapers," laughs mobster Chrishan De Mel. Their attempt to break the Guinness World Record for the "Largest Papier Mache Sculpture" as upcoming artist P413 himself puts it "used up about 2 tons of newspaper."

"The current record was awarded to a 7 ft. tall sphere," says Niruban Satchithanandakumar whose art has been featured in galleries last year under the tag P413. Deriving influences from street art his eclectic style, much to his surprise has been a hit.  Undertaking art projects that fascinate them P413 and the mob can be best described as in their own terms as an "experimental art mob". Calling themselves a mob too seems to flow from an ulterior motive, "We work together, not as a team but in a sort of orderly chaos" is their explanation of how they get things done. Exploring different avenues of expression, their projects include many brightly painted walls, décor for certain events and the UV lit video "killXmas."
Their massive structure "Paperbot" was conceived on December 9 last year as the mob with 90 extra hands started work and it now sits in the parking lot of Park Street Mews. In true mob fashion, work on the project would begin late in the night and finish in the early hours of the morning being the only time both mobsters and volunteers had to give. "Going home was like going to a hotel," laughs Niruban. "We lived in the car park," added his brother Amirthan.
Initially intending to repurpose and create a food truck they had to change course realizing that as Niruban humbly puts it "we just couldn't afford it." Recalling that they built a papier mache sculpture for the Electric Peacock Festival in 2011 they intended to go bigger this time. Collecting newspapers since August, when the ground plans for the sculpture happened they managed to keep within the budget provided to them by generous parents and whatever income them managed to secure.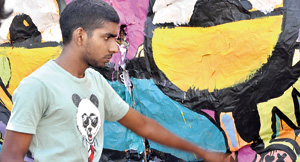 The brightly coloured paperbot is supposed to resemble a robotic being but even by their standards turned out a "little too cute." Using up about two tons of paper and approximately half a ton of glue, the colossal structure fondly called 'paperbot' measures "about 12 feet in width, 11 feet in length and 7.8 inches in height" — definitely taller than the current record holder. Easily weighing over two and a half tons as regulations require it to be, paperbot is a solid papier mache structure with no support frame inside.
"We didn't quite know how to make a sphere, so we stuck to a more cubic shape," Niruban explained. Not being able to fly down a Guinness World Record adjudicator because of the heavy costs involved the mob have filed an application and submitted it to the relevant authorities. "We know it may take a while to get the results," Niruban admits but after all the hard work they put in both P413 and his multi- talented crew are crossing their fingers and hoping for the best.
Paperbot currently sits in the car park of Park Street Mews and anyone wanting to see this Guiness gopeful is welcome to stop by.