You will wonder anew at our wildlife
By Renuka Sadanandan
Book facts: Wild Sri Lanka by Gehan de Silva Wijeyeratne. Published by John Beaufoy Publishing Ltd, UK. Price Rs. 5040
View(s):
Gehan de Silva Wijeyeratne is nothing if not meticulous. In his case, years of in-depth study, coupled with the flair of a natural writer and canny photographer's eye are thoughtfully combined. For some years now, he has argued the case that Sri Lanka is a wonderful place to see wildlife, nay, he would persuade you, the best wildlife destination in the world for its size. And in his new book Wild Sri Lanka, part of a series published by John Beaufoy Publishing Ltd of Oxford in which the other titles are Wild Singapore and Wild Sabah, he carefully documents all the facts to back up his claim.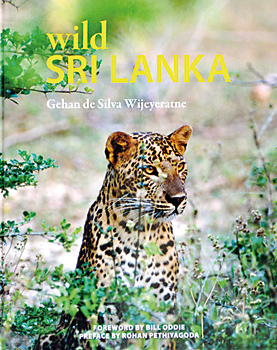 Sri Lanka offers the ultimate island safari, he states, it is the best for big-game safaris outside Africa and is one of the top whale-watching destinations in the world. He presents his case with all the background of his years of work in the wildlife and tourism fields. The introductory chapter alone, whilst paying tribute to the work of the pioneering naturalists such as Dutch Governor Gideon Loten (Loten's sunbird was named after him), Sir James Emerson Tennent, G.M. Henry, P.E.P. Deraniyagala also mentions the work being currently done, before moving to his main focus – the country's top wildlife. Here is his 'best in the world' list, neatly divided into marine wildlife and terrestrial wildlife, followed by a wildlife calendar which provides an at-a-glance fix on when to see what and where, – even butterflies and dragonflies, reptiles and turtles along with the more high-profile species. All this in the Introduction alone- and if you're still a bit disbelieving Gehan ends this chapter with the Encounter rate for the Big Five: Blue Whale, Sperm Whale, Leopard, Elephant and Sloth Bear- the strike rate for seeing a Blue Whale, for instance, would be 90 percent sailing from Mirissa during the season.
So the book is in essence, a comprehensive sweep of the country's biodiversity. Following chapters include Habitats and the Natural Environment, Fauna and Flora of Sri Lanka, Whales, Dolphins and Seabirds, Sri Lanka's Natural Parks and Wildlife Reserves, Information for Visitors and even a checklist of Endemic Birds and Animals, also sample itineraries. In the Fauna and Flora chapter, for instance, the section on Elephants includes, of course, an evocative account of the magnificent Elephant Gathering which he played no small part in publicizing, while also covering Sri Lanka's little heralded dragonfly fauna- did you know Sri Lanka has 124 species of dragonfly and damselfly? So if you are in the mood to set out on a very specific expedition, here's much of the information you need, handily presented. Sections on Trees, Flowering Plants provide a glimpse of some of the commonplace varieties we may see frequently but are hard-pressed to identify.
A familiar name in wildlife circles, Gehan is a regular contributor to newspapers and magazines and his numerous articles published over the past decade helped publicise the island's wildlife. By profession a civil engineer and chartered accountant, he spent a decade as a director of Jetwing, developing wildlife tourism for the Jetwing Group as well as branding the country as a top wildlife destination. Though returning to his core career as a banker in London where he specializes in financial risk management in investment banks in 2010, it is clear his passion for the country's wildlife is in no way diminished.
Whilst others see wildlife either from a conservation outlook or from a tourism perspective, Gehan strikes a balance between the two. His chapter on the different wildlife parks provides concise and practical information- how to get there, when to visit, where to stay, what you can hope to see etc. While writing of Night Safaris, that should be undertaken with care for personal safety and the welfare of the animals, with an insider's perspective, he suggests enlisting the help of Wildlife or Forest Dept. officials.
With the plethora of coffee table books in the market, wildlife being a much-favoured subject these days, there is the tendency to wonder if another book offers anything new. Gehan's book while covering familiar ground, does in no small measure. 'Notes from his 'A Naturalist's Journal' – firsthand accounts give the reader some sense of the ineffable thrill of seeing an animal in its natural habitat. In 'Mammal Watching in Horton Plains' – a most interesting read of sightings of the elusive leopard in the day, the sambar, the Muntjac or Barking Deer, three species of squirrels and the 'star primate' the Horton Plains Slender Loris which he says is awaiting description as a new species, he writes, "Mammal watching in Horton Plains is harder than in the national parks in the dry lowlands, but it has its own rewards-endemic mammals in beautiful cloud forest and rolling plains that fall off the edge of the Earth", mentioning how visitors have even spotted the Eurasian otter swimming nonchalantly at Arrenga pool. In the rainforest section, whilst detailing Sinharaja, he also explores the floristically rich environs of Bodhinagala which can be visited as a half-day trip from Colombo ( the turn –off is just before the 29 km post on the A8 and the Rainforests of Galle- Kottawa, Hiyare and Kanneliya. On his pet subject of whales, he includes fascinating information on the surface behaviour of cetaceans – you may be intrigued to discover what the 'chorus line', 'jaw clapping' and 'scrumming' is in whale parlance.
Amply illustrated – the photographs all taken by Gehan himself are singularly arresting and even in many cases exceptional, and deserving of close scrutiny though they serve to back up the content, rather than being presented for their photographic value alone. A quibble perhaps would be that there is some inevitable overlap of content, the Talangama wetland for instance, appears in the Primate section as a place to see the critically endangered Purple-faced Leaf Monkey, in the dragonfly section and also in the Wetlands section, but the book overall is chock-full of information.
In his preface, scientist and conservationist Rohan Pethiyagoda while lauding Gehan's continuing efforts to promote sustainable nature tourism in the country describes this book as a work of seduction. That it is. The reader is seduced and quite likely won over for life by the natural wealth of the country that Gehan so ardently champions.