Colouring the world
By Ranee Mohamed
An exhibition of paintings by Shareeda Farook will be held at the Lionel Wendt on January 7 and 8
View(s):
Shareeda Farook has many dreams to achieve with her paintbrush. This is why all her paintings have a greater meaning. For all proceeds of her exhibition will help colour the lives of those in need.  "I want to change the lives of children who are ailing and children who are deprived. There are many children who are unable to go to school for want of books, pencils, shoes and uniforms. I want to bring some happiness to their lives. I also want to bring a smile this season to children afflicted with incurable diseases," says Shareeda.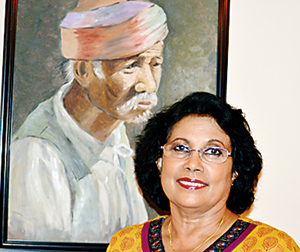 All this she hopes to do through her work. "Art is a very essential part of my life. My art was admired and encouraged by my teachers at Newstead College in Negombo," recalls Shareeda, now a mother of two. Speaking with a glow in her eyes, Shareeda says her husband Abdul Hassan Mohamed Farook and her son Razy and daughter Farhana helped her by giving her time, space and encouragement.
Having travelled to different places around the world – Denmark, France, Sweden, Spain, Rome – she has drawn inspiration from them. She speaks with wonder of the Puerto Rican beaches and the fine work of women in China – the silk, the embroidery- these special places have coloured her own life and her work.
Her paintings capture the essence of places she has visited and speak of her talent and keen eye. "I love colour," says Shareeda, who is surrounded by colour in a tastefully decorated house. "I like colour –colour gives you happiness. Your life doesn't feel dull when there is lot of colour around you. It brings a lot of joy and peace and you always want to smile when you see colour, " she says.