Appreciations
View(s):

Our Seeya who gave his heart to God and hand to man | W. J. Wickramage

It is a Christmas day in the 1980s; we are all gathered around the neatly and colourfully decorated Christmas tree in our grandparents' house. We have just enjoyed a scrumptious Christmas lunch meticulously and lovingly prepared by our grandmother. My grandfather, we affectionately called 'Kolomba Seeya', gets ready to give his customary Christmas day post-lunch talk to his folk. My uncles and aunts together with their children, my cousins, sit around him listening intently to his words of wisdom. Our eyes, though, are firmly fixed on the gifts, strewn at the foot of the Christmas tree, attempting to figure out which ones had our names.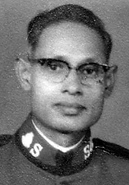 Then Seeya prays together with the family. Thereafter comes the day's highlight for us as Seeya does a Santa-like gift give away calling out our names.
This was how we spent our Christmas growing up in Colombo. It was a family tradition we looked forward to with great joy and excitement. Our Seeya was the chief organiser and host of the event, with able support from 'Achchi Amma'. They made sure, through that, the bond among the families of their children was held strong while they enjoyed and shared in the spirit of Christmas together.
These are some of the cherished memories I have of our dear Seeya, Lt. Colonel Wickrama James Wickramage who left us on September 22, 2013 at the age of 104.
Seeya hailed from the remote hamlet of Thalampitiya in the Kurunegala district. He enrolled in the Salvation Army training college in his early 20s to be trained as an officer (clergy). He faithfully served the church in many parts of the country and willingly embarked on spreading the story of God's love even to those in rural and remote corners of the island. We have heard numerous stories of Seeya cycling many a mile on rugged terrain in the service of his church and master. Seeya was credited with pioneering Salvation Army work in Trincomalee.
As a Salvation Army officer he held a range of positions and rose up within the ranks to be Lt. Colonel. He was one time the principal of the Salvation Army training college in Colombo and some of those who trained under his watch have gone on to hold key positions in the local and international Salvation Army. In 1965, he represented his country at the main centenary celebrations of the Salvation Army in London. In 1969, he became the general secretary, the second highest office in the Salvation Army in Sri Lanka. Seeya retired from active service in 1974.
Seeya was an absolute man of prayer. His day started with prayer and ended with one. In everything in his life prayer and the Bible played the pivotal role. Such was Seeya's commitment to holy living. He was always available to anyone who needed support of any nature that he could provide.
Retirement did not hold Seeya back from continuing his service to the community. One such notable service was visiting prisons to preach the gospel of love and reconciliation to inmates. He visited the sick in hospitals with the message of love and care. Seeya was honoured by being appointed a Justice of Peace for the whole island.
When our grandmother passed away in March 1991 Seeya lost his soul mate who had stood steadfastly alongside him enduring all challenges that came their way while also sharing in the many joys and good times. Seeya lovingly cared for Achchi Amma for several years after a stroke left her partially paralysed. Although Seeya was deeply saddened by her loss he was strong enough to gather himself together and move on. That Seeya outlived Achchi Amma by over twenty years is testament to his self-sufficiency and his unwavering faith and profound conviction to his life's mission.
Seeya was equally fluent in the three languages, Sinhala, English and Tamil, a rarity in modern times. His public speaking skills were exceptional; I have witnessed often, growing up, Seeya deliver powerful and inspiring sermons to spellbound audiences. One special feature of Seeya's own talks was how he contextualised passages of scripture to be applicable to contemporary day to day living in very practicable terms. I could distinctly remember Seeya's pithy and nicely packaged mini sermons that were broadcast each morning in those days in a radio programme called 'thoughts for the day' ('Dawase sithuwili'). Amidst all the chaos and rush of weekday mornings, raising against the clock to be ready for work and school, my mum used to have the radio on to listen to Seeya talk. I remember even as a young boy of 6-7 years of age, I could understand clearly and relate to what Seeya said.
Although Seeya had not had any formal training, he was able to play the violin so beautifullyand perfectly. He was kind enough to gift his beloved violin to my brother when he started taking violin lessons. Such was his encouragement and support to each one of his grandchildren to pursue their dreams and succeed in life. He was behind us cheering us on while taking immense joy and pride in our achievements.
Seeya was an honorary Rotarian and actively participated in social activities sponsored by the Rotary club. For many years Seeya was the patron of 'Home of Compassion', a home for the elders' that was supported financially by the Rotary club. My brother and I had the honour of being invited as guest speakers, on Seeya's suggestion, to Seeya's Rotary club meetings and saw firsthand the high esteem Seeya was held by the fellow Rotarians.
Seeya's is a life that can well serve as a benchmark to calibrate most aspects of our life against. Even as I gather my memories and thoughts together to compile this appreciation of Seeya, I realise, perhaps more than ever before, what a remarkable man he was. Above all else, his life's mission was to share God's endless love in all its splendour to all he came into contact with as much by deed as by word. To that end he was deeply committed and dedicated his life. While the Salvation Army was one big family to him, his own family was so precious to him. Seeya had the rare privilege of living to see several of his great grandchildren. The greatest legacy Seeya left for us is being part of the Salvation Army. We, with great pride and honour, wear the badge of 'third generation Salvationists' thanks to Seeya. Dedicating, in turn, our own children to the Salvation Army was a great blessing to my brother, sister and me. That would see Seeya's legacy live on for many generations to come.
Seeya spent his last few years in a residential care facility for the aged of the Salvation Army in Rajagiriya. He moved to the aged care facility when my parents, with whom he was living till then, travelled to live with us here in Australia. He loved the attention and adoration of the staff in Rajagiriya and the constant stream of visitors he had. Even in the twilight years of his life Seeya relished being amongst it, as he has done all his life. Seeya was considered by many as the grand patriarch of the Salvation Army of Sri Lanka. When the current General of the Salvation Army visited Sri Lanka earlier this year to participate in the 130 year anniversary of Army work in the country she made a special visit to meet and pray with Seeya. The tributes that flowed from far and wide following Seeya's demise reflected the profound and lasting impact he had made in the lives of so many.
I last met my dear Seeya in November 2012 while on a brief visit to the country. Despite his age he was so radiant and eloquent; his memory near perfect. As I bade farewell to Seeya that day he offered a prayer as he always did. I knelt at his feet and paid my respects and then Seeya in his customary fashion kissed my forehead and said 'God bless you'. As he waved goodbye, I saw him wipe away a tear. Seeya would have known that this was a final farewell till we meet again on the other side. But for us Seeya was near immortal, we thought that Seeya's passing away would never come to pass. Now how much do I wish that I had stayed another minute with Seeya, holding his hands that day.
The words of the following hymn aptly describe Seeya's calling and conviction, and that I am sure is why it was one of his favourites,
By the love that never ceased to hold me
In a bond nor life nor death shall break,
As thy presence and thy power enfold me,
I would plead fresh covenant to make.
From before thy face, each vow renewing,
Strong in heart, with purpose pure and deep,
I will go henceforth thy will pursuing,
With my Lord unbroken faith to keep.
Rest well our dear Seeya, you toiled hard for long, you fought a good battle and gave it your all.
Dr. Sanjay Jayasinghe
His heart was as big as his voice | C.R. de Silva
We write this in fond appreciation of the life of the former Attorney General C.R. de Silva, President's Counsel who passed away recently. He left an indelible mark on the lives of all three of us who were privileged enough to be State Counsel working at the AG's Department during the time he served as an Additional Solicitor General, the Solicitor General and subsequently as the Attorney General.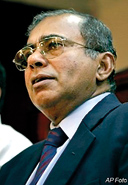 To comment on his skills as a lawyer or his reputation as a fierce and feared prosecutor would be presumptuous. His jousts with the late Justice F.N.D. Jayasuriya on principles of evidence in the Court of Criminal Appeal used to draw crowds of young lawyers and apprentices, who watched the proceedings in awe. The immense contribution he made to the advancement of Criminal Law and the Law of Evidence in Sri Lanka can be clearly seen in the reported criminal cases during this period. But, to us, he was also an inspirational person to work for. He brought the tenacity and dedication of the rugby player that he was to his preparation, which was meticulous. It was particularly impressive to see him, as the Attorney General, striving to master areas other than criminal law. Instead of remaining within his comfort zone he forged ahead – an aberration in the context of many a senior officer in the public sector.
Mr. de Silva's attitude to work at the AG's Department was unique. He expected his State Counsel to be honourable and willing to put in hard hours. He would engage even the most junior officers in debate over legal issues and sought to enforce his views through the strength of reason rather than position. He was confident enough to be persuaded to hold a different viewpoint and actively encouraged his State Counsel to engage him intellectually. He also expected his officers to be physically fit and to have a vibrant social life. Often have we been the subjects of deep cross-examination on the delicate side of our personal lives! If we missed the breakfast kiribath on January 1st and staggered in late, he laughed it off. But woe betide us if we delayed our files!
He brought to the department the atmosphere of a public school from a bygone era, the recollection of which brings a wave of nostalgia. We fondly remember how colourful Mr. de Silva's wit and vocabulary were. He encouraged verbal jousting and witty repartees. It would be frightful (and very often an earful in both content and volume) to be reprimanded by him in his Chambers and equally delightful to be entertained by his narratives over a drink at the SSC after a hard day's work. He had many favourite phrases, often beginning with the familiar words "I say, Master …" and would say teasingly to an opposing Counsel that the latter's knowledge of the law could be written at the back of a bus ticket.
He truly loved the Department and it was important for Mr. de Silva to preserve and protect the reputation and standards of the official Bar. He was also extremely concerned about the welfare of not only his officers, but that of the clerical and other staff too. Generous to a fault, he has helped numerous staff members, who remain very grateful. Even after his retirement from the official Bar, he was still concerned about its reputation and the officers' welfare.
In an era when private practice thrives on monetary gain, when Mr. C.R. de Silva took to the unofficial Bar after retirement, he was driven by the love of advocacy rather than the new opportunity to earn in one day the equivalent of his annual salary in public service. He also took on pro bono cases for causes he sincerely believed in, the last of which was concluded in favour of the public interest litigants who he represented, a few days after the diagnosis of his fatal illness in August. This landmark Court of Appeal judgment, which found the annual animal sacrifice conducted at the Munneswaran Badra Kali Kovil to be unlawful, brought much personal satisfaction to Mr. de Silva.
Mr. de Silva was well known for that booming voice which would ring through the corridors of the AG's Department and the Halls of Justice, but what we cherish more is the fact that his heart was as big as his voice. With his passing, the silence now is indeed deafening. But we can be certain that his wife and sons are greatly comforted by the knowledge that there are many who are eternally grateful for the moments of learning and laughter shared with Mr. C.R. de Silva.
Nirmalan Wigneswaran, Dr. Thushara Kumarage, Dr. Avanti Perera