Saberion launches Cloud Computing from Amazon Web Services in SL
View(s):

Amazon Web Services (AWS), the world leader in cloud hosting solutions, was officially launched in Sri Lanka recently by its local implementation and consulting partner Saberion (Pvt) Ltd.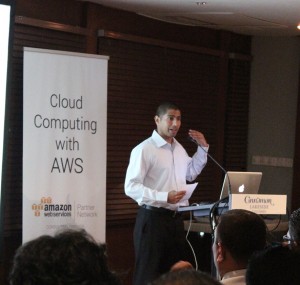 Launched in 2006, Jeff Bezos's Amazon eCommerce business, AWS has gone on to re-invent and dominate cloud infrastructure solutions. Today Amazon Web Services provides a highly reliable, scalable, low-cost infrastructure platform in the cloud that powers hundreds of thousands of enterprise, government and start-up businesses in 190 countries around the world, a media statement issued by Saberion said.
"With AWS the potential growth for any organization is mind blowing. Saberion at any given time manages around 400 solutions on the cloud including our own solutions built for over 300 leading local and international organisations," said Mufaddal Lukmanjee, Co-founder Saberion (Pvt) Ltd.
Sanjiv Alles, Co-founder Saberion (Pvt) Ltd, said, "AWS will change the mindset of any organisation looking to move their services and products online and the team at Saberion is excited to start exploring the potential in the Sri Lankan market. Our trained and certified resources are able to manage the entire process".