CSE steps up popularising debentures
By Duruthu Edirimuni Chandrasekera
View(s):
The Colombo Stock Exchange (CSE), in a bid to promote debt securities such as debentures, has allowed primary dealers (those who trade in treasury bills and bonds) to be direct intermediaries in these securities, officials said.
"We introduced this initiative recently," a CSE official told the Business Times.
Popularity
He added that the primary dealers will buy the debentures in bulk and then sell them to their respective clients. As debentures are not popular, this initiative by the CSE is an attempt to popularise them, the official said.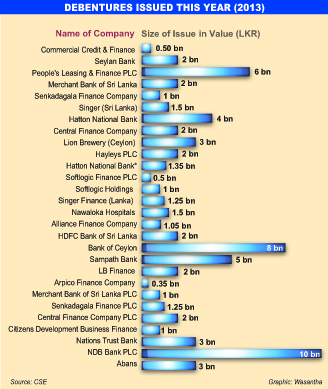 Debentures are long term instruments ranging up to 10 years. As debentures are one of the common long term sources of finance, they normally carry a fixed interest rate and a certain date of maturity.
Types of debentures are many. Secured Debentures refer to debts secured by a charge on the fixed assets of the issuer. If the issuer fails on payment of the amount, his or her assets can be sold to repay the liability to the investors.
Redeemable debentures are those which can be redeemed or paid back at the end of a specified period mentioned on the debentures or within a specified period at the option of the company by giving notice to the debenture holders or by instalments as per terms of issue. Irredeemable debentures are those which are repayable at any time by the company during its existence. No date of redemption is specified. When issuing debentures, a company needs to adhere to Central Bank's guidelines.
Investors are always on the prowl for good investment opportunities. In order to incentivise those investing in debentures, as at March this year, the interest cost incurred on debentures enjoys a tax shield where it's exempt from withholding tax. At current rates, debentures offer much better rates, such as the recent NDB debenture which gives 13 percent every six months. The fixed deposit rate stands at 10 to 11 per cent yearly and isn't as attractive.
Application numbers low
Analysts say that while debentures are theoretically tradable on the share market they are infrequently traded, as most aren't aware of the way they function. Debentures are backed only by the general creditworthiness and reputation of the issuer. The whole perception on whether to invest in debentures or in shares depends on the duration that an investor can hold money in that particular investment and the interest rate, according to analysts.
In shares, the speculative element is high and they fluctuate on profit predictions, while in debentures this phenomenon is non existent.
"Debentures only give the promised returns. This is why they are not generally promoted to retailers as retailers are more speculative," an analyst said.
Ample testimony to this is that most firms are raising Rs. 5-10 billion with less than 400 applications, which shows that the majority who invest their monies in debentures are long term institutional investors.
This March, the Commercial Credit debenture which was the first under the tax waiver (no withholding tax on the interest) fetched 381 applications, while Nation Trust Bank's Rs. 1 billion listed, unsecured debentures saw 216 applications.
Citizen Development Business Finance which raised Rs. 1 billion Unsecured Redeemable Debentures saw 278 applications. Its interest rate ranged from 16 per cent per annum to 15 per cent (annual effective rate of 16 per cent and
15.87 per cent per annum) payable annually, semi-annually and quarterly. The latest and the largest debenture of National Development Bank PLC which saw Rs 10 billion raised saw 336 applications.
Senkadagala Finance PLC Debenture Issuance, which was formally opened for subscription on December 6 closed on the same day where a total of 147 applications were received, accumulating to over Rs.1.3 billion.
"As opposed to these small numbers of applictions, an initial public offering, or IPO, fetches thousands of applications," the analyst pointed out, citing the Amana IPO which has so far got some 2, 000 applications.
"This is what the regulator wants to change," the official said. However, the analyst said that the latest statistics show that the number of applications for debentures has been steadily rising.