When the Plains go pink and purple
View(s):

As the Nelu flower blooms once again, Shaveen Jeewandara speaks to conservationists and wildlife enthusiasts on this rare phenomenon that occurs every 12 years
A pink and purple blanket has been thrown over Horton Plains, as the biodiversity of the National Park has taken on new life. The humming of bees in the thousands collecting nectar can be heard through the mist, as they hover around the long-awaited visitor – the Nelu flower (belonging to the Strobilanthes family), which blooms only once every 12 years.
The Nelu flowers presently in bloom offer a rare phenomenon for all nature lovers and Director General of the Royal Botanical Gardens, Peradeniya, Dr. Siril Wijesundara describes it as a sight to cherish. Having first encountered it in 1977 during his third year at the Peradeniya University, Dr. Wijesundara has been lucky enough to have seen the phenomenon again in 1989, 2001 and this year as well. "The entire landscape takes on shades of purple and pink," he says.
Thomas Farr, the English planter who built Farr Inn in the Horton Plains was the first to find in 1881 that the Nelu flowered in 12-year cycles, and when he left Sri Lanka then Ceylon, he had predicted that it would next flower in 1917.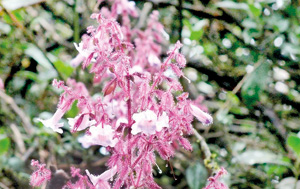 There are 31 species of Nelu in Sri Lanka, of which 26 varieties are endemic. The four varieties presently in bloom are the Strobilanthes pulcherima (purple or more light pink), Strobilanthes viscosa (white), Strobilanthes sexennies (purple blue) and Strobilanthes calcynia (yellow) – the most prominent being the purple or more light pink Nelu in bloom.
In his book, "Horton Plains: Sri Lanka's Cloud Forest National Park", conservationist Rohan Pethiyagoda writes "the genus comprises about 300 species throughout the hilly regions of Asia, with the floras of India and Sri Lanka including more than half of this. Growing close together with straight erect stems, which in some reach a height of up to 3 metres, they only bloom -with a resinous odour- upon the completion of a 12 year cycle. Although the Nelu flowers are silent for over a decade, they really make it a point to herald in their bloom, with whole patches simultaneously bursting into flowers.
The news of the Nelu flowers in bloom has had visitors flocking to the Plains. Ex-planter Dushy Perera, a frequent visitor in his planting days had been to the Plains early this month with his sister Roshini, having last seen it in 1989. They spotted the Nelu flowers near the Thotupola Range, coming down from Nuwara Eliya. "We walked up the Thotupola hill and got a panoramic view of the whole area dotted with Nelu flowers."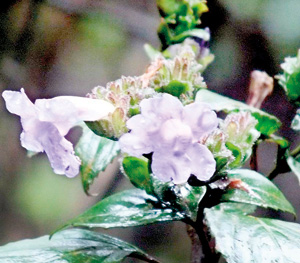 Roshini, an avid wildlife enthusiast was delighted to be able to photograph them. "We saw the flowers during their last few stages and it was still breathtaking, one can only imagine how beautiful it would have been in full bloom," she said. Seven species of Nelu are 'critically endangered and possibly extinct' and five species are 'critically endangered', says Dr. Wijesundara. Rohan Pethiyagoda states in his book that four species of Strobilanthes are only known from collections more than 75 years ago and they have become extinct. Nevertheless, two new species have been described in the past decade and it is possible that others still remain to be discovered, he says.
An official of the Horton Plains National Park says there has been an increase in visitors these past weeks, all asking about the Nelu flowers. "Usually they only ask about World's End," he said. But their blaze of glory is short-lived -the flowers will be gone by end- December .