Lanka pays British MP £ 3,412 to attend Business Forum
View(s):

A Democratic Unionist Party Member of Parliament in the British House of Commons has declared that he was paid around Sterling Pounds 3,412 to attend the Commonwealth Business Forum in Colombo. The event was held ahead of the Commonwealth Heads of Government Meeting last month. 

Parliamentarians in the UK are required by statute to declare foreign funds, gifts or invitations they receive. Ian Paisley Jnr, (North Antrim) who has come to Sri Lanka on previous visits hosted by the Government, had been paid Sterling Pounds 2,812 for flights to Colombo and a further Sterling Pounds 600 for accommodation. The visit was from November 11 to 15.

The purpose of the visit has been declared as "to speak at the Commonwealth Business Forum." Payments to the MP have been made by the Sri Lanka High Commission in London. Ian Paisley Jnr. is the son of the Rev. Ian Paisley, who led Protestant movement and the Democratic Unionist Party in their campaign against the Northern Ireland Catholics. He is also a member of the Northern Ireland Assembly. The non-declaration in the House of Commons register of an invitation extended to him cost the job of one time British Defence Secretary Liam Fox.

Bank places relatives of politicos in high-risk category
Having political connections may always not be advantageous, as one of the relatives of a politician found out recently. The person called over at a private bank to open a savings account and in turn was handed over a form to fill. Of some 30 questions the person was required to answer was one which asked, 'Are you or your close relative a politically exposed person? If "yes" please specify.' On further inquiries from the bank the person learnt it had three categories of risk levels and in case you are a close relative of a politician, you will be placed in the high risk category.

Top singer in political maul over Devananda's shawl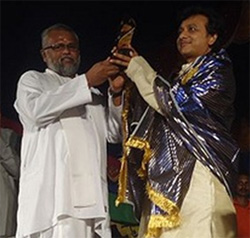 A leading playback singer in Tamil Nadu has apologised to Tamils in the Southern Indian state after receiving honours from Minister Douglas Devananda.
The Minister placed a shawl on P. Unnikrishnan after a concert in Jaffna. When the singer returned to Chennai, there were protests from Tamil groups. Indian media outlets carried his "public apology."
One website (http://chennaionline.com/movies/cine-buzz/20125912095917/Unnikrishnan-clarifies-about-getting-shawl-from-Lankan-Minister.col) said, "Playback singer Unnikrishnan has issued a lengthy statement clarifying on the unexpected circumstances which led him getting a shawl from Douglas Devananda, a Minister in the cabinet of Lankan President Mahinda Rajapaksa at a concert…… However, other reports from Jaffna claimed the Minister was present at the event and honoured the singer. This is what Unnikrishnan had to say.
"I have been in the field of playback singing for more than the past decades (sic) and have conducted concerts in many countries. I shall always remember the fact that Tamils based in Jaffna, Sri Lanka were instrumental in making me travel up to faraway places such as London, England and Australia to conduct musical concerts…..
"One such invitation took me to Jaffna recently to perform at a concert arranged by a local body named Swanubhava. Popular carnatic music exponent T.M. Krishna had arranged for the concert as part of the celebrations at the Nallur Kandaswamy Temple at Jaffna. I was also scheduled to give a lecture on Indian music to the students at the nearby Ramanathan Music Academy.
"Even as the concert was proceeding smoothly, Lankan Minister Douglas Devananda arrived at the venue uninvited and presented a shawl to me. I'm aware as to how bad Tamils would have felt when I received the shawl. I'd like to clarify that it was a totally unexpected development as the Minister made an unscheduled visit and did something which I couldn't control in front of a huge crowd and the media. I tender my sincere apologies for the unexpected incident and consider it as a 'black dot' in my musical sojourn. I went to Jaffna only on an assurance from the Indian Cultural Centre that no untoward incident would happen….."
Gifts: Australian example for Lankan politicos
Australian Prime Minister Tony Abbott was showered with some expensive gifts by President Mahinda Rajapaksa when he attended the Commonwealth Heads of Government Meeting (CHOGM) in Colombo. He received two pairs of luxury diamond studded cuff links and an ornate silver box. As is the practice in Australia, he surrendered them to his Department as the gifts were valued above the Australian $ 750 limit for Parliamentarians.
According to reports from Sydney, he also surrendered a leather briefcase from the Sultan of Brunei as well as 12 bottles of Moet champagne and another dozen bottles of expensive Shiraz (wine). Mr. Abbott and his wife Margie own their home in his Northern Sydney electorate of Warringah, but list no other investment properties. Opposition Leader Bill Shorten has also only listed one property in the Melbourne suburb of Moonee Ponds.
All Members of Parliament are required to disclose their business interests including directorships, shareholdings, real estate and bank accounts.
What a marked contrast to local politicos of all hues in Sri Lanka. Some of the expensive gifts they received adorn their homes. Other than politicos, even a top member of the armed forces, was allowed to take an Uzi sub machine gun (a gift from Israel) home when he went on retirement.
Lightning response from LECO
There was a lightning response to revelations in these columns last week about the more frequent power failures in Nugegoda, Wijerama, Maharagama, Battaramulla and adjoining areas. Embarrassed by the disclosure, a top source at the Lanka Electricity Company (LECO) which distributes power for the State owned Ceylon Electricity Board (CEB) said the cause for the power interruptions was the non-replacement of a transformer in the grid sub-station in Pelawatte. It had burnt out in March this year and nothing had been done to replace or repair it.
As a result whenever the load or consumption increases, the CEB is forced to juggle around shifting the load to other stations to keep up a steady power supply. This, LECO claims, is to avoid shedding power. Yet, it admits that this ends up in interruptions. Hence LECO said CEB supplies to it are also interrupted resulting in power failures in the areas. It said consumers who were unaware of this situation blamed LECO. It is to LECO that they pay their bills.
Though the Power and Energy Ministry speaks of providing electricity for the entire nation, it seems it is unable to provide a steady supply to one of the most populated areas. To keep the consumers informed about power interruptions by LECO and how long it would take to rectify a fault, LECO has now introduced an SMS service. For this the consumers need to register and details are mentioned in the bill, it said.
This is despite consumers having to pay one of the world's highest rates for the electricity. "Even our own representations have fallen on the deaf ears of the CEB," the source said.
Rajitha will sieze all boats — hook, line and sinker
Indian fishermen poaching in Sri Lankan territorial waters has been a recurring issue. The Sunday Times Insight team recently exposed the fact that the Tamil Nadu state's multi-billion rupee fish export industry was behind the 'Shrimp war' rather than poor South Indian fishermen eking out a livelihood. This week Fisheries Minister Rajitha Senaratne was questioned at a media briefing as to what he plans to do.
"We will seize all the vessels which come into our waters illegally," was his prompt response. The next question was how they could detain so many vessels. "We will even close our fisheries harbours to detain these vessels." Then came another question. "Where would the local fishermen anchor their boats if the local fisheries harbours are used for Indian boats?" The minister responded by saying, "We will get the local fishermen to draw their boats to the shore to provide space to accommodate the Indian boats."
Vehicle flashlights for MR's VIP chopper
Just before he emplaned to South Africa for the funeral of Nelson Mandela, President Mahinda Rajapaksa had a string of engagements in the South.
He travelled to Bibile last Saturday and left in the evening in the Sri Lanka Air Force VIP helicopter to Tangalle. The touch down was to be at the Tangalle Girls' school but the pilot found that visibility was poor. After radio contact with security details on the ground, a row of vehicles flashed their headlights towards the landing area. The chopper soon touched down.
Minister snaps bus racket
Last Tuesday, North Central Province acting Chief Minister and Transport Minister H.B.Semasinghe visited Medawachchiya bus terminal for an inspection.
During his visit the minister was able to see for himself how protection moneywas paid by bus workers. He noticed a bus conductor paying Rs. 300 to a person.
The minister walked up to the conductor and asked why he paid money. He denied making any payment. Then the minister showed him a photograph from his mobile phone to prove that he was giving money.
Then the conductor admitted he did and apologised to the minister.  Mr. Semasinghe told his officials that the route permit should be withdrawn if any private bus staff were found paying bribes. However, one private bus conductor was to remark after the Minister left "the permission we get by paying money is as important as the permit itself. Otherwise, we will not be able to operate. If we tell the Police, we will be the victims. The Police want us to lodge an official complaint and will not act otherwise."
Akashi's time angers Sampanthan
"You cannot expect President Mahinda Rajapaksa's Government to do things overnight. You will have to give reasonable time," declared Yasushi Akashi, Japan's special envoy for the reconciliation process in Sri Lanka. This was his message to Tamil National Alliance (TNA) leader Rajavarothayam Sampanthan, during talks in Colombo.
An angry Mr. Sampanthan hit back, "You have come here for the 23rd time. When you come for the 24th time too, you will learn things have not changed."
He added that the 'war' had ended four and half years ago and asked "what more time are you talking about?" That was the high pitched note in an otherwise friendly conversation between the long serving peace envoy from Sri Lanka's once largest aid donor and the TNA.