D.M PM: The time to stay or go?
View(s):

My Dear Di Moo,
I thought I must write to you because, all of a sudden, you seem to be in the news, more so than even Mahinda maama. That all this is because of some silly little container of heroin that was imported to the country makes it still more fascinating. Di Moo, if you are one of those who believe that any publicity is good publicity, you must be a happy man. Why, there are some who are demanding your resignation and then there are others who want you arrested-it seems that you are giving Mervyn a good run for his money!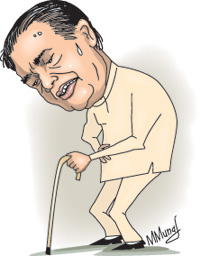 Then there are those who are saying that you are not in a fit state to hold the high office you are holding at present. Now, Di Moo, I would say it is unfair to single you out because there are quite a few other people who would fall into that category. As far as I can see, Di Moo, you are the most qualified to hold the position you have today. As we all know, the best qualification for that job is not your ability or leadership potential but to have absolutely no presidential ambitions at all, and that is what you appear to have in abundance!
In that respect, you are quite like the only other gentleman from Kandy who became Prime Minister, the late, much loved DB who was also known as 'Dunnoth Baaragannam'. Now, no one said he was better than Lalith or Gamini, but he still got the job didn't he? I hope you don't make the mistake of comparing yourself to DB, though. That is because he happened to be in the right place at the right time and got the top job because his boss was at the wrong place at the wrong time. If people feel that you are thinking on those lines, you will definitely be in trouble!
Di Moo, I think all this talk of demanding your resignation is not quite right. All that has happened is that one of your secretaries has signed a letter giving some instructions to the Customs. And even that gentleman has now resigned, hasn't he? So, what is all this fuss about your resignation?
After all, it is not as if you are one of those people who go around tying people to trees, sportily threatening your wife or even intimidating school principals who want to take action against their sleep-walking children. If such people can thrive in the Cabinet, why should you resign?
Besides, we know how much you like your job, Di Moo. I remember you once saying that as the oldest living member of the SLFP who joined the party when it was being formed by SWRD more than sixty years ago, your only ambition was to become Prime Minister 'at least for a day'!
Why, in a bid to nudge Satellite to give you the job, you even went to the extent of announcing publicly that you had stitched a new suit for your swearing in ceremony. Of course, Satellite didn't fall for that trick and Mahinda maama got the job.
Then, when Mahinda maama himself got the top job, you again hinted that you wanted to be Number Two. That was when you launched a poster campaign in Kandy announcing that you would be the next Prime Minister. Again, you were ignored, this time by Mahinda maama and Ratnasiri got the job.
It was only much later that you got the job you so badly wanted. So, I don't think you should leave it because your secretary wrote a letter that he should not have written. I don't think this is a crime in a country where even mere directors go around ordering the transfers of police officers who raid casinos!
What is interesting is that it is not the Greens or the Reds who are the most vociferous in asking for your resignation; it is a party which is a partner of your ruling coalition. I can understand if Nimal or Maithri demanded your resignation, but what is happening now is a little odd, don't you think?
That party says they are opposing what happened on principle. That is really fine but then, they too should quit the government if you do not resign. I don't think they are quite ready to do that. After all, they need their perks and privileges too.
So, Di Moo, I don't think there is any reason for you to worry. I am sure all this fuss and bother about heroin containers will soon fade away and you can live up to your motto of being 'Den Mata Jolly' for a long, long time to come!
Yours truly,
Punchi Putha
PS-If you need any confirmation that your job is safe, just recall that time when you were ill and had to be taken overseas for treatment. That led to wild speculation as to who would succeed you and other people started staking their claims and fighting among one another. So, Mahinda maama allowed you to remain in office because he must have realised that without you, the Blues will also become like the Greens-where one faction always fights with the other!