Govt. continues extravagant borrowing and spending spree
By Our Political Editor
View(s):
Divided UNP voiceless on this and other vices such as rampant corruption, bribery and kickbacks

Mahinda takes steps to implement more LLRC 

recommendations ahead of UNHRC sessions in Geneva

Tensions deepen over 'Maveerar day'; Wigneswaran says his life in danger, TNA insists Governor must quit
Preparations for the UN Human Rights Council sessions in Geneva in March next year and fast tracking some key development projects have become new priorities for the Government.  They replace two other major priorities which took weeks and months of preparations, the Commonwealth Summit and the budget presented in Parliament on November 21 by President Mahinda Rajapaksa.
This is amidst other key developments. One is the continuing expansion of Sri Lanka's diplomatic missions overseas. It comes at a time when the External Affairs Ministry (EAM) has ceased to play an active role in the conduct of foreign policy. In fact, the talking point among some ministers this week was why only 26 foreign heads of state or government had taken part in the CHOGM making it the lowest turnout when External Affairs Minister Peiris had publicly declared 37 of them had confirmed participation.
A parliamentarian familiar with the workings of the EAM claimed that the lower turnout was due to the non-implementation of a suggestion by President Mahinda Rajapaksa. He had wanted to send some senior ministers as special envoys of the President to personally hand over invitations to Commonwealth heads of government. Instead, the External Affairs Minister had visited a large number of countries on his own, meeting mostly his official counterparts. By hindsight, it is now clear that there was either an adding mistake or a case of disinformation. If these were not the reasons, no explanation has been offered.
Another development is the mounting tension between the Northern Provincial Council (NPC) and Government officials in the North. This week, Police and the Security Forces personnel in the North came down hard on those conducting ceremonies on November 27 to mark 'Maveerar or Great Heroes' Day.
The event to remember their dead cadres was earlier marked by the Liberation Tigers of Tamil Eelam (LTTE), until their military defeat in May 2009. This is whilst Northern Province Governor G.A. Chandrasiri summoned a conference of provincial ministry secretaries and in a separate move ordered some transfers. The move was to irritate the Tamil National Alliance (TNA). The TNA publicly denied any involvement in the 'Maveerar' ceremonies. Its members, however, had engagements that day though for different reasons. Chief Minister, C.V. Wigneswaran also made a case for holding those ceremonies. He, however, did not make any reference to the 'Maveerar Day.'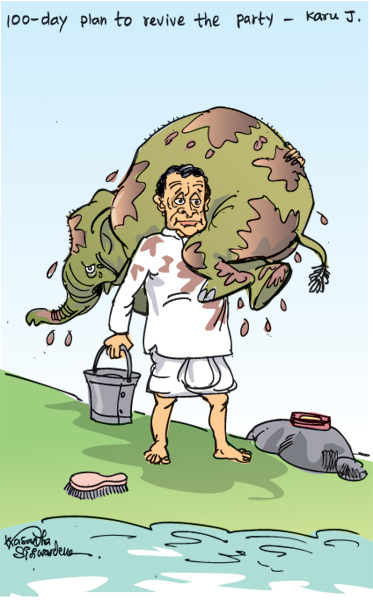 Meanwhile, among the preparations that have got under way for the UNHRC sessions are moves to implement more recommendations of the Lessons Learnt and Reconciliation Commission (LLRC). One such widely publicised measure is to conduct a census on deaths/injuries to persons and property damages due to the "conflict in the past more than 30 years." It is being carried out jointly by the Ministry of Public Administration and the Department of Census and Statistics. A statement from them said, "it is essential to ensure that while all the families/persons directly or indirectly affected by the conflict are counted, they are not counted twice."
However, D.C.A. Gunawardena, Director General of the Department of Census and Statistics, said that in respect of families of those who were killed or reported missing during the final stages of the separatist war in May 2009, "evidence forwarded by third parties or relatives will not be accepted. Any information would have to come from the immediate family members." He said, "We know that Prabhakaran and his family have been killed, but will not include that in the census as none of his family members is here to give the information. We will also call for Death Certificates or Police certificates to establish a death. Even in cases of disappearances, it will be the same." Gunawardena said that the census now under way would end on December 20 and the final report would be ready in three months. His remarks made clear it will be available ahead of the UNHRC sessions in March next year. The LLRC noted in its report that many persons who made representations impressed upon it that "definitive action against alleged cases of disappearances as well as preventive measures would have a significant impact on the reconciliation process."
In addition to the well-publicised census, a number of other measures based on recommendations of the LLRC are now on the way. The cabinet of ministers has asked the National Education Commission (NEC) to study and report within two weeks about the setting up of ethnically mixed schools "to encourage greater interaction" between students of different communities. The NEC is tasked to "deliberate on National Education Policy and make recommendations ensuring continuity in all segments of the education system in the context of changing needs of Sri Lanka." The proposal, based on a recommendation of the LLRC, has been made by Education Minister Bandula Gunawardena. The Commission said "the Government should have a proactive policy to encourage mixed schools serving children from different ethnic and religious backgrounds."
The NEC has agreed with the Education Minister's proposal. It has held the view that the Principal and Vice Principal of mixed schools should not be from the same ethnic group. Recommending that two schools in each province be selected on a pilot project basis, the NEC has also said that pupils should be mixed in classes as much as possible, particularly, in English and bi-lingual lessons. During religious and cultural activities the pupils are to be taught to respect the diversity within the school, it has said.
Land issue
Another significant LLRC recommendation relates to the settlement of land issues. The Commission noted: "Displacement of persons as well as loss of land and homes were major conflict related outcomes, and affected all communities throughout the period. In the last phase, particularly in the Wanni, an estimated 284,000 persons were displaced. Problems concerning land were a key issue that was brought to the Commission's attention by a large number of persons of all communities who appeared before it; particularly during the Commission's visit to the affected areas in the North and East. The Commission believes that measures and policies ensuring legitimate land rights, especially among the returning IDPs, would contribute significantly to restoring normalcy and promoting reconciliation."
A proposal to resolve land issues was made to the Cabinet of ministers by the Lands and Land Development Minister Janaka Bandara Tennekoon. The matter was referred to a detailed study by a Cabinet Sub Committee. Some of the findings that emerged before the Sub Committee:
= There are around 250,000 land issues in the Northern and Eastern Provinces requiring expeditious resolution.
= Officers currently serving in the North and East find it difficult to engage in the task of resolving issues in view of their regular administrative functions.
= There is an acute need for officers with a good knowledge of Tamil to carry out work related to land issues and complete them within a time frame.
Now the ministers are to decide on recruitment of personnel approved by the Department of Management Services. Even retired officers over 67 years of age but agile are to be made eligible for engagement initially for a year. They are to receive an all-inclusive allowance and provided transport for official duties. They are to be told to formulate plans to resolve land issues within two years.
The Government wants to be in a position to highlight at the UNHRC sessions that it was implementing recommendations of the LLRC. Thus, it is to say that some of the issues raised in two successive US-backed resolutions were met or were being met. Still, a few issues of non-implementation are likely to be raised. British Prime Minister David Cameron issued a strong ultimatum to the Government that if a domestic inquiry over alleged war crimes was not carried out by March, next year, his Government would push for an "international probe." His Foreign Secretary William Hague also indicated that there may be another resolution against Sri Lanka at the UNHRC in Geneva.
However, in a signed article in last Tuesday's (November 26) issue of the London based Asianlite newspaper, Premier Cameron has backtracked from his original position. Here are the relevant excerpts: "The end of the civil war in Sri Lanka is a massive opportunity but the issues now need to be grasped. This isn't about imposing a Westminster view of the world. It's about standing up for the values that all Commonwealth countries have signed up to. In turn, the rest of the world should recognise political leaders when they get things right.
"So what needs to happen? First of all, there should be a transparent, credible investigation into alleged war crimes. No one wants to go back to the days of the Tamil Tigers, a brutal terrorist organisation. But equally, the Sri Lankan government cannot look the other way. When I met President Rajapaska I pressed for an investigation to take place — and I made clear that if those investigations were not begun properly by next March, we would call for an international inquiry through the United Nations.
"Second, there needs to be greater progress on human rights across the board in Sri Lanka: genuine freedom of expression and a free media, an end to the intimidation of journalists and human rights defenders and action to stamp out torture. Finally, there needs to be a genuine reconciliation between communities. Sri Lanka is a beautiful country with enormous potential in the years ahead. But for too long it has been blighted by conflict. If Sri Lanka takes the opportunity to heal these old wounds then there is the prospect of a much brighter future for all its people."
Whilst in Colombo, Premier Cameron declared that he would push for an international inquiry into allegations of war crimes "if Sri Lanka does not conclude an independent investigation by March." He now says "that if those investigations were not begun properly by next March," he would move for an international probe. Since it is a piece written by him, one cannot say it is a mistake. There is a significant shift. He is now asking the Government of Sri Lanka to start its own probe "properly" by March next year. He had earlier wanted the probe ended by March 2014.
This development comes as a delegation from South Africa, due in Colombo early this month, has indefinitely put off its visit. It was to be headed by Ibrahim Ibrahim, the Deputy Minister of International Relations. As exclusively revealed in the Sunday Times of November 17, South Africa's President Jacob Zuma proposed to President Mahinda Rajapaksa the setting up of a Truth and Reconciliation Commission to assist in Sri Lanka's reconciliation process.
He conveyed the same proposal to the Tamil National Alliance during a meeting. Some officials at South Africa's International Relations Ministry claim the delay had been caused by what is perceived as a "misleading" news release put out by the Presidential Secretariat in Colombo after the Zuma-Rajapaksa talks. However, other sources said it was because Deputy Minister Ibrahim's diary for the coming weeks was full. Pretoria has also invited a delegation from the TNA to visit South Africa with its own comprehensive proposals in response to the South African offer. South Africa has said that a TNA delegation could even be received in the coming weeks. Soon after the talks with President Zuma, TNA said it would have to respond after consulting India, which it said had assisted throughout in the reconciliation process.
Expressways
The next priority for the Government is to fast track the Southern and the Northern Expressways. In the former, the Government wants to extend the existing 96 kilometre expressway (from Kottawa to Pinnaduwa in Galle) right up to Hambantota. At present, construction work is under way for the stretch between Pinnaduwa and Matara. The proposed Northern expressway is to come up in three stages. The first is from Enderamulla to Ambepussa, a distance of 52.8 kilometres. The second phase, 39 km, will be from Mirigama to Pallendeniya (Kurunegala District). The third will be the construction of the 45.7 km motorway from Ambepussa to Kandy. In addition, a 12 km ring road will be constructed between Gannoruwa and Katugastota to reduce traffic congestion in the Kandy city. The final stage of the project will take the expressway from Pallendeniya to Dambulla covering 62 km.
President Rajapaksa, who is also the Minister of Ports and Highways wants to accelerate the land acquisition process. That is to expedite work on the projects. At present, he has pointed out, that it would take 72 weeks under the Land Acquisition Act. He wants to introduce drastic administrative changes so that the process could be completed within 26 weeks. Government officials from the district to the local authority level are to be told to keep parties whose land will be up for acquisition informed. Examples: the present period of "tracing" (field survey work and preparing plans) which is 12 weeks will be pruned to six weeks. The publication of Gazette notifications is to be pruned from four weeks to one week. Preparation of condition and valuation reports is to be reduced from three weeks to one week.
In a related move, the Ministry of Land and Land Development is to promulgate new regulations giving the basis of assessing market value or the compensation in respect of lands taken over for the following nine projects: (1)
Colombo-Katunayake expressway, (2) Colombo Outer Circular Highway Project, (3) Southern Transport Development, (4) Colombo-Kandy Road, (5) Orugodawatte-Ambatale Road, (6) New Kelani Bridge Approach (Kelanimulla to Angoda, Koswatte, (7) Mattakuliya Bridge Approach (Centre Road and Aluthmawatha), (8) Matara-Kataragama Railway construction and (9) Deduru Oya Reservoir.
These new regulations will specify that land for the nine projects will be assessed by a Land Acquisition and Re-settlement Committee (LARC) headed by the Divisional Secretary (Government Agent) or his immediate junior and three others. Payment for the lands will be determined by the Chief Valuer. It will be accompanied by an ex gratia payment amounting to the difference between the statutory compensation and the replacement cost. Whilst encroachers will not be paid, buildings and structures (without depreciation) shall be paid an amount determined by LARC. Provision has also been made for loss of livelihood by self-employed persons. A rent allowance is also to be paid to those who seek temporary accommodation as a result of the acquisition of their abode. There will also be a varying fee for those who seek self-location. It would be Rs. 500,000 for those in Municipality areas, Rs. 300,000 for Urban Council, Pradeshiya Sabha areas in Metropolitan and Board of Investment areas. In other Pradeshiya Sabha areas the amount will be Rs. 150,000.
Another key project the Government will undertake is the widening of the Bandaranaike International Airport in Katunayake at a cost of US$ 68,828,011.42 (more than Rs. 8,900 million or 8.9 billion). The project will be awarded to the China Harbour Engineering Corporation. It outbid a firm from Belfast, Ireland.
The Airport and Aviation Services (Sri Lanka) Ltd. is to be authorised to negotiate a commercial contract where the Chinese company will design and construct a widened runway as well as overlay. According to Civil Aviation Minister Priyankara Jayaratne, the International Civil Aviation Organisation (ICAO) has recommended during its audit observations that an overlaying of the runway was necessary to improve surface condition for the safe operation of aircraft as some cracks have appeared.
Aviation Ministry officials declined comment on whether expansion and overlaying work, which would involve giving a new top to the runway, could be carried out whilst the BIA was operational. If that is not a possibility, the question is whether the Government would ask airline operators to use the Mattala Rajapaksa International Airport (MRIA) until the multi-billion rupee improvement programme, set to take several months, is completed. Leave alone the commercial aspects, such a move would be seen politically as a big boost for the Rajapaksa administration, but how the international airlines will react could be an issue.
The new project at the BIA would no doubt be a huge debt burden on Airport and Aviation Services (Lanka) Ltd. (AASL). Besides the newer repayment responsibilities that will accrue to it, the Government will transfer the US$ 190 million (Rs. 5,700 million) which the Treasury borrowed from the Exim Bank of China to construct the MRIA. The construction cost of international airport in Mattala was US$ 309 million out of which the Chinese Bank provided US$ 190 million "as a concession loan." It has been accounted for in Treasury books. It is claimed that such a record is not consonant with the Sri Lanka Financial Reporting Standards. Officially, the Government has given the MRIA on a 99 year lease to the AASL. This means repayment of loans for renovation at BIA and the loans for MRIA would have to be borne by the ASSL.
On the foreign policy front, the External Affairs Ministry wants to open more diplomatic missions overseas. The latest proposal of External Affairs Minister G. L. Peiris is to open an Embassy in the war-battered Afghan capital of Kabul.
It is no secret that diplomatic missions operating in Kabul are placed under heavy security, often undertaken by multi-national security agencies which charge millions of dollars. Some Foreign Ministries do not allow the families of staff of these missions, particularly the heads. Instead, they are granted leave at short intervals to visit their home country. The immediate urgency for a mission in Kabul, a costly exercise, has not been explained.
In June, Minister Peiris obtained approval from the Cabinet of Ministers to open 15 Sri Lanka resident diplomatic missions. The countries are: Mauritania, Burkino Faso, Djibouti, Gabon, Cote d'Ivore, Gambia, Sierra Leone, Togo, Malawi, Chad, Central African Republic, Cameroon, Equatorial Guinea, Cape Verde and Niger. As pointed out in these columns, a year later, the "Look Africa" policy came a cropper with only heads of government of seven of the 19 Commonwealth nations in that continent attending the CHOGM. They were South Africa, Rwanda, Lesotho, Tanzania, Namibia, Seychelles, and Swaziland. Twelve African heads of governments, including those of the big ones like Nigeria, Uganda, Ghana and Kenya, were absent.
With these developments, a matter of concern for the Government was fears that some groups were making an attempt to "revive the LTTE." This followed reports of a build-up days ahead of November 27 in the North to mark the 'Maveerar' day. The matter formed the subject at a top level discussion by security top brass and high ranking intelligence officials at their weekly session last Wednesday. A proposal to introduce tough new laws to prevent people "attempting to revive terrorist activity or promoting their ideals" was discussed. However, President Rajapaksa noted that for the time being, such activity should be dealt with through the existing Prevention of Terrorism Act (PTA).
Ahead of the "Maveerar" day Northern Provincial Agriculture Minister Ponnuthurai Iyangaranesan, distributed 5,000 different saplings to be planted on November 27. He had a tree planting ceremony at his private office. Chief Minister C.V. Wigneswaran planted one at the Provincial Education Ministry premises in the evening that day at Kalaviyankadu. Earlier, a senior Police official had visited Northern Provincial Council Chairman C.V.K. Sivagnanam to warn that they should not hold any public functions on Wednesday. He had told the Chairman that orders had come from "higher authorities" not to hold them on November 26 and 27. He had said that the Police would not afford any protection for such events. On Thursday night, the residence of Iyangaranesan was attacked by an unknown group. Police said in Mannar, Mullaitivu and Kilinochchi areas, lamps were lit in a few houses. It had also been done at the Jaffna National Hospital. A Hindu priest was arrested in Mullaitivu around 6 pm for holding a Pooja allegedly to mark Maveerar day.
Chief Minister Wigneswaran issued a statement in which he argued that "When Elara died King Dutugemunu installed a memorial and ordered that the passers-by should pay their respects. When I was a little boy living in Anuradhapura I have witnessed those passing by get off bicycles, remove their hats and pay respects. That memorial has been destroyed now. Those who claim to be coming from that dynasty of Dutugemunu are proscribing the planting of a tree in remembrance of the dead. This will give an indication as to what extent our people have degraded culture and religion. When the Police told us, we decided not to go against the law. I called the Agriculture Minister Iyangaranesan and said we should not violate the law. I instructed him to make arrangements to tell everyone of our people to plant a tree in their own compound and light candles in their houses in a private capacity.
"These instructions by the Government only motivate the people to remember our dead relatives. The culture of the Tamils goes with the nature. The Karthihai flower blossoms well in November,it is in the same context that the commemoration day of our departed occurs. I hereby declare that the Tree planting campaign at the Thanthai Selva Memorial site in Jaffna is cancelled." Wigneswaran argued that the tree planting ceremony was to remember the late S.J.V. Chelvanayakam, leader of the now defunct Federal Party. He is revered by the Tamils and referred to popularly as "Thanthai Chelva" or Father Chelva."
A response to Wigneswaran's statement came from Military Spokesman Brigadier Ruwan Wanigasooriya. He told the Sunday Times, "It is a political statement and I do not want to comment on that aspect. However, I would say that you cannot compare Elara to a ruthless terrorist organisation like the LTTE. They were cowards who killed their own people and cannot be equated to either Elara or Dutugemunu."
This week's events in the north have further strained relations between Chief Minister Wigneswaran and Northern Province Governor retired Major General G.A. Chandrasiri. The TNA has complained that a secretary posted to serve the Chief Minister was moved out by Governor Chandrasiri. A replacement had to be obtained. Two successive secretaries assigned to the Provincial Ministry of Fisheries have also been moved out, they allege. Governor Chandrasiri reacted angrily. He told the Sunday Times "Tell them to read the Provincial Council Act. There is a Provincial Public Service Commission. The Governor has the power to carry out transfers. I am acting constitutionally."
Yesterday, Chief Minister Wigneswaran told a meeting in Kilinochchi that there were attempts to kill him. He said if that happened, he would emerge as a Mahathma or a great soul. The TNA continues to insist that Governor Chandrasiri be replaced with a civilian official. Government sources said yesterday that he may receive a diplomatic posting. Wigneswaran is expected to leave for India this month. A meeting with Prime Minister Manmohan Singh will be in his itinerary.
With a catalogue of new priorities before it, the UPFA Government is now headed into the New Year. A test of strength will surely come when polls are held early next year for the Western Provincial Council. Unfortunately, the fractured main opposition United National Party (UNP) has not been able so far to turn the spotlight on the billion rupee extravaganzas and gigantic expenditure on projects that the country is undertaking with money that is borrowed or unaccounted for. Nor has it been able to effectively campaign against the skyrocketing levels of bribery, corruption and commissions. The UNP is busy putting its house in order. This is whilst the carnival of expenditure of public projects continues.