From the Peterites 'A Christmas Wish'
View(s):

As Christmas draws nigh, Peterites will take to the stage with the musical, 'A Christmas Wish', about the boy Peter who yearns not only for a new music box but also a new father.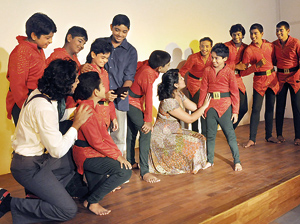 Many are the elements of this musical, enveloping the story of the Christmas Spirit, that elusive feeling that sweeps through the world during Christmas, prompting people to be kind and nice to each other, making the world a better place.
Through 'A Christmas Wish', the audience will get a glimpse of the toy factory where Santa Claus and the Elves are hard at work. Throw in the reindeer, with a reputation for being temperamental and difficult, and there is a good dose of comedy as well. The icy touch of evil comes from the Snow Queen and her besotted henchman, Jack Frost, plotting to disrupt Christmas by sabotaging the workshop.
But as always good conquers evil and Santa Claus, his right-hand man, Mike and Mrs. Claus overcome all odds to bring happiness to all those children on the 'Nice List'. Teenagers and adults are also not forgotten. Many are the popular Christmas favourites including 'It's beginning to look a lot like Christmas', 'It's the most wonderful time of the year', 'Rudolph the Red-Nosed Reindeer' and 'Deck the Halls' featured in the play, re-done with new and exciting arrangements.
The theme song, 'A Grown Up Christmas Wish' is based on the Christmas song 'A Grown Up Christmas List' originally performed by Natalie Cole and more recently by Amy Grant and Michael Buble. The Joni Mitchell classic 'River'; 'Sleigh Ride', the light Orchestra classic written in 1949; 'When God Made You'; and two adaptations off the 'Casting Crowns 2011 Christmas Album' – 'While You Were Sleeping' and 'Peace on Earth' are all part of the play.
'A Christmas Wish' is directed by Neidra Williams and Jehan Bastians, assisted by Javin Thomas. Choral direction is by Dmitri Gunatilake, assisted by Eshan Denipitiya, while the choreography is by Roshni Gunaratne.
The cast of 60 includes: Peterites from the age of 9 to 19 and several old boys. All female roles are played by guest artists including Neidra Williams, Dmitri Gunatilake, Amayaa Wijesinghe, Sashini Wakwella, Trinushka Perera, Lauren Williams-Bastians and Bridgette Kennedy. 
'A Christmas Wish' goes on the boards of the Lionel Wendt on December 6, 7 and 8 at 7.30 p.m. Box plan is at St. Peter's College and on www.wow.lk until November 25 and thereafter at the Lionel Wendt. The tickets are priced at Rs. 2,000, Rs. 1.500, Rs. 1,000, Rs. 800 and Rs. 500 (balcony).