CHOGM-SHOWGM: Highs and lows of Govt.'s magnum opus
By Namini Wijedasa
View(s):
From luxury cars, shuttle buses and electric golf carts to defender jeeps and BMWs, the gleaming new vehicles had customised four-digit 'CHOGM' number plates. Even the bottled water was branded 'CHOGM 2013 Sri Lanka'.
Security was so tight that everyone, including the mahouts leading a long line of Asian elephants to the opening ceremony at the Nelum Pokuna Mahinda Rajapaksa Theatre, had security passes around their necks. These, and others worn by the large and diverse troupe of entertainers, were removed for the performances after mandatory scanning with imported security equipment.
The machines — 20 Radio Frequency Identification (RFID) scanners and 40 kiosks — were brought down especially for CHOGM. They were installed at entrances to every venue that played host to CHOGM leaders. Security personnel also had apparatuses to detect radioactive material, although these were not in sight. 
At BMICH, where many of the meetings took place, even the gardeners and cleaners wore passes with computer chips installed in them. A spokesman for the company said that, after CHOGM, they hoped to rent out the security equipment which was imported at great cost.
Depending on the type of pass, each person was given an entrance through which they could access the BMICH and other venues. This was strictly enforced; so much so, that a foreign delegate standing outside Gate 3, the media entrance, was made to walk all the way round to her designated doorway even though she pleaded that she only wanted to pop in for a minute.
The government had spared no expense on food. Meals — breakfast, lunch and dinner — were free for everyone. Tea, coffee, snacks and bottled water were also free. This is not usual for CHOGMs. In all of the countries where these meetings were recently held, media and delegations alike paid for their meals.
It is not certain how the government intends to recoup the massive expenses incurred. Corners are already being cut. Authoritative sources said that diplomats of the Ministry of External Affairs who were appointed as liaison officers to various delegations were notified "at the last moment" that they would be put up at a different hotel; the reason was that the hotel they were supposed to stay in during CHOGM week had refused to give the Ministry any rooms on credit. "It is credit all around," said one informed source. "The barrel is empty."
Frequent route closures led to heavy traffic jams during certain times of each day. But prior warning was regularly given and the roads emptied out towards the end of the week with many office workers choosing to stay home. Smart businesses turned the congestion into opportunities. For instance, one pizza service sent out short messages to mobile phones asking "Difficult to go out because of traffic?" and offering free home delivery.
Some schools around CHOGM venues were closed the whole week. Others were shut on Thursday and Friday. These measures eased congestion. The government also ordered the universities closed for much of the month, prompting loud objections from the Federation of University Teachers' Associations (FUTA) and the Jaffna University Science Teachers' Association. University sources said they believed this was an attempt to prevent student protests during this period. 
Flags of Commonwealth countries flapped on the sides of roads taken by international delegates. The colourful pinwheels, some of which had been installed about a month ahead of CHOGM, generated a minor controversy. The JVP alleged that the costly accessories, purchased with taxpayers' money, had stopped turning.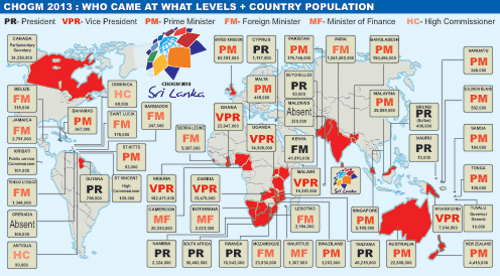 This was seen to be true of pinwheels in certain areas. Those on Elvitigala Mawatha were removed last week, after having whirred uselessly in the wind during the lead-up to the summit. But they were not the only pop of colour on Colombo's streets. Apart from the flags, a variety of flowering bushes had been hastily planted. 
The outer perimeter wall of Temple Trees received the most dramatic facelift of all. Every inch of its facade was covered with live, tropical bushes. Those who had witnessed the transformation said that underneath the foliage were metal plates with sharp metal spikes, a sign that the elaborate decoration served a dual purpose.
The opening ceremony was a meticulously choreographed explosion of music, dance and history that earned enthusiastic applause from Commonwealth leaders, delegates and other guests. While main opposition United National Party and other opposition party representatives were markedly absent in the audience, seated in the front — three seats from First Lady Shiranthi Rajapaksa and four from the Duchess of Cornwall — was former President Chandrika Kumaratunga. 
The ceremony was so stunning that even Ben de Pear, foreign news editor of Britain's Channel 4 television, tweeted: "Beautiful opening ceremony and beautiful film showing the best of this beautiful country and people Sri Lanka."
Twenty-seven heads of government were present, according to Commonwealth Secretariat sources. The declared boycotts were the Canadian and Mauritian premiers. Indian Prime Minister Manmohan Singh also kept away, although his absence was not officially a "boycott".
President Rajapaksa used his speech to emphasise that, if the Commonwealth were to remain relevant to its members, it must not be turned into a "punitive or judgmental body". He urged leaders "to collectively guard against bilateral agendas being introduced into the Organisation, distorting traditions and consensus". 
Australian Prime Minister Tony Abbott, who spoke as outgoing Commonwealth chair, said Sri Lanka had emerged from many troubles. "But with peace has come more freedom and more prosperity," he said. "So we are here to praise, as much as to judge."
But if the Sri Lankan Government had hoped that statements such as these (repeated several times during the week) — and heavy investment on CHOGM infrastructure and facilities — would generate mostly positive publicity for the country, it was not to be. In some quarters, CHOGM 2013 is even being called "a public relations disaster". 
Media coverage of CHOGM related events was tightly controlled and anything that could be stage-managed was stage-managed. This included the opening press conference by President Mahinda Rajapaksa and Commonwealth Secretary General Kamalesh Sharma.
Commonwealth Spokesman Richard Uku ensured that questions were kept to a minimum and that there would be no "exchanges" between journalists and the hosts. It was the President that allowed a final question on war crimes and accountability after Mr Uku had declared the briefing over. "I knew you were going to ask that question the minute you raised your hand," the President said. 
Outside of official events, however, the Government's "harassment" of the Channel 4 crew was so relentless that it became the biggest side story of CHOGM. The journalists tweeted about their travails throughout the day while also posting articles, blogs, video footage and commentary online with great rapidity. These were widely circulated on the Twittersphere.
A constant complaint was that the Channel 4 team was being followed by state surveillance officers in a variety of vehicles. In one video clip, the journalists are shown turning the camera on two men who evade questioning and drive away shielding their faces.
The Channel 4 team's visit was incident-ridden from the time they arrived at Bandaranaike International Airport. The government had said protests would be barred but there was a large crowd of placard-wielding demonstrators at Katunayake. Among other things, they warned Channel 4 to keep out. 
When a Sunday Times reporter tried to access the demonstration, he was chased off by police and security who said he could not proceed without special CHOGM accreditation. It remains a mystery how demonstrators were allowed access.
Protesters also greeted Channel 4 outside the hotel they were booked into. The worst occurred, however, when the television crew attempted to go North by train. (Private flights to Jaffna were ordered to be suspended till tomorrow; other foreign journalists had reported difficulty reaching the North by road, with delays at Omanthai checkpoint). Demonstrators blocked the tracks at Anuradhapura and forced the train to stop. The Channel 4 journalists were then constrained to return to Colombo in a van which they were expected to pay for. 
Later that day, Mr de Pear tweeted: "Someone is asking on twitter if we can get to the Eastern Province. At the moment, we're not even allowed to our hotel bar."Channel 4 did eventually go to the North, as part of David Cameron's official delegation.
The British Prime Minister chose not to participate in the CHOGM Executive Sessions and sent Foreign Secretary William Hague instead. While there, Jon Snow, the presenter, was given sheaves of letters by the weeping relatives of disappeared persons. 
Mr. Cameron tweeted about his visit: "I'm the first PM or President to go to the north of Sri Lanka since 1948. I want to shine a light on chilling events there first hand". After a trip to the Uthayan newspaper office in Jaffna, he said he was proud to meet the brave journalists risking their lives to put out a daily paper.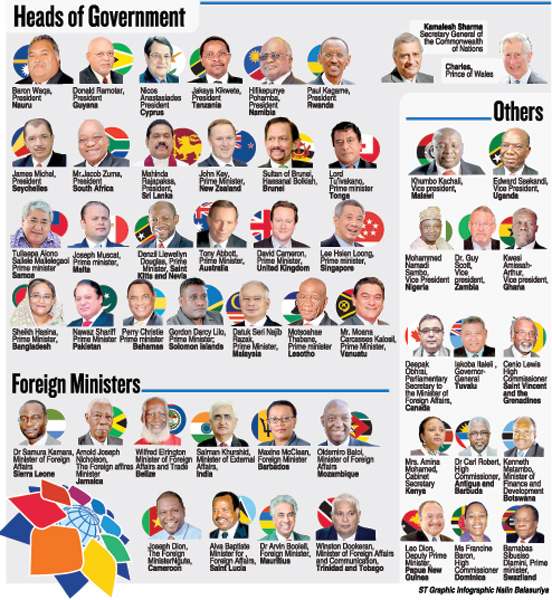 Also garnering international publicity was the Government's amateurish attempts to prevent relatives of the disappeared Tamils from travelling to Colombo for a demonstration. They moved desperately from village to village, trying to find a way out, to no avail. 
The UNP had organised a "human rights festival" at Siri Kotha, Kotte, and were expecting the participation of these groups. Not only were they turned back, the festival was subsequently set upon by demonstrators including the Bodu Bala Sena. The vehicle of Opposition Leader Ranil Wickremesinghe was also attacked, causing the UNP to shun the CHOGM opening ceremony. A court order swiftly followed on Siri Kotha banning public protests for two days.
The relatives of the disappeared eventually had their say to British journalists accompanying Mr. Cameron to the North. This was widely reported. Their testimonies are likely to be used in any future documentary Channel 4 produces. Yesterday afternoon, after much of the damage was done, four senior ministers staged a press conference. Nimal Siripala de Silva, Douglas Devananda, Keheliya Rambukwella and Anura Priyadharshana Yapa rejected calls for an international investigation and stressed that the Commonwealth must not turn into another international "policing body". They also said Sri Lanka would "do the correct thing and not the wrong thing due to pressure".
For the most part, it was business as usual for the Government. There were lunches and dinners and fireworks displays. Various centres were inaugurated, including the Magampura Ruhunu International Convention Centre and the 'Ape Gama' model village. There was even a tree-planting ceremony for which foreign delegates were flown to Hambantota. 
Sri Lanka was marketed wherever possible. Colour photographs of tourist sites were hung even on the walls of the media centre. Every day, the Department of Government Information produced an 8-page, glossy newspaper in full colour. Yesterday, foreign journalists were given a DVD titled 'Sri Lanka: One League to Paradise" produced by Rupavahini Corporation.
"Most of the information we knew about Sri Lanka is based on the Tamil Tigers and the war in your country," said Moses Kuwema, a journalist from The Post in Zambia. "But the hosting of this even provided an opportunity for some of us to see a whole different picture of Sri Lanka."
Government officials expressed hope that tourism will pick up. After the unpleasantness of CHOGM week, this would be greatly welcome.
Lowest HoG count at Colombo summit
Only 24 countries participated at heads of government level at the Commonwealth summit which began in Colombo on Friday — the lowest heads-of-government count in recent decades. Among them were nine presidents and 15 prime ministers.
A record number of heads of government participated at the CHOGM 1999 in Durban South Africa. The 1997 Scotland summit drew 42 heads of government.
The Commonwealth summit in 2011 in Australia saw 36 heads of government, the Trinidad and Tobago summit in 2009 had 34 heads of government and the Uganda summit in 2007 had 36 while Malta in 2005 and Nigeria in 2003 had 38 each.
At CHOGM 2013, five countries were represented by vice presidents while eleven countries were represented by foreign ministers. The remaining nations were represented by other ministers, high commissioners and senior officials.