The dislocated shoulder
View(s):

The dislocated shoulder

Recently a lad had dislocated a shoulder whilst taking part in a game in Moratuwa. The concerned parent had confronted the lad's coach and there had been a tussle between the coach and the parent in the middle of the ground. What is more the situation had gone beyond control and the two were seen rolling and slugging each other in the middle of the ground while spectators had a field day watching a real life fight taking place.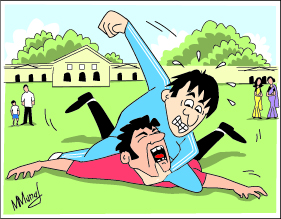 15 suspects
There is a high level inquiry going on as to who could be leaking news to the press. This follows how some furniture belonging to a top sports body had been shifted to a club in Havelock Town. The Sports Body concerned had checked the telephones of 15 officials and one particular official is said to have the telephone numbers of some media personnel. Naturally this person is being heavily suspected for being the culprit. 
Causing more damage
It is a well known fact that the track of a leading stadium is not up to the mark. To study the stadium's track top officials recently paid a trip to the venue. They walked along the track under question with boots and other heavy footwear causing more damage to the track. What were the officials trying to do? Cause more damage to the track!
A father's love
A father's love they say has no bounds. This surfaced when an athletic team left to Sanchi in India to take part in a junior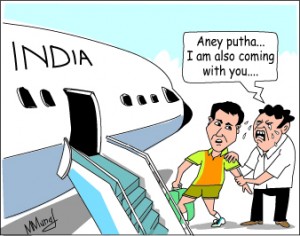 athletic meet. Thirty members were due to take part but one athlete's father had insisted that he too should accompany the contingent simply because his child was a member of the contingent. Naturally officials did not know how to tackle the situation and were forced to leave the athlete behind. This move also deprived another athlete from making the trip! Perhaps even parents should be considered for foreign trips in the future.
The double game
The post of a president of a top sports body in the island, perhaps the most prestigious sports body in the island is due to take place in December. Already two names have been forwarded and one of them happens to be from the sport that is played with a volleying ball. The other candidate is also well known in the field of sports. However one candidate is being supported by a man who is said to have a liking for the fisticuffs sport. The big question is whether he is playing a double game, pretending to back one while actually supporting the other.