Rakitha: Lion in Kiwi feathers
By David Stephens
View(s):
Spotting the surname Weerasundera in a foreign batting lineup is guaranteed to send most local eyebrows arching high in curiosity. But throw in the fact that the lineup belongs to the New Zealand Under 19 team, the name is at the top of it and the score in front of it is 92; well it is pretty safe to assume that most Sri Lankans will probably be frantically working every available search engine for more information.
Left-hand opener Rakitha Weerasundera is indeed Sri Lankan, born in Colombo before moving to Wellington following his third birthday. He is also an immensely gifted and versatile player, capable of patiently grafting an anchoring innings or upping the ante with some power-packed pyrotechnics.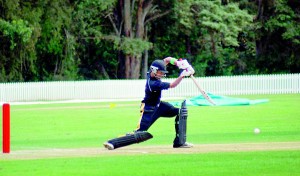 In the intervening years since he left his house in Thalawathugoda and stormed onto the Kiwi junior cricket circuit, Rakitha worked diligently at being the perfect exponent of the sport most closely associated with his native country.
"Being Sri Lankan means cricket is in my blood. My dad (Asoka) was a passionate cricket fan so he introduced me to the game and ever since then I've loved it," Rakitha reveals.
"The coach I have had as a youngster and still have now is a man named Ivan Tissera, who has helped me from a young age and has shaped my technique and how I approach the game.
"I also had a lot of contact with Mahela Jayawardene because my dad was good friends with him and he has acted as a role model for me. I wanted to play just like him. And my dad is someone else I look up to and has helped me a lot with my cricket."This rich supply of advice and assistance rapidly guided Rakitha through playing gears and he was soon ripping past opposition, first for his school team, Wellington College, before moving on to render his sublime services for the Johnsonville Cricket Club and the Wellington Under 19 and Under 20 teams. Among the many dominant early innings which stand out in his memory is an imperious 138 he crafted at the age of 15 for Wellington against Canterbury.
Like most batsmen, the precocious 18-year-old has also faced demons out in the middle, most notably during a particularly sticky patch of form around the time he was 14, but for the most part it has been plain sailing.
On April 6 of this year, on the strength of a steely 71 for the Black Caps in a three-day international match (Australia Under 19s), Rakitha made his ODI debut for the New Zealand Under 19 side, playing against the visiting Australians at the Bert Sutcliffe Oval in Lincoln. He struck a confident 46-ball 36, littered with 5 fours and 1 six at a far from pedestrian strike rate of 85.71.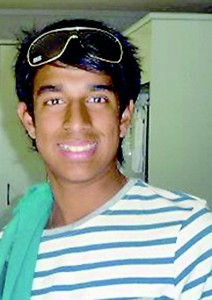 His strong entry into the junior ranks of top flight international cricket was tinged with an additional coat of dominance when he flogged the Aussies to all parts of the park for his current career-high of 92. The knock also proved to be a match-winning innings as it pushed New Zealand to a thrilling one-wicket home victory.
Since then he has bolstered his place in the team with subsequent scores of 76, 25 and 41 against the Australia Under 19, Indian Under 19 and Northern Territories teams.
At his core, he possesses the flamboyant qualities that garnish the games of so many Lankan players, but he is not averse to carefully taming fizzing red leather and deceptively serene tracks with unhurried, focused application, which speaks volumes for his Test cricket potential.
"Batting for the New Zealand Under 19 team has been a new challenge but I have really enjoyed it. I was given advice by coaches in Wellington before flying to play in the Tri Series (Australia and India) to play my natural game no matter what opposition I played and stick to what I know best.
"So that is all I did and I was fortunate enough to score runs. I love winning games no matter whom I play for and especially contributing towards a win for my country is a huge honour," he explains.
He hopes his current vein of form will earn him a contract with the local first class team, the Wellington Firebirds, next year, through which he could eventually earn a call-up to the New Zealand senior side.
Referring to his country of origin, Rakitha comments that he maintains strong bonds with Sri Lanka, with many of his relations still residing here. He adds that he has frequently benefitted from the support of a representative body in New Zealand, the United Sri Lanka Association (USLA).
He has also directly witnessed the country's cricketing landscape when he toured Sri Lanka as part of the Willows Cricket Team that engaged in fixtures against several school and district sides.
A conspicuous feature of that tour for Rakitha was the stylistic difference between his team and the varying opposition.
"The main difference I noticed is the natural flair some of the Sri Lankan batsmen had compared to our New Zealand batsmen. A lot of our New Zealand batsmen have a solid, structured technique compared to Sri Lankan batsmen, who play with their instinct," he noted.
His first-year appearance on the world arena has exhibited that Rakitha too shoulders quite a bit of this flair and instinctive aggression. This, and a demonstrated knack for firing under pressure, leaves Rakitha strongly positioned for a later thrust toward top team honours.