Men's ATP Masters Tennis – London
View(s):

The Physical grind

The first ten months of 2013, had 64 tournaments squeezed into the ATP Men's Tennis schedule. The final was the ATP Masters which started on 4th November in London. It is only for the top eight in the world ranking who survived this year's 'professional physical-grind'.

Reaching and staying at the top is a massive mental and physical effort, with fame and big money at stake. For many, this journey begins very early in life. The pursuit has many sacrifices and hours of gruelling work, restricted life and monastic disciplines. What also matters is the sports culture of the country and the region of the world where the players live. When the 8 Masters qualifiers were interviewed in London, they all had one thing in common to say "Very tired!"

The ATP men's Masters' final is a much awaited event for spectators and sponsors alike. Spain has maintained a very strong representation in men's singles in the last decade. Rafael Nadal and David Ferrer have qualified while Verdasco and Al Magro are in the second ten of the world ranking. That is a very strong position to have for Spain which has maintained its domestic popularity, Davis Cup claim and other national pursuits with ease.

Switzerland has two players in the top eight. New comer Stanislaus Wawrinka and the fading Roger Federer are putting up a great show from a country which has a meager population of six million. The long time absentee, England, is being noticed again through their lonely crusader, Andy Murray. He has placed England in the Tennis map again ranked three, winning the 2013 Wimbledon and for an Englishman to have won after 77 years. He is out of action in the Masters due to injury, but in line for the number one position in the very near future. Novak Djokovic of Serbia, Thomas Berdych of Check Republic and Juan Martin Del Potro of Argentina have qualified on merit. Ranked 9, Richard Gasquet of France went into the draw in London when Andy Murray withdrew. Except for Del Potro, all others are from Europe. As a region it is Europe which has dominated Tennis of 2013. USA and Australia are the missing links and we somewhat miss the Russians. Kei Nishikori of Japan at 17 is the only Asian in the top 20.

Rise and fall of champions

Roger Federer has walked the border-line this year when it came to this year's qualification into the Top Eight. If not for his good performance in the last two tournaments in his home town Basel and Paris in October, Federer would have not made it. Appearing for the 12th consecutive time, the grand master said "Tired" in the player's interview. This many appearances in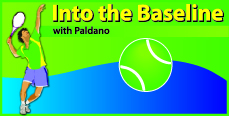 the ATP finals for a player, is an incredible feat. This pattern is common in all 'rise and fall' of super stars in Tennis. In between they become famous and millionaires that is the consolation. If one can refresh the memory, the last gladiator also went through the same fate is Pete Sampras whom Roger Federer replaced.
Mesmerizing tennis
The eight qualifiers will face a unique situation in London. To win the title, a player will have to beat five of the Top Eight. This does not happen in regular tournaments. As to who will win, is a 'toss of the dice' than a logical deduction. On record, all eight have beaten each other.
Good tennis is expected in London. The unexpected new comer is Stanislaus Wawrinka of Switzerland. He has been knocking at the door and now he has entered the elite arena. In this context, it would be interesting to know what Wawrinka's strategies and tactics are, to enter the Top Eight. In his opening match against Berdych in London, Wawrinka showed some effective individualism. The most noticeable was his 'return-of-serve'. It had the capacity to reduce shot selection options of Berdych and also take away much of the 130 mph service speed advantage. This gave Wawrinka time to recover for the next shot and to cover court. Most of the time Berdych did not have the 3rd shot advantage of his big serve, to finish the rally. Wawrinka's ability to reduce opponent's shot selection to a minimum is the main weapon of his success. Most of the time, Wawrinka's match statistics do not impress readers, but on court, he is tactically very effective. Berdych had to serve in excess of 135 mph with placement to get an ace and that was difficult. He could get only 5 of them in three sets against Wawrinka, who beat him in three sets.
Nadal number one again
Rafael Nadal started the year as number one and then lost it. His long term injuries surfaced in the middle of the European season and his ranking dropped. Djokovic became number one. Since then, Nadal has had a good US season and others. Recently he lost to his countryman, David Ferrer in the Paris Open and beat him in the opening round-robin match of ATP masters in London convincingly. He also lost to Del Potro in Shanghai. Over all, he has done well in the second half of this year to regain the number one position. That makes Nadal only the second person to lose top position and regain it within the same calendar year. Knowing the nature of his injury, most doubted him ever coming back. Strongly built Nadal uses power-based ground strokes to win like Andy Murray. This game plan taxes the body of most players causing severe injuries. Regardless of the ranking, it is not possible to avoid the 'physical-Grind' in professional Tennis, but when the 'going is good' these men produce some of the most mesmerizing performances of the game of Tennis.
<George Paldano, former international player; Accredited Coach of Germany, ITF and USPTR; National, Davis Cup and Federation Cup Coach – georgepaldano@yahoo.com>