Letters to the editor
View(s):

Talking war crimes: Here's what your ancestors did Mr. Cameron

Given the unending torrent of unsubstantiated accusations against our security forces and the abuse resorted to against the good name of our country by the British government and some of the British Parliamentarians—I regard it appropriate to resurrect just two, out of many, massacres committed by the colonial British on the Kandyan freedom fighters. I offer no comment as I have dealt with them in my two books, viz. The Rebels, Outlaws and Enemies to the British and The Kandyans' Last Stand Against the British.

Here they are:-

In an order signed by Deputy Assistant Adjutant General attributed to Governor Brownrigg dated 6th January 1818 one finds a massacre in a mountain cave near Madulla. "The number of about fifty men were in the cave, while the captain proceeded with the remainder of his brave soldiers to the front. The alarm was given within, the inhabitants set up a hideous yell (probably don't shoot!) and rushed from the cavern. Twenty of them were killed by our troops and the remainder precipitated themselves down the steep declivity of the mountain, by which they must have severely suffered. In the darkness that prevailed, one woman and child were also unfortunately killed" (CO/54/70 Letter by Brownrigg to Bathurst, 30th Jan. 1818).

Lt.Henderson actively participated in the military campaign against Matale Kandyans in 1848. He admitted to the slaughter of Kandyans not only in his book but also when he appeared before UK's House of Commons Committee on Ceylon 1849. The quotation is from his book, The History of Rebellion in Ceylon P.24 et passim. The quotation refers to the massacre of Kandyans at Wariyapola coffee estate.

"The Kandyans who stood under the jack tree were panic struck. They stood with their guns in their hand without attempting to fire on us or fly. Had the rifle-men been led up in a soldier-like way, and formed in front of the rebels, the latter on being summoned, would have at once surrendered and no lives would have been lost. However, this was not done.

The first Riflemen who came up began firing into the body of the Kandyans. These did not appear to resist. The Malays now used their bayonets and krises, one who stood near me plunging the whole blade of the latter weapon into the chest of the Kandyan, till his hand rested on the chest of the man. Of all those Kandyans who stood under the tree, few or none escaped unwounded and most of them probably mortally. I think I am pretty accurate in stating that the panic-struck mob under the large tree did not use their fire-arms".

The official report mentioned the death of only a few Kandyans. But Governor Torrington had to admit the truth to Colonial Secretary Grey in London that " it has since been ascertained that the total number killed and wounded amounted to little more than two hundred" (CO/54/250 Torrington to Grey 14th Aug. 1848).

However late it may be, the victims of those massacres deserve atonement and retribution especially from British politicians flaunting selective "tough talking" on human rights to humiliate Sri Lanka. Is there any compassion left in the still colonialist mind-set of these politicians? Your comment please, Prime Minister Cameron on the above massacres by your ancestors.

Durand Appuhamy, Negombo

Casinos and all that's 'vice': Isn't it  time to change our attitudes?

The debate whether we should allow casinos is continuing and will continue for years to come. Whether we like it or not gambling has been there from time immemorial like the world's oldest profession. Casinos are there because there is a demand. Fish, chicken, beef and pork are there in the market because there is a demand.

Recently I read a news item on a Police raid of a place north of Colombo conducting cock fights for financial stakes. Till then I thought that we had eradicated this most inhuman form of gambling. All this goes to show that as I said earlier prostitution, casinos, horse racing, and all forms of gambling are there to stay and will continue whatever our religious and political leaders say. 

In Buddhism the 'Parabhawa Sutra' says that prostitution and gambling will lead to a person's downfall. The world has changed and will continue to change. In Netherlands, narcotics in small quantities has been legalised. Some Western countries have legalised gay marriages and some other countries are queuing up to join them. The time has come for us to do some genuine rethinking on these matters.

 A.G. Weerasinghe, Gangodawila

Upperclass local casanovas will have field day 

Well a casino is actually a common gambling place. If they are opened only for foreigners, strictly speaking they cannot be called casinos. "Strictly for foreigners" means, opening a loophole for upperclass local casanovas to enjoy the famous 3ws to fulfil their whims and fancies to their hearts content.

Let the foreigners enjoy the 3Ss of Sri Lanka – "A land like no other," to earn foreign currency by promoting tourism, making use of the speedy highways and night motor road races in the "Wonder City" Colombo, without casinos, which will certainly tarnish the image of the "Miracle of Asia" – the Island of Dhamma. 

Ivor Hapuarachchi, Kandana

Hypocrisy reigns on the other side of the Palk Strait

Mrs. Jayalalithaa is blowing hot over the arrest and detention of Tamil Nadu fishermen poaching in Sri Lankan waters in the Palk Strait. While breathing fire over the alleged mistreatment of Sri Lankan Tamils in the North, Indian fishermen are not barred from robbing the rich shrimp and fish populations from the Lankan side of the Palk Straits using prohibited destructive methods of fishing which not only scoop up large quantities of both adult fish and fry, but destroy the corals and sea grass thereby causing the slow death of marine life in our section of the Palk Strait. It is believed that they have already destroyed their side, which is now almost devoid of fish.

It may also be noted that the Palk Strait is home to the endangered species of Manatee. Sea grass is their staple diet and its destruction can lead to starvation and the slow death of the Manatee population. The action of these poachers is undermining the sustenance and livelihood of the Sri Lankan Tamil fisherman and their dependents, for whom Ms. Jayalalitha sheds crocodile tears.

What a hypocrite. 

Now she is hellbent on preventing Indian Prime Minister Manmohan Singh from attending the CHOGM. Let us hope that the Prime Minister will not succumb to Ms. Jayalalitha's hypocrisy.

Milroy Peries, Ratmalana

Please Mr. President look into our plight

The valuable and informative article by Sena S.O. Vidane on the unresolved pension anomaly published in the 'Sunday Lankadeepa' last month highlighted the miserable plight of the destitute and hopeless pensioners.

If the heartrending details given in the article have not been able to open the eyes of the authorities concerned, (if they have read it), I cannot imagine what else could open their eyes. The Pensioners' Union has had several rounds of talks with the authorities concerned during the past 10-15 years but to no avail. Once, we had a round of talks with the President too and to our great delight he gave us the assurance that the problem would be rectified with the next Budget.

We went home full of hope. But, alas, as nothing came forth we sought an appointment with the Secretary to the Treasury. He as usual narrated the sorry plight of the state coffers. It is disheartening that a government official of such a high calibre could not help us, despite the assurances given by the President. Every day, every week and every month, old and feeble pensioners who lived in hope of getting their pension anomaly rectified so that they would get an enhanced pension which is their legitimate right, to meet their ever rising medical bills, etc. are dying. No doubt that they die frustrated and angry.

However, we the destitute and feeble pensioners still have one glimmer of hope and that is that our affable President will still keep to his word before it's too late.

S. Anderson Dias, Hokandara

Inconvenience to elderly churchgoers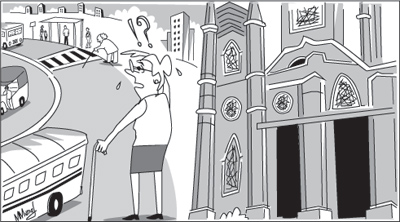 The bus stand near St. Mary's Church Dehiwela was dismantled a few months ago, while the zebra crossing opposite the church also has been removed for no apparent reason. 
The nearest bus halt and zebra crossing are now located nearly ½ kilometre and ¼ kilo metre respectively away from the Church. Several parishioners, especially the older ones, who attend services at St. Mary's Church, Dehiwala are inconvenienced by this.
I appeal to the authorities concerned to take early action to restore these amenities closer to the church.
O.C.A. Gooneratne, Dehiwela